How & Where to Watch Gremlins Online in 2023
It's hard to imagine how multiple strange and mischievous gremlins can come from an adorable pet named Gizmo. If you've yet to watch the classic or want to relive your childhood, this guide shows you how and where to watch Gremlins online from anywhere with a VPN.
We're not sure we'd be happy with a horde of malevolently mischievous monsters wreaking havoc in our house during the Christmas season, but it's not so bad if they're confined to the TV. If you're up for a bit of mogwai action, this guide shows you how and where to watch Gremlins online.
Key Takeaways:
Both Gremlins movies are available on Max and Crave.
You can rent and buy the movie on Amazon Prime Video, Google Play Movies, YouTube and AppleTV.
Max and Crave both employ geoblocking, so if you're not located in the country where the movies are available, you'll need to use a VPN — we recommend ExpressVPN.
Not available in your country?
Watch Gremlins now on Amazon Prime Video and other streaming platforms.
Status checked 2023/08/07:
www.expressvpn.com
In Gremlins, struggling inventor Randall Peltzer buys his son Billy a mogwai for Christmas from a Chinatown antique shop. The shop owner Mr. Wing gives Randall three important rules to follow, but the first two rules are broken fairly quickly. This results in Gizmo multiplying, with the new creatures soon resembling monsters.
That's just a sliver of the 1984 Warner Bros. comedy/horror movie. If you want to stream Gremlins (and Gremlins 2) to find out what happens for yourself, read on. However, some streaming platforms are blocked in certain countries due to geoblocks. To get around the blocks, you need a VPN like ExpressVPN, but we'll cover that later on.
Updated the article to reflect ExpressVPN's expansion of server presence from 94 to 105 countries.
No, Gremlins isn't on Disney Plus and we didn't find it on any of the Netflix libraries we checked.

Gremlins is available to stream on Max, Crave and Binge. You can also rent or buy the movie on services like Amazon Prime Video and Google Play Movies.
Where to Watch Gremlins
Gremlins came out in the '80s, but since it's a classic, it's often included in different streaming service libraries, along with the second movie that arrived in 1990. That said, not all streaming services are available everywhere. For instance, BBC iPlayer is only available in the U.K. and Philo is only available in the U.S.
Thankfully, there is a way around all of this — a virtual private network (VPN). By using a VPN, you can connect to a server in the same country as the content or platform you want to access. This fools the service into thinking you're physically there. For the best chance at unblocking such services, it's important to choose a reliable VPN (our top two are listed further down).
Which Streaming Services Have Gremlins?
You can stream both Gremlins and Gremlins 2: The New Batch on Max, but the service is only available in the U.S. and U.S. territories, as well as some European, Latin American and Caribbean countries. If you're not located in any of those countries, you can use a VPN to connect to a U.S. server and gain access.
It's also available on subscription services in other countries, such as Crave in Canada or Binge in Australia.
If you'd prefer to rent or buy Gremlins, you can do so on the following services:
Amazon Prime Video
YouTube
AppleTV
Google Play Movies
How to Watch Gremlins for Free
We couldn't find Gremlins on any free streaming platforms. If you want to watch it for free, your best bet is to use a free trial with a service that has Gremlins, such as Binge in Australia or the Starz Amazon channel in Canada. Just remember that if you're not in those countries, you'll need to use a VPN to connect to a Canadian or Australian server.
Another way you can stream Gremlins for free is to use an unofficial streaming website or torrent it. We don't recommend or condone either of these due to security risks and the fact that you'll more than likely be watching pirated content. However, if you choose either of those routes, you should arm yourself with a VPN and a decent antivirus program.
How to Watch Gremlins With a VPN
There are a few choices for watching Gremlins, and if you choose a streaming service that's not available in the country where you're located, a VPN can help. We've provided steps on how to sign up for a VPN (ExpressVPN in this case), connect to a server and access Max in the U.S. These steps should work for any platform, although the UI might be different.
The Best VPNs for Watching Gremlins
Whether you've decided to watch Gremlins on a legitimate streaming service or go down the torrenting or free streaming route, both of the following VPNs will ensure you stay safe and bypass geoblocks as needed. Let's start with our top streaming VPN, ExpressVPN.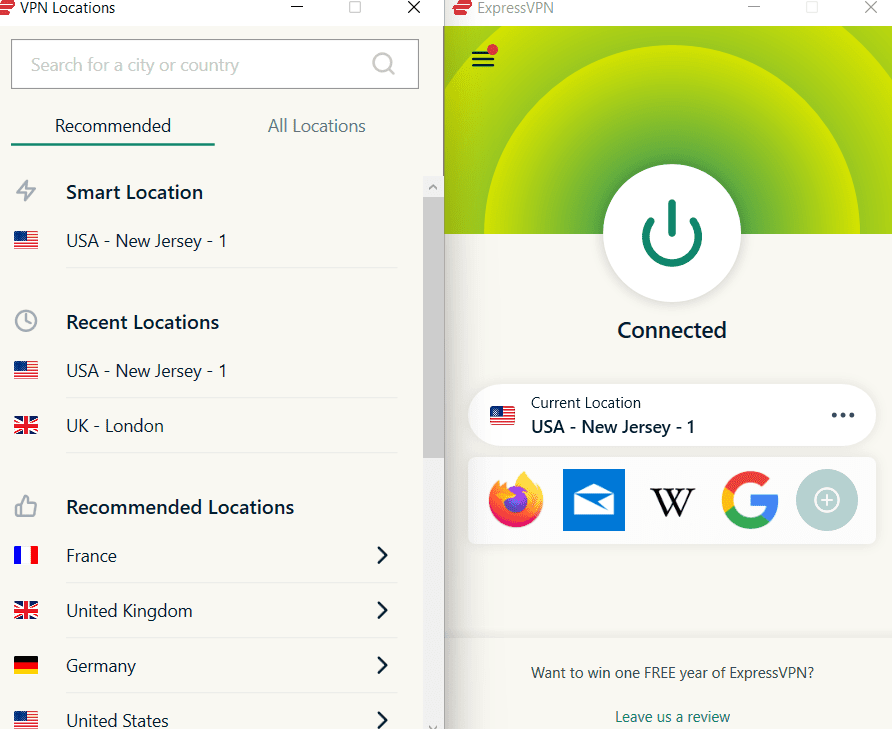 Pros:
Excellent speeds
Capable of unblocking all streaming services
Large server spread
You can't go wrong with ExpressVPN. It has all the features and reliability needed for bypassing geoblocks and providing a top streaming performance. To be more precise, ExpressVPN has fast speeds, servers in 105 countries and can access any streaming service you throw at it. On top of that, you have peace of mind knowing that you're covered by strong security.
ExpressVPN is easy to use, even for beginners, but it's also easy to see that ExpressVPN is one of the pricier VPNs available. Still, you're paying for quality, and you can bring the cost down with the annual plan. There's even a 30-day money-back guarantee in place, so you can easily get a refund if you don't like it. Read our ExpressVPN review to learn more.
Pros:
Fastest VPN
Unlocks streaming services
Long-term affordability
Just behind ExpressVPN, we have NordVPN, which is a solid service offering almost the same quality and features as our top pick. It's actually faster than ExpressVPN and can easily access streaming services with its thousands of servers. You also get top-notch security, as you can read in our NordVPN review.
NordVPN is easy to use on desktop, but its mobile UI can feel a bit awkward when you're trying to use the interactive map. Still, it's a great service and if you lock in for two years, it's pretty cheap. There's a 30-day money-back guarantee too, in case you change your mind.
Gremlins Plot, Cast & Characters
Gremlins (1984) was written by Chris Columbus and directed by Joe Dante. The movie is set in Kingston Falls, Pennsylvania. When struggling inventor Randall Peltzer is looking for a Christmas present for his son Billy, he comes across a Chinatown antique shop.
There, shop owner Mr. Wing reluctantly sells him the mogwai, but before Randall can leave, he is given three important rules to follow: don't expose him to water or bright light, and never feed him after midnight.
The mogwai is welcomed into the family home as a strange yet adorable pet named Gizmo, but the first two rules are inadvertently broken fairly quickly.
The costly mistake results in Gizmo multiplying, with the newly spawned creatures soon resembling monsters, rather than cute new pets. This unleashes a horde of mischievous gremlins that terrorize the entire town.
Given the number of innocent town folk, children and gremlins in the film, the cast list is a pretty long one. We've listed some of the main cast and characters for you here.
Randall Peltzer — Hoyt Axton
Billy Peltzer — Zach Galligan
Lynn Peltzer — Frances Lee McCain
Pete Fountaine — Corey Feldman
Kate Beringer — Phoebe Cates
Deputy Brent — Jonathan Banks
Murray Futterman — Dick Miller
Sheila Futterman — Jackie Joseph
Mr. Wing — Keye Luke
Chinese boy — John Louie
Mrs. Joe Harris — Belinda Balaski
Gerald Hopkins — Judge Reinhold
Ruby Deagle — Polly Holliday
Roy Hanson — Glynn Turman
Sheriff Frank — Scott Brady
Gizmo — Howie Mandel
Final Thoughts: Stream Gremlins
We're not sure if you'll be wishing for your own mogwai from Santa Claus this year, but if you're looking to watch Gremlins online this Christmastime, we hope this guide has helped.
If you want to watch both Gremlins and Gremlins: The New Batch, then Max is your best bet. However, since it's only available in the U.S. and a few other countries, you might need to use a VPN to access it. ExpressVPN is our top suggestion, but NordVPN is a good alternative.
Now that you know where to watch Gremlins online, go to our entertainment archive for more movie guides. we recently published complete guides on where to watch Great Expectations and where to watch Eternal Sunshine of the Spotless Mind.
Which streaming platform will you stream Gremlins on? Will you need to use a VPN to access it? If you do, which VPN will you choose? Let us know in the comment section and, as always, thank you for reading.