How & Where to Watch That '70s Show in 2023: Watch All 8 Seasons From Anywhere
That '70s Show was one of the most popular sitcoms in the 2000s and has spawned several spin-offs over the years. If you're wondering how and where to watch That '70s Show today, so many years later, keep reading to find out.
By now, That '70s Show is firmly rooted as a pop culture legend. The show was one of the most popular of its generation, and has catapulted most of the actors starring in it to enormous fame with notable examples such as Mila Kunis and Ashton Kutcher. Read on if you want to know where to watch That '70s Show online today.
Key Takeaways: Watch That '70s Show Online
That '70s Show is only available online on Peacock, unless you resort to torrenting or illegal streaming websites.
If you're outside the U.S., you need a VPN to access Peacock; ExpressVPN and NordVPN are the top VPN choices.
That '90s Show, a recent spin-off created to reinvent the comedy for a new generation, is available on Netflix.
Not available in your country?
Watch That '70s Show now on Peacock and Stan
Status checked 2023/07/27:
www.expressvpn.com
Even though the show was greatly loved for seven seasons, it managed to overstay its welcome. In a move that was common for the time, the show attempted one last season after losing several prominent cast members. Still, the show holds up remarkably well, which makes it an enjoyable watching experience for returning fans and new viewers alike.
Unfortunately, That '70s Show is much harder to find online than most other sitcoms of its era, especially if you're located anywhere but the U.S. Luckily, a good VPN is all you need to watch the show, no matter where you are in the world.
Peacock is the only place where you can stream That '70s Show.

No, Hulu does not have That '70s Show on any of its plans.

Yes, Peacock is the only streaming site where you can watch That '70s Show legally.
Where to Watch That '70s Show
With the exception of Netflix and Amazon Prime Video, streaming services have large parts of the world where they simply aren't available. This can make it hard to track down a show, especially one as old as That '70s Show.
Which Streaming Services Have That '70s Show?
The only major streaming service that has That '70s Show is Peacock, NBC Universal's streaming service. Unfortunately, Peacock is only available to U.S. customers, and you need a U.S. payment method such as a credit card to sign up. Luckily, there are ways around this, so check out our guide on how to get Peacock from anywhere if you don't have an account already.
Usually Peacock also licenses its content to regional distributors such as Sky TV in Europe, but as far as we could tell this is not the case for That '70s Show, meaning there's no legal way to stream it outside of the U.S. unless you use the best VPN for Peacock.
This lack of access might be because the rights to the show were snapped up by digital TV network Laff, which specializes in sitcoms from the '90s and 2000s. If you're in the U.S., you can watch Laff through Sling TV, but you'll have to check the schedule to see when That '70s Show airs.
How to Watch That '70s Show for Free
Peacock is the only streaming service that has That '70s Show, meaning there's no free and legal way to stream the show since Peacock doesn't have a free trial.
That said, torrenting is always an option, or you can use one of the many illegal streaming sites. However, make sure you use one of the best VPNs for torrenting or most secure VPNs if you go down one of those routes.
How to Watch That '70s Show With a VPN
If you already have a Peacock account (or followed our guide on how to get one from outside the U.S.) you can watch That '70s Show from anywhere in just a few simple steps with a virtual private network. For this example, we'll use ExpressVPN, but any of the best VPNs for streaming will get the job done.
The Best VPNs for Watching That '70s Show
ExpressVPN and NordVPN are the two best VPNs overall, which is why we often recommend them to watch specific shows on region-restricted platforms such as Peacock.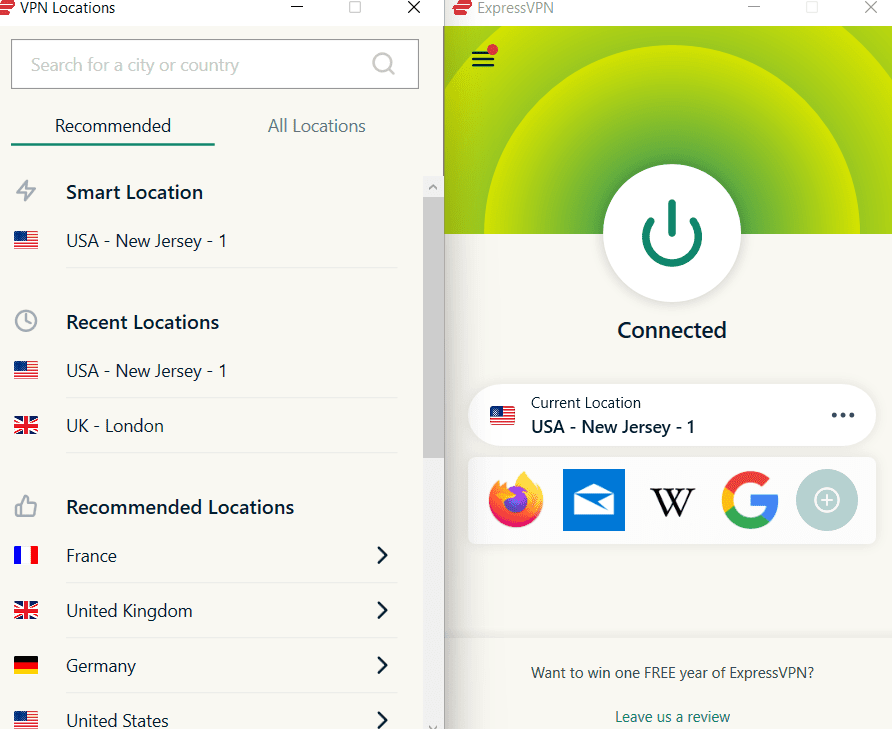 Pros:
Very fast servers
Unrivaled streaming ability
Easy to use
ExpressVPN has all the qualities you need from a good streaming VPN. It's fast, has a wide selection of servers (including some in desirable streaming locations) and is capable of bypassing the VPN detection of all major streaming services.
Besides being great for streaming, ExpressVPN offers excellent security settings and binds itself to a no-logs policy and regular third-party audits. It is owned by the VPN conglomerate Kape Technologies (see our ExpressVPN review to learn more), but there's no evidence that this has compromised ExpressVPN's stance on privacy and security.
The biggest drawback to ExpressVPN is its price, which — at $6.66 per month on the 15-month plan — is a few dollars per month more than other options, such as our next pick. That said, there's a 30-day money-back guarantee you can avail yourself of if you want to see for yourself if ExpressVPN is worth it.
Pros:
Extensive security features
Fast download speeds
Unblocks all streaming apps
NordVPN is another obvious choice for a streaming VPN. It's consistently faster than ExpressVPN (which is already very fast) in our automated tests and it's almost as capable at unlocking streaming services. It handles most — including Peacock — with ease, but we've found that its U.K. servers sometimes struggle to gain access to BBC iPlayer.
As we already alluded to, NordVPN is quite a bit cheaper than ExpressVPN, with a monthly cost of $3.59 on the longest Standard plan.
There's a 30-day money-back guarantee here too, and NordVPN also offers a bundle (called the Complete plan) that includes its other software solutions like a password manager and cloud storage. Check out our NordVPN review for more information.
Plot, Cast & Characters: That '70s Show
Created by Bonnie Turner, Terry Turner and Mark Brazill, That '70s Show centers around the lives of a group of teens growing up in the 1970s in the fictional town of Point Place, Wisconsin. Audiences spent countless hours watching as the characters got into trouble with their parents and sat in a circle in the basement, surrounded by mysterious smoke.
Topher Grace as Eric Forman (seasons 1–7)
Mila Kunis as Jackie Burkhart
Ashton Kutcher as Michael Kelso (seasons 1–7)
Danny Masterson as Steven Hyde
Laura Prepon as Donna Pinciotti
Wilmer Valderrama as Fez
Josh Meyers as Randy Pearson (season 8)
Debra Jo Rupp as Kitty Forman
Kurtwood Smith as Red Forman
Lisa Robin Kelly (seasons 1–5) and Christina Moore (season 6) as Laurie Forman
Tanya Roberts as Midge Pinciotti
Don Stark as Bob Pinciotti
Tommy Chong as Leo
The show spawned a short-lived spin-off called That '80s Show back in 2002, and another one called That '90s Show that just released in 2023. If you want to check out the spin-offs after binging the classic, check out our guide on how to watch That '90s Show.
Unlike the failed revisit back in 2002, the new '90s spin-off features many of the original cast, including Debra Jo Rupp and Kurtwood Smith (reprising their roles as Kitty and Red Forman), now the grandparents of young Leia Forman (the daughter of Eric and Donna, played by Callie Haverda).
Of the original group, Topher Grace and Mila Kunis return as Eric Forman and Jackie Burkhart for one episode, while Laura Prepon and Wilmer Valderrama reprise their roles as Donna Pinciotti and Fez for three episodes.
Final Thoughts
With that, our streaming guide for That '70s Show comes to a close. Unfortunately, it's a difficult show to find online, which is uncommon for a show as old as this, especially given that it just spawned a brand-new spin-off on Netflix.
Have you watched That '70s Show online? Did you need a VPN to do so? If so, which did you use? Let us know in the comments below, and as always, thank you for reading.