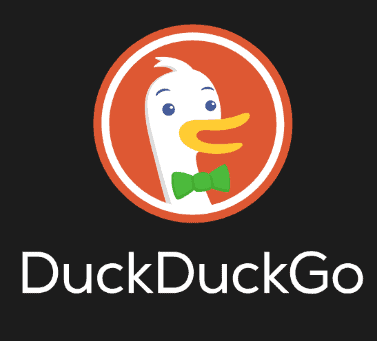 Visit

DuckDuckGo
Rich feature set
Intuitive user interface
Excellent security
DuckDuckGo Review
In this DuckDuckGo review, we'll break down everything you should know before using this new private browser. How does DuckDuckGo perform? Is it the ideal option for private browsing? We've got the answers.
Key Takeaways: DuckDuckGo Privacy Browser
DuckDuckGo has lots of unique features, including bangs, tracker blocking, the duck player, HTTP to HTTPS encryption and the fire button.
DuckDuckGo is easy to use and compatible with Android, macOS, Windows, Linux and iOS.
Beyond privacy, browsing with DuckDuckGo is a secure experience, thanks to functions such as malware blocking, email protection and password management.
While DuckDuckGo has maintained a clean track record in terms of privacy over the years, it was revealed in 2022 that it wasn't blocking Microsoft trackers. It has rectified this and now blocks all trackers.
DuckDuckGo is a household name in private browsing. It's been pretty consistent in keeping its promise not to track users or sell their data to big tech companies. How good is DuckDuckGo at protecting privacy, though? That's what we'll answer in this DuckDuckGo review.
DuckDuckGo offers a privacy-focused search engine, a tracker-blocking browser extension and an email protection tool. These features are all accessible through the DuckDuckGo browser. The private search engine was launched long before the browser, which is a recent spin-off.
DuckDuckGo's search engine is one of the best privacy-oriented search engines. You can make it the default search engine on browsers like Google Chrome, Microsoft Edge and Firefox. If you're looking for other private search engine options, read our guide on the best search engines that don't track you.
DuckDuckGo Browser Review: Our Browser Expert's Opinion
DuckDuckGo's strongest points are its feature set, security and user-friendliness. It's also strong in privacy — though not as strong as it could be, since it didn't block Microsoft trackers until 2022. Beyond that, its main weakness is its reliance on other search engines like Bing for its search results.
DuckDuckGo Browser: Pros & Cons
Pros:
Rich feature set
Intuitive user interface
Excellent security
Cons:
Sources search results from other search engines
Features: What Can DuckDuckGo Do?
DuckDuckGo has some innovative features that enhance search privacy. It's also built for convenience and has made its name with the popular "bangs" feature. Here are DuckDuckGo's most interesting features.
Tracker Blocking
DuckDuckGo intercepts third-party trackers and stops them from tracking you. Its tracker-blocking tool acts by stopping third-party apps from sending data to third-party apps on their tracker blocklist.
Privacy Grades
For each site you visit, DuckDuckGo calculates a privacy grade, showing the number of tracker networks found on the site, whether the site uses an encrypted connection and whether the site is a tracker network itself. You can click on the respective icons to see more information about them and how they work.
Smarter Encryption
A feature called "smarter encryption" converts HTTP network connections to secure HTTPS connections. Web addresses that start with "http://" are unencrypted, so network onlookers can see what users are doing. Web addresses that start with "https://" are encrypted, making it impossible for cybercriminals to intercept data transferred between DuckDuckGo and the website.
Bangs
"Bangs" are short commands you can type into DuckDuckGo to visit a particular website or webpage. To visit a website, you type an exclamation mark followed by a short-form version of the website's name. If you want to visit a specific page on a site, type the website bang command plus the name or subject of the webpage you want to visit.
For example, you would type "!espn" to visit espn.com if you just wanted to visit the ESPN homepage. Or, you'd type "!espn ronaldo'' if you wanted to visit pages on the ESPN website about Ronaldo.
Duck Player
If you've ever been concerned about the invasive targeted ads that pop up when you're watching YouTube videos, then the Duck Player is a great feature for you. With Duck Player, YouTube cannot track the videos you watch or show you personalized search results and ads.
Fire Button
The fire button automatically closes all tabs and clears search history, cookies and other browsing data. It can be found next to the address bar, except on the iOS app, where it's located at the bottom of the homepage.
User-Friendliness & Hands-on Testing
DuckDuckGo has a minimalist design that's easy to navigate. It has an integrated search bar and address bar, where you can type in web addresses or search terms. You can open as many tabs as you want. With the three-dots icon on the right-hand side of the screen, you can access panes to open new windows, open new tabs, create bookmarks and tweak browser settings.
The fire button is strategically placed next to the address bar — except for on the iOS app, where it's placed at the bottom — so you can conveniently close all your tabs whenever you want. Another button, which is available on the Windows version and located in the bottom-right corner of the screen, can toggle the "favorites" and "recent activity" buttons.
If the "recent activity" button is on, you'll be able to see some information about the tracking attempts DuckDuckGo has blocked within the last seven days. If you've selected some websites as your favorites, you'll always see them on the DuckDuckGo homepage if you've toggled on the "favorites" button.
How to Install DuckDuckGo
Installing DuckDuckGo is akin to installing any other browser. Visit the website and click on the download link for the app that's compatible with your device. In this series of steps, we'll show you how to install DuckDuckGo on Windows, but the process is pretty similar across platforms.
How to Set Up & Use DuckDuckGo
Setting up the DuckDuckGo app is a breeze. Although DuckDuckGo provides a set of simple, optional instructions for you to follow when you first install the app, you can head over to "settings" to continue the customization and set up the app the way you want. Here's how.
To learn more about using DuckDuckGo, read our guide on how to use DuckDuckGo.
DuckDuckGo on Desktop: macOS & Windows Apps
DuckDuckGo's Windows and macOS apps both have a minimalist design and an intuitive user interface. The customization tools for both apps are easy to access through a three-dot icon located at the top-right corner of the screen.
One major difference is that the settings page on the macOS version is better organized than that of the Windows version. On DuckDuckGo for macOS, all the customization options are located in a column to the left of the screen, so it's easy to find the option you want and make changes on a new page. The Windows version lacks this helpful sidebar.
DuckDuckGo on Mobile: Android & iOS Apps
DuckDuckGo is just as intuitive on mobile as it is on the desktop. On the iOS app, buttons for fire, tabs, forward and back, and bookmarks can be found at the bottom, while the "settings" button is located in the top-right corner of the screen. On the Android app, all the buttons can be found on top, next to the search bar.
DuckDuckGo is compatible with Windows, macOS, Android, iOS and Linux operating systems.
DuckDuckGo Speed & Performance
We tested DuckDuckGo's speed using Browserbench's triad of tests — Speedometer 2.0, JetStream 2 and MotionMark — each of which measures the speed of the browser differently. If you're looking for serious speed, read our roundup of the fastest browsers here.
We conducted the tests on a MacBook Air with 4GB of RAM and an Intel core i5 CPU running at 1.3 GHz. Keep in mind that the strength of your internet connection can influence the speed of the browser.
DuckDuckGo Speed Test Results
| Benchmark Test | Speedometer |
| --- | --- |
| Browser | Runs per Minute |
| DuckDuckGo | 53.2 |
| Chrome | 104 |
| Firefox | 76.4 |
| Benchmark Test | JetStream2 |
| --- | --- |
| Browser | Score |
| DuckDuckGo | 77.934 |
| Chrome | 88.962 |
| Firefox | 57.049 |
| Benchmark Test | MotionMark |
| --- | --- |
| Browser | Score |
| DuckDuckGo | 79.31 |
| Chrome | 359.64 |
| Firefox | 352.91 |
Notes From the Lab: Our Detailed Speed Analysis
In the Speedometer speed test, DuckDuckGo came in at 53.2, with Chrome and Firefox outpacing it at 104 and 76.4, respectively. This means that Chrome and Firefox are both significantly faster than DuckDuckGo.
The JetStream test, which tests how well DuckDuckGo handles Javascript workloads, showed a narrower speed margin between Chrome and DuckDuckGo. In this test, DuckDuckGo came out pretty decent, with Chrome outpacing by just 10 points. Firefox was the slowest of the trio, coming in at 57.
DuckDuckGo's performance in the Motionmark test was quite underwhelming. In the test, which measures the graphics capabilities of the browser, DuckDuckGo came in at 79.31. Meanwhile, Chrome and Firefox both performed much better than DuckDuckGo, with Chrome coming in at 359.64 and Firefox coming in at 352.91.
Taken together, these results mean that DuckDuckGo does a good job loading most web pages, but may not do well with websites or apps that have a lot of moving parts. Its overall speed may be frustrating if you're used to faster browsers.
Security: Is DuckDuckGo Safe?
DuckDuckGo excels at security. To effectively detect and block cybersecurity threats like malware and phishing attacks, DuckDuckGo provides a content security policy, which is a computer security specification that tells your browser which resources (e.g. javascript code, images, etc.) are safe to use on DuckDuckGo.com.
DuckDuckGo has an independent password manager, which can automatically save your passwords and autofill them when you need to log in to a website. The browser lets users import their passwords and bookmarks from other browsers or password managers when getting started. DuckDuckGo's password manager also generates new strong passwords and remembers them for you.
Email Protection
DuckDuckGo provides email protection to users who'd like to protect their privacy while sending and receiving emails. With this feature, you don't need to switch email services or hide all images to protect your online privacy. Email protection deletes various types of hidden email trackers and lets you create as many unique private email addresses as you want.
There are two kinds of email addresses you can create using email protection: personal duck addresses and unique private duck addresses. Personal duck addresses strip emails of all trackers, then forward the privacy-enhanced emails to your regular email address. Unique private duck addresses can be used instead of your real email address when you don't want a website to profile you. These addresses also strip trackers, just like private duck addresses.
Privacy: Is DuckDuckGo Private?
Privacy-wise, DuckDuckGo gets a lot right, but it has a few flaws, including a history of not blocking trackers.
Privacy Policy
According to DuckDuckGo's privacy policy, it temporarily uses data derived from your device to facilitate service delivery. The data it collects includes your IP address, browser type, operating system and preferences. Once it has used your data for this purpose, it disposes of it instead of logging it, so it has no way of identifying you.
DuckDuckGo does not save your browsing history, and it prevents its hosting and content providers from doing so as well. To achieve this, it makes the content providers deliver content through a connection with end-to-end encryption. The only data it shares with these content providers is anonymous browser and device information.
Privacy Issues
Although DuckDuckGo doesn't collect your IP address, it collects approximate location data. On its own, this data can't be used to identify your exact location. However, it can be combined with other pieces of online information about you (like your name or username on social networks) and used to identify your exact location. If you're concerned about this risk, you can use a VPN to mask your approximate location data.
While DuckDuckGo stops third-party websites from tracking you, it doesn't stop internet service providers (ISPs) from collecting your data. If you're concerned about exposing your sensitive data to your ISP, you can consider using a VPN (read our guide on the best VPNs to use).
Controversy
DuckDuckGo's biggest privacy flaw is the fact that it once allowed Microsoft trackers. This was revealed back in May 2022, when security researcher Zach Edwards discovered that, while DuckDuckGo blocks Google and Facebook trackers, it allowed Microsoft trackers on third-party websites.
DuckDuckGo's CEO and founder Gabriel Weinberg later confirmed Edwards's findings, stating that DuckDuckGo intentionally allowed Microsoft trackers on third-party sites, so it could derive search results from Bing.
Eventually, DuckDuckGo revealed that it had stopped allowing the Microsoft trackers. The harm has already been done, though. This lack of transparency about its syndication agreement with Microsoft has made it appear less trustworthy to us. If DuckDuckGo's privacy flaws are too much for you, check out our guide on the best alternatives to DuckDuckGo.
DuckDuckGo vs Other Browsers
One feature that sets DuckDuckGo apart from other browsers is bangs. The only browser that does something similar to this is Firefox, which allows users to set up custom search engines and search with them through Firefox's search bar. To learn more about Firefox, you can check our review here.
While the Firefox feature streamlines the search experience, it doesn't offer the same level of convenience as bangs. You'd have to set up custom search engines on every computer you use. Meanwhile, DuckDuckGo provides over 10,000 premade bangs, which you can use on any device.
DuckDuckGo is a metasearch engine that relies on third parties to generate search results. It pulls its search results from over 400 sources, including Bing, Yahoo! Search BOSS, Wolfram Alpha, Yandex and its own web crawler. This may be concerning to users who don't want to use a browser affiliated with big tech.
A great example of a private browser that doesn't rely on any third parties is Brave. You can learn more about it in our full Brave review.
The Verdict: Is DuckDuckGo a Good Browser?
DuckDuckGo is still one of the best private browsers. It's not perfect, but it has many strengths that make it ideal for protecting privacy. Although it made poor decisions with Microsoft, it resolved that problem in 2022, and it's still a viable choice considering that few private browsers have a completely clean track record.
It's down to personal preference whether the Microsoft incident is enough to make you pass on DuckDuckGo. If you want a top private browser with arguably the most unique features, user friendly apps and a strong privacy policy, then DuckDuckGo is right up your alley.
Have you ever used DuckDuckGo? What did you think of it? What would you rate it on a scale of 0 to 100? Let us know in the comment section below, and as always, thanks for reading.
FAQ: DuckDuckGo Review
You should use DuckDuckGo instead of Google Chrome because it does not track users or sell their data to advertising companies.

The pros of DuckDuckGo include tracker blocking, unique features, user-friendliness and excellent security. Its main con is a controversial decision to allow Microsoft trackers, although they have stopped this practice.

DuckDuckGo is one of the most private browsers on the market, automatically preventing all trackers.