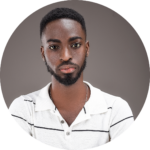 Samuel Okoruwa
Writer
Location Nigeria
Joined in June 2022
52 Posts
4 Reviews
Snap Shot
Samuel Okoruwa is a writer for Cloudwards. His writing and research focus on VPNs and online backup. 
Background & Education
Samuel Okoruwa is an experienced freelance writer with a background in cloud-based technology, cybersecurity, artificial intelligence, SaaS, digital transformation and IoT. In addition to tech-based writing, Samuel writes in the mental health niche. His work has been featured in Psychreg, an award-winning mental health blog. 
In 2022, Samuel obtained his Google Cloud certification which enhanced his knowledge and skills in the cloud-based technology niche. It is these finely-honed skills that led him to begin writing for Cloudwards in June 2022.
In addition to Cloudwards, Samuel has contributed to an array of online publications and has picked up a breadth of experience in different areas of writing along the way, including proofreading, editing, developing market strategy campaigns, market research, news reporting and social media promotion.
Last articles
Last Reviews