Toshiba Canvio Basics Review
The Toshiba Canvio Basics line is one of workhorses. They're a bit slow and can't be used for mass transfers, but they stick around forever and are pretty cheap, too. Check out our full Toshiba Canvio Basics review for the details.
Toshiba has been making hard drives for a while, mainly in the internal, desktop realm. Those drives perform well, too, according to Backblaze's Q1 2019 hard drive failure testing. Of the three Toshiba drives tested, two stayed around for a year and one only had a small failure rate.
Hopefully, that performance carries to the external drives. In this Toshiba Canvio Basics review, we're going to look at the most basic external drive in Toshiba's lineup. Though fancy extras such as automatic backup and password protection aren't included, a Canvio Basics drive is an easy way to get a lot of storage for cheap.
Even so, some of the issues of a spinning disk and USB 3.0 interface show, which means a Canvio Basics drive isn't ideal for mass backup or fast transfer rates. Read on to see if it's one of the best external hard drives for you or if it should be left behind.
Strengths & Weaknesses
Strengths:
Excellent speed results
Disk free of errors
Solid packaging
Inexpensive 2TB & 4TB models
One-year limited warranty
Free phone support
Weaknesses:
Drive got hot during testing
No macOS setup instructions included
No backup utility
No password protection
Alternatives for Toshiba Canvio Basics
Features
The Toshiba Canvio Basics drives are portable external hard drives, and as the name suggests, they're basic. Instead of coming with a load of utilities or extra features, the all-black shroud only includes a drive activity LED and USB micro type B connection. The drives are meant for storing data and taking it with you but not much else.
Even that has a few issues. We tested the Toshiba Canvio Basics 1TB drive, which features a 5,400 rpm spinning disk. Though the plastic shroud can protect it from a few falls, anything beyond that will likely render the drive useless. A Canvio Basics drive is meant to be on the go, but be sure to treat it with care.
The drive supports Windows and macOS, but only Windows out of the box. The drive is formatted in that way, so using it with macOS will require you to reformat the drive, which, unfortunately, Toshiba doesn't tell you how to do.
Toshiba Canvio Basics Setup
Instead of using plastic inserts or cheap bubble wrap, Canvio Basics drives come packed in the traditional, firm bubble packing that spinning hard drives are shipped in. That makes sense considering they're spinning drives, but we've seen competing drives, such as Western Digital Elements, ship in flimsy plastic shrouds (read our Western Digital Elements review).
The Elements drives are the best point of comparison because they essentially look the same as the Canvio Basics drives. The Toshiba drives have a flat top, while the Western Digital drives are curved, but, for the most part, they're the same. Likewise, you get a USB micro type B to type A cable in the box.
However, there's a difference, and that's a lack of feet on the bottom of the drive. Those feet don't help a lot, but their absence shortens the already fragile life of portable, spinning hard drives. If you're looking for a portable drive that can stand up to anything, read our LaCie Rugged Mini review.
When we plugged the drive into a Windows 10 laptop, it was detected immediately, as shown by the blue activity LED on top. The drive was automatically named and assigned a drive letter. Outside of a .pdf file detailing the one-year limited warranty, which you can learn about in the "warranty and support" section below, the drive was blank.
Toshiba Backup and Security Tools
Unfortunately, Toshiba doesn't include backup or security utilities with the Canvio Basics drives. There are no tools on Toshiba's website, either, so if you're interested in purchasing a drive to backup your computer, you'll have to go with another strategy.
A Canvio Basics drive can still be part of that process — in fact, as you can read in our 3-2-1 backup rule guide, it should be — but it won't happen automatically. Instead, you should invest in an online backup provider, such as Backblaze, which is one of the best online backup services, as you can read in our Backblaze review.
As for security, you better have a secure antivirus laying around. Without password protection or encryption, the Canvio Basics drives are as vulnerable as anything. If you aren't secure, read our Bitdefender review.
Toshiba Canvio Basics Features Overview
| | |
| --- | --- |
| Capacity | 1 TB, 2 TB, 4 TB |
| Backup utility | |
| Interface | USB 3.0 |
| Windows | |
| macOS | |
| Android | |
| Drive Speed | 5400 |
| Hard Drive Type | Spinning |
| Warranty period | 12 Months |
| Recovery Services | |
| Speed Table | |
Price
For portable, basic hard drives, Toshiba isn't pulling surprises with the Canvio Basics. You get a choice between 1TB, 2TB, 3TB or 4TB capacities, with the price per gigabyte getting cheaper as you go up the range. The only exception is the 3TB drive, which is more expensive than the 2TB option and rarely available online.
You can still buy it on Amazon, as well as a number of other online retailers, but the price is high across the board. Plus, the product image is different from the rest of the range, and glancing through Toshiba's site, it's clear that the 3TB capacity is no longer being manufactured. Even so, it's available online, so if you really need 3TB over 4TB, you can purchase it.
Ignoring the 3TB model, the price is higher than we'd prefer. The Seagate Portable range of drives is cheaper across the board, with the most considerable discount coming from the higher capacities (read our Seagate Portable review). Plus, you can purchase the Seagate Backup Plus Portable drives for almost the same price (read our Seagate Backup Plus Portable review).
The Backup Plus Portable drive makes a Canvio Basics drive hard to justify because you're getting the same capacity for around the same price, except with an included backup utility. Though the Canvio Basics drives are a great deal compared to, say, the Samsung T5 (read our Samsung T5 review), they're just 5,400 rpm spinning drives that transfers data over USB 3.0.
As is the case with most drives at this level, we recommend sticking to the 1TB-2TB range because going up in capacity will show diminishing returns. The 4TB drive, for example, is much thicker, and as a result, it's slower. The larger the drive, the longer it takes to find data, and that's not what the Canvio Basics range is about
The higher capacity drives lend themselves more to local backup, which, as mentioned, isn't the best fit for a Canvio Basics drive. If that's what you're looking for, read our Western Digital My Book review.
Speed & Performance
Testing external hard drive performance is a simple affair. We use four tools, two that test speed and two that check for errors. The tools we use are third-party, so we don't get the potentially biased results that may come with speed testing tools from Seagate or Western Digital.
Seq Read
Seq Write
Random Read
Random Write
2.3 GB Transfer
Toshiba Canvio Basics

147.3 MB/s

154.1 MB/s

0.509 MB/s

4.731 MB/s

16.61 sec.
We started with CrystalDiskMark. We used a 4GB test file and ran five sequences of tests, measuring sequential read and write speeds, as well as random read and write speeds. Sequential speeds were excellent, faster than Western Digital Elements by a significant margin, but the random speed suffered.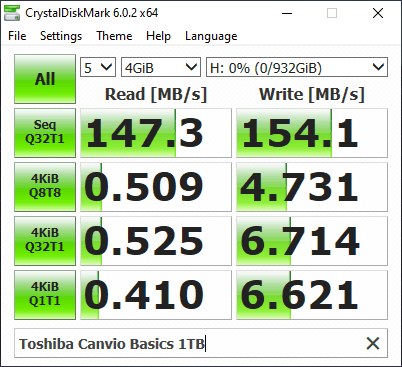 We also ran a test by copying a 2.3GB folder filled with photos, videos and documents to the drive and measuring the time it took to copy. The Canvio Basics drive we tested hovered around 140 megabytes per second throughout the transfer, resulting in a time of only 16.61 seconds, which is impressive.
Moving on, we checked the disk on CrystalDiskInfo to see if it detected errors. It didn't, which shouldn't be surprising, considering CrystalDiskInfo doesn't take too deep a look. That said, we noticed a higher than average temperature in CrystalDiskInfo on the disk during our next test.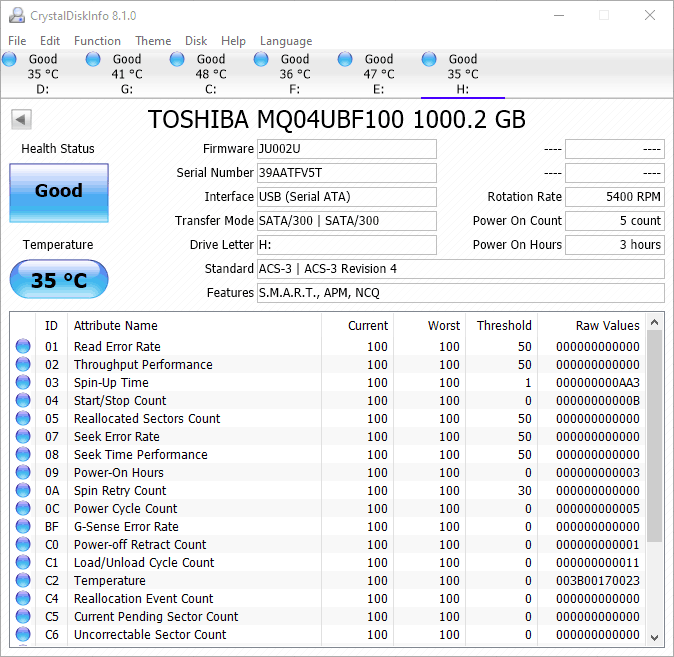 Our "chkdsk" test on Windows 10 took around two hours to complete, but, thankfully, found no errors. Unlike CrystalDiskInfo, this test takes a deep dive into the drive, scanning it for bad clusters and sectors. Fortunately, Canvio Basics came out clean.
We noticed during our testing that the drive would shut itself off when not in use, which is great for prolonging the life of the drive, but that also means it takes a minute for the disk to wake up after it's been idle. It's not a significant difference, but it's worth mentioning.
Warranty & Support
Toshiba includes a one-year limited warranty with your Canvio Basics drive, and though that's half the time Western Digital includes with the Elements drives, Toshiba makes it clear that the warranty is included. As mentioned, the only file on the drive when you plug it in is a .pdf detailing the warranty.
Because it's a limited warranty, there are many stipulations contained within. In short, if Toshiba can justify any misuse on your part that caused the drive to fail, your warranty request won't be honored. Plus, missing items, such as the included USB cable, won't be replaced under the warranty.
There's no support outside of that, though. Finding the support page for our drive was hard enough — you have to search by serial number — but the page was even more disappointing. You can download the quick start guide on the support page, but there are no drivers, software or knowledgebase entries to help you.
That's particularly concerning because macOS users will need to reformat the drive to use it on their machine, and that's not covered in the quick start guide. There's a support phone number you can call, but that's an awful lot of work for something that should be covered in the setup guide.
The Verdict
Canvio Basics drives are nothing more than external hard drives you can throw — or rather, lightly set — in your backpack. If you're looking for ultra-fast transfers or a rugged exterior, it's best to go with another option, but if you're looking for an inexpensive option to expand your laptop storage or take movies on the go, a Canvio Basics drive suffices.
Even so, we'd urge you to read our other external hard drive reviews. Toshiba gets the job done with the Canvio Basics drives, but you can get more for your money with Western Digital or Seagate.
What do you think of the Canvio Basics? Do you also think the Seagate Backup Plus Portable is a better deal? Let us know in the comments below and, as always, thanks for reading.
Toshiba Canvio Basics FAQ
Toshiba doesn't include a backup utility with your Canvio Basics. That said, there are many free backup utilities that you can use with the drive, including EaseUS Todo Backup, AOMEI Backupper and Paragon Backup & Recovery.

After connecting the drive to your computer, launch the Disk Utility and find the drive you want to format. Select the drive, click "erase" from the page and select "Mac OS Extended (Journaled)" from the "format" drop-down. After that, give your drive a name and you're on your way.

On Windows, right-click the drive in your file explorer and select "format." Make sure the file system is set to "NTFS" and give the volume a name. After that, click "start" and wait for the drive to format.
Buy on Amazon