The Best Email Backup Service in 2023: Protect and Record Your Online Communications
People who use email for work or school should always have email backups available. You simply need an email backup service that can store all your emails securely so that you can stop worrying about losing valuable emails.
Emails can easily get lost due to accidental deletion, viruses or loss of account access. Whether you are an individual or a corporation, your mail account likely contains crucial information that, if lost, could be a disaster.
Key Takeaways:
You need a secure email backup service to store your email messages and prevent them from being lost due to unexpected situations.
You can use Thunderbird or Google Takeout to download your emails, then upload the file to a cloud storage service like Sync.com for a backup.
MailStore, Thunderbird, Google Takeout or Adolix directly back up emails on your computer's hard drive.
Backing up your emails is as easy as entering your email into the backup software and letting it do its work.
Luckily, a reliable email backup service is all you need to store your email messages safely. You only need to connect your email account to the service, after which you can download your email messages to your PC or upload them to a cloud storage service. Read on to find the ideal email backup solution that meets all your needs.
11/14/2022 Facts checked

Added an updated list of email backup services and step-by-step instructions.
You need an email backup if you want to restore your emails in case you lose them accidentally.

Although none of the existing email backup services provide unlimited storage, you can keep as many backups as your device's storage space allows since they store emails on your PC or a USB drive.

To back up your Gmail emails, you can use Google Takeout to download a ZIP file containing all your Gmail messages.
What Makes the Best Email Backup Service?
Although many email backup services are available online, only a few have all the features and security that make up a perfect mail archiver.
Your email account contains information about your family, job and bank accounts. Therefore, an email backup service must be able to protect the valuable information contained in your emails. It should have strong encryption and other security features, such as password protection, to protect your emails from intruders.
Email backup services should make it easier for you to maintain your inbox by doing more than just archiving email messages. If your emails are stored in ordered folders, it should be simple to retrieve old emails from large volumes of email messages.
Most importantly, a backup email service should be affordable. Although they have fewer features than most paid ones, many free email backup programs are available online. For the addition of a few additional functions, an email backup solution shouldn't charge a high fee.
The 5 Best Email Backup Software Solutions
Backing up your emails can seem complicated, but it can be made quite simple with intuitive email backup software. We have researched and selected the best email backup services that offer top-notch security, inbox management and a variety of additional features at an affordable cost — or even for free.
More details about Sync.com:
Pricing: 5GB free; 2TB for $8 per month (one-year plan)
Provider website: sync.com
Pros:
Excellent security
Unlimited file sizes
Affordable rates
Cons:
Basic plans are billed annually
Slower sync speeds
Since Sync.com is a cloud storage provider, mail archiving is not its primary function. However, compared to the email archiving solutions in the market, Sync.com is the most secure method for archiving your emails. It provides complete privacy, thanks to zero-knowledge encryption, which prevents the platform from decrypting your data or storing your passwords and encryption keys.
If you want to back up your emails on Sync.com, you can use a program like Google Takeout or Mozilla Thunderbird to download your emails to your computer, which you can then upload to the cloud storage.
You have two options for syncing your saved emails after uploading them: upload them to Sync Vault to store them on the cloud without syncing to your other devices, or sync the emails to store them on all your linked devices. Read our full Sync.com review for a detailed rundown of what it can do.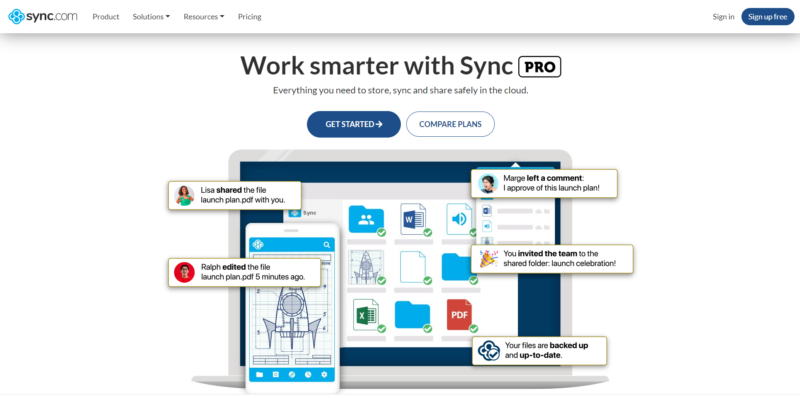 Sync.com provides 5GB of secure storage for free, which should suffice for email backups. However, you'll need to purchase a plan to get more storage if you want to make the most of the service.
Fortunately, the service offers affordable plans, but here's the catch — the basic plans are billed annually. It offers 2TB storage for $8 per month and 6TB for $20 per month for individuals, and there are team plans for businesses as well.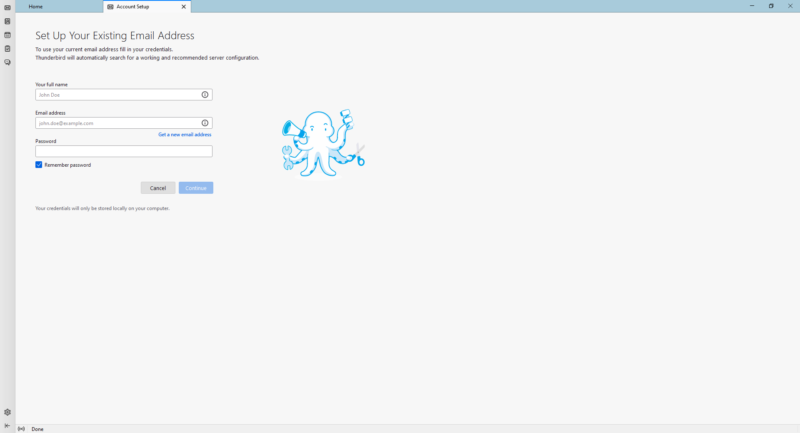 More details about Mozilla Thunderbird:
Pros:
Easy-to-use interface
Supports popular email apps
Integrates antivirus software
No subscription needed
Cons:
Outdated UI
Slower sync speeds
Mozilla Thunderbird allows users to back up their emails from Gmail, Outlook, Yahoo Mail and GMX Mail on the computer's hard drive. To migrate your mailbox to Thunderbird, you simply need to enter your name, email address and password. Even someone with basic computer skills can use the program with ease.
Thunderbird offers a number of security features, including connection security via OpenPGP and SSL encryption, and integration with antivirus software and many others. However, it loses a point because of its very outdated design, but thankfully the mail backup application expects a major UI upgrade in 2023.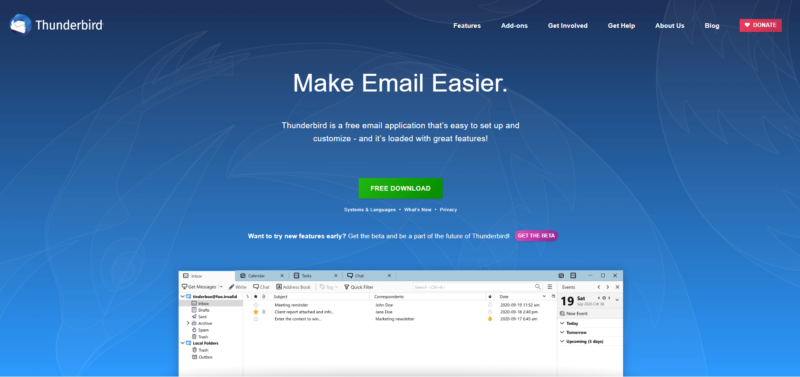 Thunderbird is a free mail backup software. For teams, the company recently released a free email archiving software — Thunderbird Enterprise — for organizations as well.
More details about MailStore:
Pricing: Between $15 and $48 per user, depending on number of users
Provider website: mailstore.com
Pros:
Accessible from mobile
Free 30-day trial
Easy to retrieve old emails
Cons:
Expensive renewal costs
No antivirus integration
Dated user interface
MailStore supports all POP3 and IMAP mailboxes, including Gmail, Yahoo Mail, Outlook and Microsoft Office 365. The company provides multiple email backup solutions for individuals and businesses — MailStore Home, MailStore Server, MailStore Gateway and MailStore Service Provider Edition. The programs feature easy-to-use interfaces and let you archive multiple email accounts.
It is packed with useful features, such as the fast-search function, which allows you to quickly find and retrieve old emails. MailStore offers two automatic mail backup options: Your emails will either be archived immediately upon receipt, or after a predetermined time. It offers integrated and scalable storage options and saves the email archive on the computer's file system.
However, it does not integrate with antivirus software. Therefore, you might need to disable on-access scanning — an antivirus software function that scans files for viruses in real time. For the service to back up your emails, you must exclude all archive stores and the location of the master database from on-access scanning.
MailStore Home is a free email archival software. On the other hand, MailStore Server has a per-user cost for small and medium-sized businesses. It supports a minimum of five users for a one-time price of $229. The renewal cost is $55.40, which the company must pay yearly.
| Users: | Price per User |
| --- | --- |
| 5 – 9 | $48.00 |
| 10 – 24 | $32.00 |
| 25 – 49 | $28.00 |
| 50 – 99 | $25.00 |
| 100 – 199 | $22.50 |
| 200 – 299 | $18.00 |
| 300 – 399 | $17.50 |
| 400 – 500 | $15.00 |
All prices include 1-year standard update and support services.
More details about Adolix Email Backup:
Pricing: Starts at $59.12 for 2 computers
Provider website: adolix.com
Pros:
30-day money-back guarantee
Backs up favorites & bookmarks
Password-protected archives
Cons:
Expensive
Doesn't support Gmail
Outdated design
Adolix Email Backup has some of the most unique yet valuable features, like built-in backup scheduling and multi-language support. You can also back up your address book, signatures and account settings with basic email backups. However, Adolix only supports nine email clients, including Microsoft Outlook, Opera Mail, PocoMail and Netscape Mail.
Your backup is stored in a single archived file that is password protected and 128-bit encrypted to ensure the security of your data. Unfortunately, this makes finding a specific email more difficult. Users may also back up their files to a remote FTP server using this feature.
There are licenses available for Adolix Email Backup for up to 500 computers. A single computer license costs $36.95, but if you purchase two licenses, the cost drops to just $29.56 each.
However, the best deal is for 500 computers, which works out to $9.24 per license, or 75% off the cost of a single standard license.
| Quantity: | Discount | Price per unit (USD) | Total price (USD) |
| --- | --- | --- | --- |
| 2 PCs | 20% | $29.56 | $59.12 |
| 5 PCs | 25% | $27.71 | $138.56 |
| 10 PCs | 30% | $25.87 | $258.65 |
| 20 PCs | 35% | $24.02 | $480.35 |
| 50 PCs | 40% | $22.17 | $1,108.50 |
| 100 PCs | 50% | $18.48 | $1,847.50 |
| 200 PCs | 65% | $12.93 | $2,586.50 |
| 500 PCs | 75% | $9.24 | $4,618.75 |
More details about Google Takeout:
Pros:
Downloads 51 types of data
Downloads Google Drive
Free of charge
Cons:
Limitations for saving data
Lack of security
Google Takeout is different from regular archive email software because it enables you to back up all of the existing data on your Google account, which includes data from most of its apps and services. You can export your data to local computer storage for mail backup and then easily upload it to a secure cloud storage service.
Your emails will not be entirely or automatically backed up each day because you can only export two to three backups daily, so you will need to start backups manually. Users might also be concerned about privacy because of Google's recent privacy mishaps and data collection practices.
Like all of Google's other services, Google Takeout is a free app. You just need to create a Google account to be able to use Google Takeout for backups.
How to Back Up Email Accounts
Here's a quick guide on backing up your emails. We've used MailStore Home as an example in the following step-by-step guide to make mail backup simpler for you, though the steps should be similar for the other providers on the list.
Enter Your Email Address

Open MailStore Home and select the "archive email" tab from the list on the left. Enter your email address under "create profile" and click "start."

Grant MailStore Home Access

You will be redirected to your browser to give MailStore Home access permissions. When you click "allow," a new tab with a confirmation message will open. Close that tab, then resume the MailStore program.
Final Thoughts
Having an email backup means that you can always access your email messages, no matter what happens. Whether you use Gmail or Outlook, you can back up your emails with a reputable email backup provider such as Thunderbird, MailStore, Adolix or Google Takeout.
Your emails can also be stored in the cloud using a service like Sync.com. It is our top pick for email backups since it offers large and secure storage at a reasonable price. Have you ever tried backing up your emails? Which features are important to you in an email backup service? Leave your thoughts in the comments below, and as always, thank you for reading.