How to Get Local Channels on Roku in 2022
If you're looking for something more than the on-demand content usually provided by streaming services and apps on Roku, you might be wondering how to get local channels on Roku. There are a few ways you can do this, both free and paid.
With a Roku streaming device, you can combine all of your favorite streaming service apps in one place. Most services provide on-demand content, but what if you want to watch local TV channels? Well, you can, and this guide will show you how to get local channels on Roku.
Key Takeaways:
There are lots of free local TV Roku channels available from the Roku Channel Store.
Many free third-party Roku channels allow you to watch local news stations and weather forecasts by inputting a zip code.
You can also watch live and local TV channels on Roku via paid streaming platforms, such as Hulu + Live TV, YouTube TV and Paramount+.
If you're a Roku TV user, you can connect an HDTV antenna and scan for free local channels straight from your TV.
Having local and national TV channels on your Roku makes total sense, especially if you're a cord-cutter. You can be watching your favorite show on Netflix one minute and a local news channel the next — without having to switch to another device.
In this article, we'll go over the different apps you can install to watch local TV, as well as some other ways you can get local channels on Roku.
Major network apps on Roku include ABC, NBC and CBS. These let you watch some content for free, but for the latest episodes of your favorite shows, you'll need to sign in with a valid paid TV subscription like a cable TV login. If you have a Roku TV, you can connect an HDTV antenna and access the channels from there.

To watch local channels on Roku, you can install a dedicated local TV Roku channel or opt for a paid streaming service that includes local channels. If you have a Roku TV, you can connect an HDTV antenna and scan for local channels.

Many local channels are available for free on Roku. Some have a dedicated Roku channel, whereas others are available via third-party Roku channels. However, not all channels are available via such apps. For those, you might need to invest in a streaming service like Hulu + Live TV or Paramount Plus.

Many local channels have a dedicated free Roku channel. Others are available for free via third-party Roku channels. Roku TV users also have the option of connecting an HDTV antenna to scan for local channels.
How to Get Local Channels on Roku
Some local channels have an official Roku app that you can install directly from the Roku Channel Store. Some are free, while others are subscription-based. Keep in mind that some channels' dedicated Roku apps won't be exactly the same as the over-the-air channel due to licensing contracts.
You can use the search tool in the Roku Channel Store to find the channel you want and then add it to your Roku (we have a detailed guide on how to add channels to Roku). Alternatively, you can browse Roku's categories to find a local channel.
Local TV Apps for Roku
There are plenty of apps for local TV stations available on Roku. In this section, we'll talk about different apps for different categories, such as news and sports.
Local News Channels on Roku
Some Roku channels provide coverage based on the zip code you input, whereas others are local affiliate channels. There are currently more than 100 local news channels that you can install and watch for free, such as FOX13 Memphis Now, NBC Nebraska, WSB Atlanta and KGTV 10 News San Diego.
If you're looking for something with more than just your local news, though, check out the likes of Haystack News and NewsON. Both of those allow you to watch live and local news that's either on your doorstep or further afield.
NewsON has newscasts from almost 200 local news stations across the U.S., and Haystack News gives you access to local and global news from more than 300 channels. All you need to do is provide your zip code to get relevant news and weather for your area.
Local Weather Channels on Roku
Some of the news channels cover local weather, but there are also dedicated weather channels for those who like to keep watch. Just like with the news channels, you can simply input your zip code to get tailored weather forecasts, reports and alerts for your area.
Channels like The Weather Channel and The Weather Network will get you the personalized weather reports you need, whether that be a general forecast or a weather alert. Plus, you can also watch WeatherNation's 24/7 live feed on The Roku Channel.
Local Radio Stations and Podcasts on Roku
Roku channels aren't only about watching content — you can also install radio station channels. If you're looking for some entertainment from your local radio station or perhaps one from your old hometown, channels like TuneIn and iHeart have what you need. Not only can you listen to local stations, you can also tune in to podcasts, sports and more.
To see the whole selection of radio stations available on Roku, check out the Music & Podcasts section of the store.
Local Sports Channels on Roku
If you're looking for regional sports channels on Roku, unfortunately, you won't find any freebies. You'll need to turn to a subscription service like fuboTV or Sling TV to watch local sports channels. Alternatively, there are some "game pass" subscriptions for specific sports, such as MLB.TV.
Keep in mind, though, that blackout rules may mean you can't watch a game in your local area. In this case, using a VPN on Roku can help by making you appear like you're located in another area.
There's also a chance that you can watch local sports events by connecting Roku to an antenna, but we'll cover that a bit later.
Other Live TV Apps
There is another way you can watch live and local TV channels on Roku: via a paid streaming service. Although some services like Netflix only offer on-demand content, streaming platforms have both on-demand and live content, such as Hulu + Live TV and Paramount Plus.
They're not free, but by having them all in one place, you can easily browse through the many local network channels available. Plus, you could take advantage of one of the free trials available to make sure you like the service.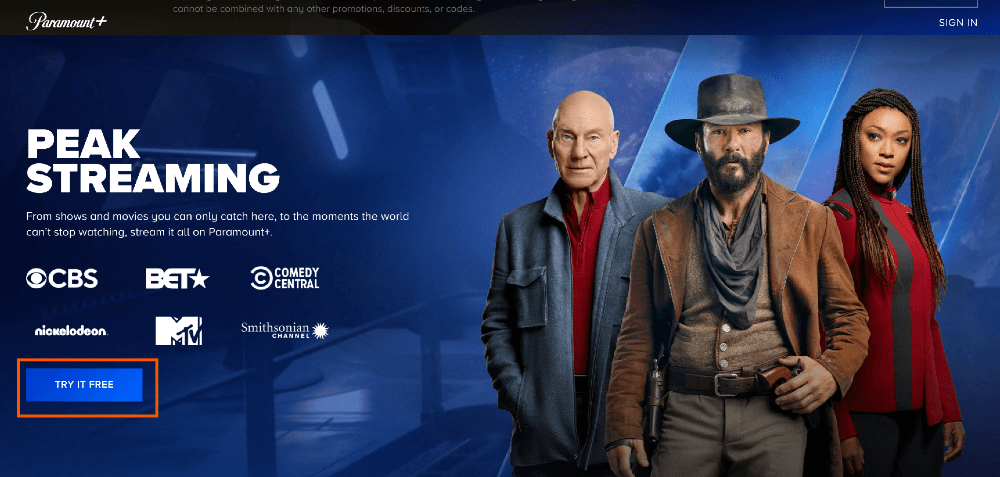 Local TV Channels on Roku: Alternative Methods
Now that we've talked about the different Roku channels and streaming platforms with live and local channels, we'll go over a few more unusual ways you can get such channels.
Use an HDTV Antenna
If all else fails, get out your coat hanger. Seriously, though, you can connect an over-the-air (OTA) antenna and watch local channels the classic way. However, this will only work if you have a Roku TV. All the other Roku devices simply don't have an antenna connection.
If you have a Roku TV, all you need to do is connect an HDTV antenna to the TV and follow some on-screen steps to scan for local networks. After that, you can watch them just like you would any other channel. Such channels can include news, sports, weather and primetime TV, and the best part is that they're free.
HDTV antennas are much better than the rabbit ears of the past too. They provide a better signal and can pick up channels from much farther away. Just remember that the channels you pick up still depend on your location — you just get a wider range.
Use Screen Mirroring
If you can't obtain the local channels you want with any of the methods above, you could mirror another device with local channels to your Roku. Now, that might not sound like the most efficient way of watching local channels, but if you access them on an iOS, Android or Windows device, you can then mirror it to your Roku and watch the channel on the big screen.
For instance, you might want to watch a specific local channel, but find that it doesn't have a Roku app and isn't available on a third-party app or streaming service. If the channel is available via an online stream, you can load it up on your mobile device and then mirror your screen to Roku. It's easy enough if you follow our dedicated guide on how to cast to Roku.
Find Local Channel Content on YouTube
Although it's unlikely you'll find a YouTube stream of your local channel, it's possible that you'll find some episodes or clips available to watch. So, while you might not be able to watch a continuous stream, you should be able to keep up with key news points, local weather and other information for your area on the Roku YouTube app.
Final Thoughts: Watch Local Channels With Roku
Now you know the different ways you can watch live and local channels on Roku. Whether you want to catch the latest news or weather forecasts, or dance to your favorite hometown radio show, there are plenty of choices to pick from.
Installing a dedicated live TV Roku channel or using a live TV streaming service are the best options, but there are alternative methods, such as using an antenna with a Roku TV or mirroring your screen to Roku.
Do you watch live TV or local channels on your Roku? Which method do you use? Have we missed anything? Let us know in the comment section and take a look at our Roku scams piece to make sure you stay safe. As always, thank you for reading.