The Best Cloud Gaming Services of 2023: Wave of the Future
Cloud gaming is one of the most exciting innovations in recent years. The idea of playing games that would normally require a high-powered, expensive gaming PC on any device is appealing, even if it's a bit of a pipe dream. Although the advertising for cloud gaming lands on the hyperbolic side of things, some of the claims are true.
In this guide, we're going to explore the best cloud gaming services that deliver on the promises they set forth. Using the criteria in our cloud gaming reviews, we tracked down the top three services in each category. We'll talk about why we rank each service so highly, as well as what we looked for in each category, before declaring an overall winner.
If you want the short answer, Shadow is the best cloud gaming service available today.
Before getting to why we like Shadow and GeForce Now so much, though, let's talk about what cloud gaming is and how it works.
11/18/2021

Updated the information regarding free cloud gaming options.

10/04/2022

Removed Stadia as an option, as Google announced its retirement in January 2023.
What Is Cloud Gaming?
If you want to go into detail about what cloud gaming is and how it works, be sure to read our how does cloud gaming work guide. For this section, we're going to provide a brief overview.
The term "cloud gaming" refers to playing a game remotely from the cloud. In nearly every case, "cloud" refers to a network of data centers filled to the brim with servers that deliver content to whomever is trying to access it. For a more familiar point of reference, Netflix or any other streaming platform delivers videos from the cloud (though Netflix gaming is a little different).
Cloud gaming does a similar thing. When signing up for a service, you're buying access to a remote server that's outfitted with hardware for running games. Then, after you launch a game, a video stream of that game is sent to your machine. It's kind of like a more involved Black Mirror: Bandersnatch.
How Cloud Gaming Works
Using that choose-your-own-adventure movie as an example, when you make a selection, Netflix decides what the next clip should be, then delivers it to you. The same thing happens with cloud gaming; it just happens many times over.
When you press the "A" button, for example, you're sending an input to, say, jump. That input is sent to the remote computer, and that instance of the game updates to the input. The video stream you're seeing updates simultaneously.
All of this happens in a matter of milliseconds, and if the cloud gaming service can get the latency low enough, the input lag becomes imperceptible.
According to John Carmack, the current CTO of Oculus VR and co-founder of id Software, "Human sensory systems can detect very small relative delays in parts of the visual or, especially, audio fields, but when absolute delays are below approximately 20 milliseconds they are generally imperceptible."
As long as the total latency is below that threshold, your cloud gaming session should feel like it's local.
Free Cloud Gaming
As you can imagine, the tech that goes into cloud gaming is expensive, not only to purchase, but also to maintain. Despite that, there's a high demand for free cloud gaming.
In fact, we couldn't find much during our research, but given the volume, it wouldn't be surprising to see more pop up in the future. Let this serve as a PSA, if nothing else.
The Best Cloud Gaming Services
Now that we've talked about what cloud gaming is and some of the future problems it may have, let's dive into our top picks for the best cloud gaming services.
Features
Because cloud gaming is a fairly new market, there aren't any go-to features we're looking for in this section. Every service is a little different, so we evaluated the platforms based on the features we thought were most useful. In some cases, that means additional support for peripherals, while in others, it's simply how the platform is constructed.
Shadow
Shadow's strength in features doesn't come in the form of goodies, but rather in how the service is structured. Instead of subscribing to a shared cloud gaming machine where multiple users are pulling from the same pool of resources, you're getting a dedicated cloud gaming computer to yourself.
By isolating the resources this way, Shadow is able to deliver a much more fluid experience that doesn't succumb to poor game streaming performance during peak hours, which can happen with PlayStation Now.
With Shadow, you're buying isolated resources, but you're also buying a full Windows 10 installation. Unlike most cloud gaming services that boot directly to the DRM platform where the game is located, Shadow boots you to a Windows 10 desktop. You're allowed to do just about anything, including installing new applications and customizing the look.
With 1 Gbps download speeds, you can get a lot done quickly with Shadow. The only limitation is the hard drive, which is only 256GBs. Even so, with how quickly games can be reinstalled, the small size shouldn't pose too much of an issue.
Plus, you can purchase additional storage, and then you can add or remove increments of 256GB to Shadow via your account page. You can add up to a total of 2TB of additional storage.
GeForce Now
In addition to keyboard and mouse support, GeForce can also accept the PS5 DualSense, DualShock 4, Xbox One controller, Xbox 360 controller, SteelSeries Nimbus and Logitech Gamepad F310, F510 and F710. Additionally, voice chat is supported on PC and Mac.
However, its performance features are the star of the show. It's not clear what power Nvidia is using to drive its "ultra streaming mode," which provides 4K gaming at up to 60fps, but it's working.
Although we don't know for sure, we gathered a few hints during our testing. While adjusting graphical settings for the Resident Evil 2 remake, the game said that we had 24GB of GPU RAM available.
If Nvidia is using its latest-generation hardware — and we assume it is — that means either a Titan RTX or Quadro RTX 8000 is powering the remote machine. Those are Nvidia's top-of-the-line GPUs at the moment, with the Quadro clocking in around $6,700.
Blacknut
Blacknut is, oddly, a family-focused cloud gaming service. In addition to offering a family plan that allows you to play simultaneously on four screens, Blackbut also offers a few family features, starting with a kids mode. As we'll get into later in this guide, Blacknut allows you to create up to four profiles, and each of those can have kids mode enabled.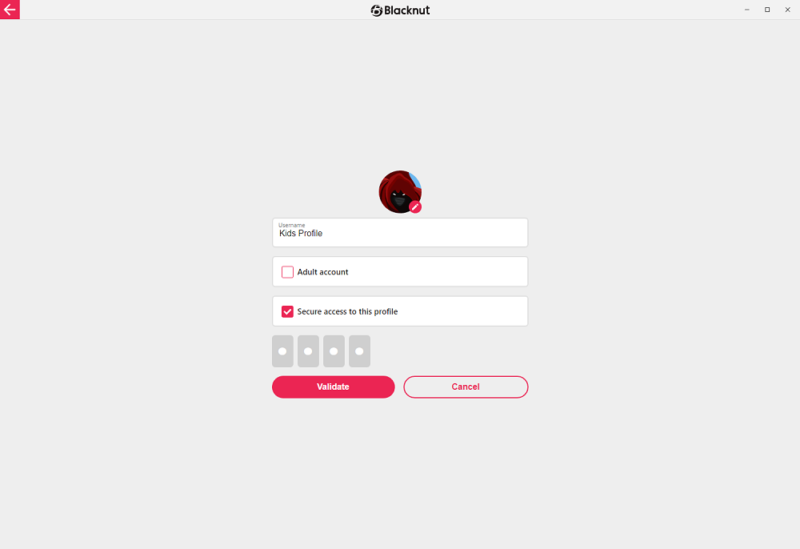 With the kids-mode switch ticked, only games rated E10+ and below are shown. Although you can quickly switch between profiles, enabling kids mode is a quick way to restrict the selection if you have little ones that want to play. If you're interested in maintaining an adult account and keeping the kids away, you can set a four-digit PIN.
Outside of the parental control, Blacknut's main feature is compatibility. It's supported by just about everything, with applications for Windows, macOS, Amazon Fire TV, Android, Linux and select TVs from Panasonic and Samsung. Controller support is excellent, too, with most games supporting a keyboard and mouse, as well as gamepads. On smart TVs, you can even use your remote for some games.
Supported Games
Cloud gaming isn't much of a service if the games offered aren't any good. In this section, we searched for three services that not only have a wide selection of games, but a large library filled with high-quality games.
Shadow
Shadow dominates this section with honors. As mentioned above, it doesn't restrict your experience to particular games. Rather, when buying a subscription, you're purchasing a full desktop. That means you can install any game on any DRM platform you choose, including DRM-free games from services like GOG and Humble Bundle.
The GOG inclusion is huge. Many older titles don't run on Windows 10 or 11, which is the only OS you can use with your remote machine. A combination of drivers and architecture render some classic games, such as SWAT 4, Ultima and Wizardry VII, unplayable on modern systems. However, with Shadow, they're accessible.
Services like GOG have done the heavy lifting so you can emulate these older titles on modern systems, and because Shadow gives you a full Windows 10 desktop, you can do it in the cloud. Although not as fluid as GeForce Now, where your games are preinstalled and patched from the get-go, Shadow offers a lot more flexibility in the games you can play. Plus, the Shadow VR app was released in early 2022.
PlayStation Now
PlayStation Now has more than 800 titles in its library. Unlike all other services we've reviewed, PlayStation Now provides its entire library for free. This means you don't need to bring a license to play a particular game. Furthermore, the library includes games from PlayStation 4, PlayStation 3 and a small collection of PlayStation 2 games.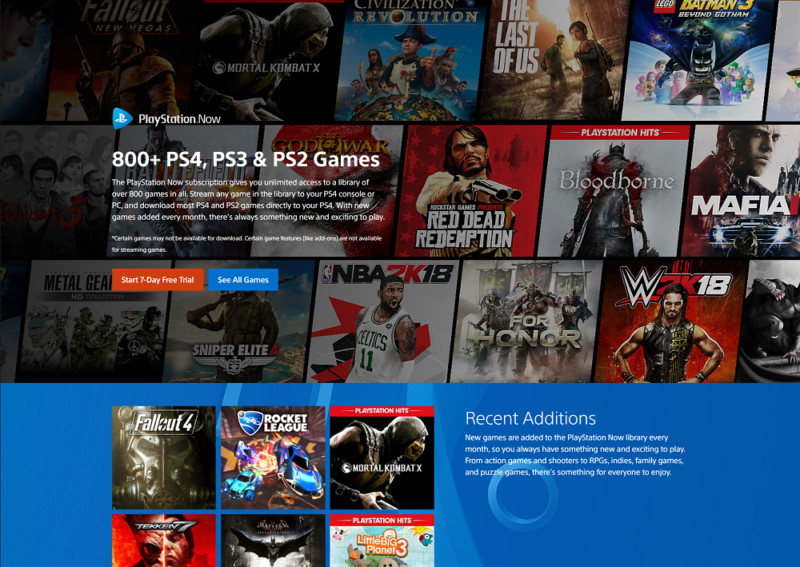 Major multi-platform titles are present, including Red Dead Redemption, Fallout 4 and Rocket League, so if you're interested in playing those, PlayStation Now is an easy choice. However, Sony fans will be more excited by the library of first-party titles. PlayStation Now has the greatest hits of Sony's long history, including every nostalgic game from the past.
The Jak and Daxter and Ratchet & Clank games are present, along with the Tekken. Some newer exclusives are available, too, including the wonderfully difficult Bloodborne. That said, the latest exclusives take a while to show up. Namely, at the time of writing, Days Gone and Spider-Man aren't supported.
Even so, the volume of games you can play simply for the cost of a subscription is excellent.
GeForce Now
GeForce Now started off with small library of just over 400 games. Compared to PlayStation Now and Shadow, it fell short in terms of volume. However, the number of games has now increased to around 1,200. Each option is specifically curated for PC gamers, with the latest releases added almost immediately to the list.
The obvious games are there, including Rocket League, DOOM 2016, Fallout 76 and Rainbow Six Siege, but we're more impressed by some of the less-popular titles. Grand strategy games, like Endless Space 2 and Hearts of Iron IV, sit alongside Japanese favorites, like NieR: Automata, Octopath Traveler and Dragon Quest XI.
Indies get a lot of love, too. Large indies, such as Darkest Dungeon and Hollow Knight, are included, but so are many other lesser-known ones, such as Deep Sky Derelicts, Mothergunship, Enter the Gungeon and They Are Billions.
Each game is of high quality and no matter if we search for a heavy-hitting triple-A or a niche indie, we can find it on GeForce Now.
Price
There isn't a baseline price for cloud gaming services yet, but the ceiling has been established by services like Shadow. In this section, we looked for platforms that offered a solid value at the asking price, not just the best deal overall. As mentioned above, going for the best deal doesn't always work out.
PlayStation Now
PlayStation Now is expensive if you sign up for a monthly plan. At nearly the same asking price of Shadow, it doesn't deliver equal performance or flexibility. However, Sony offers multiple durations, which is something that Shadow and most other cloud gaming platforms lack. If you buy a year upfront, you're getting a great deal. 
The $99.99 price tag for a year breaks down to a little more than $8 per month, which is a bargain considering you're getting more than 800 games for free and a competent streaming platform, to boot.
This is assuming you have a DualShock 4 controller already. PlayStation Now is only playable on PC and PS4, with no keyboard and mouse support. If you're only on PC, you'll need to buy a DualShock 4 and micro-USB cable (the DS4 doesn't include one). If you want to go wireless, you'll need to buy the Bluetooth adapter, too.
That could add upwards of $120 to an annual subscription cost. It's still worth it at this price, considering you're getting so many games for free, but it's not as good of a deal as the normal $100 price tag.
Blacknut
Blacknut doesn't have a great library of games, as most of them are subpar clones of better titles — for example, Lord of the Fallen compared to Dark Souls — but the price is great, costing $15 per month. 
Families are where Blacknut is most at home (ironic, we know). The library mostly consists of child-focused indies and mobile games, with the odd, subpar and M-rated title thrown into the mix. With Blacknut, you can use four screens simultaneously and the library of games doesn't require a license. The price itself is good too.
Vortex
Vortex is mediocre in terms of performance and features, but it's cheap. At a simple $9.99 per month, it's a good value, as long as you can contend with frequent stuttering and the occasional resolution dip. It's not as good as Shadow or GeForce Now, but it's also around a third of the price. That said, Vortex is no longer accepting new registrations or subscriptions — we'll talk about what once was, though.
Only a $10 tier is available, though the FAQ says it will launch a VIP program with more features in the near future. Like most cloud gaming services, you'll have to bring licenses for the games you want to play. Thankfully, Vortex cloud gaming has a solid selection, including the ever-popular Apex Legends.
You're charged monthly with no option to purchase an annual plan, which, in this case, we like. Vortex clearly has an affinity for mobile users, allowing you to buy a subscription through Google Pay or the Windows 10 purchase option. It would be easy to default to a year subscription, seeing how someone could accidentally buy a subscription, but Vortex doesn't do that.
Rather, you're charged $10 per month until you decide you don't want the service. If you buy a plan by accident, Vortex even offers a refund policy. It's limited to 15 minutes of playtime, but it's there if you need it.
Ease of Use
With multiple companies rushing to be the "Netflix of gaming," ease of use is important. Netflix and many other streaming services have refined their UIs to be accessible, robust and attractive. In this section, we looked for cloud gaming services that hit those three marks.
Shadow
Everything about Shadow is smooth. To sign up, all you need to do is choose your billing cycle, enter some information about where the service will be located and choose your Windows 10 installation. There's a recommended installation, which we also suggest that you use, but if you know what you're doing, you can do a custom installation, as well.
From there, it's a waiting game. Shadow takes some time to set up — around 30 minutes, in our case — but the waiting pays off. The local app installs immediately, and once you get access to it, you can boot your remote desktop in a matter of seconds. Shadow will run through a few hotkeys so you know how to get out of the system, too.
After that, it's just like using a normal Windows 10 machine. You can change your background, browse the web and install any software you want (though torrenting is off limits). The only addition is a semi-transparent Shadow button in the top-right corner, which you can use to open the Shadow menu.
GeForce Now
GeForce Now still has some usability hurdles to overcome — there's no denying that — but its current state is very promising. A little clarification here and there, likely in the form of tooltips, would make the experience more fluid. Given that the full release isn't upon us yet, those small additions will likely be included when the product is commercially available.
Regardless, GeForce Now is smooth from setup to play. The local application is neatly organized with a search function, meaning you can quickly find the games you want to play. There's still some confusion over the DRM platform you'll be using, which will hopefully be resolved in the full release.
After booting a game, GeForce Now doesn't stutter. You're brought directly to a Steam login page (or the DRM platform you're using) and then launch into the game. The fluidity of the experience is second to none, with no lag or unnecessary loading overhead added to the games.
Blacknut
Blacknut may not have a great library of games or excellent streaming performance, but its accessibility is sound. The three-screen checkout process goes off without a hitch, and after you've confirmed payment, you'll be brought a download screen. There, you'll find the installers for every platform Blacknut supports (it supports a lot).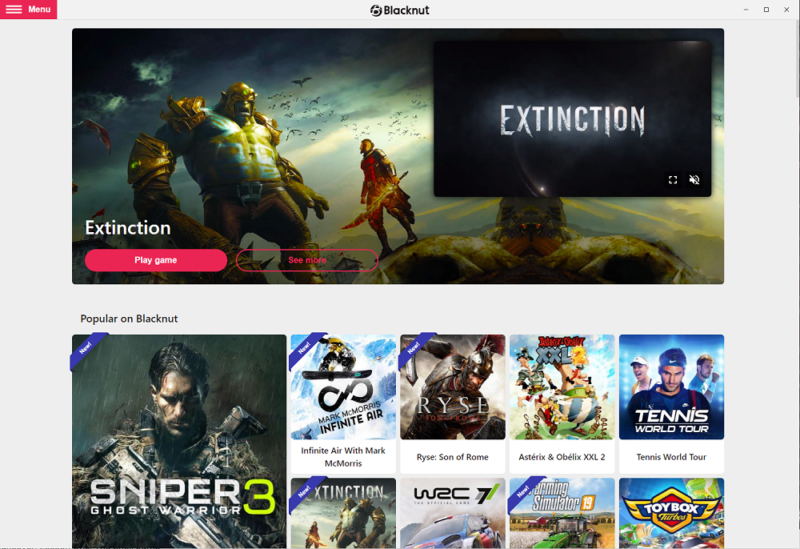 The local application on Windows is the best we've seen. Blacknut clearly took a lot of notes from Netflix when designing its UI, and that pays off. Games are broken up by section, with a featured game at the top showing some art and a trailer. For getting around, you can use the left-side menu, which will quickly send you to category you're looking for.
Blacknut lets you create up to four player profiles. Each one of these profiles can be customized with an image and name, and protected with a pin number and kids mode. After choosing a profile and selecting the game you want, Blacknut also shows media for that game, the supported platforms and the supported controllers.
Performance
If there was only a single section to evaluate a cloud gaming service on, it'd be this one. No matter how accessible the UI is or how deep the library goes, the performance has to be intact.
Although performance is more of a feel situation than anything else, we looked for services that had little to no input lag, produced most of the resolution of a local session and streamed the game with little artifacting.
GeForce Now
GeForce Now is, by far, the cloud gaming experience closest to a local game session. During our testing, we turned to DOOM 2016, Cuphead and Counter-Strike: Global Offensive for our main rounds. Each title performed excellently, with clear image quality and little to no input lag.
However, the most surprising part wasn't the responsiveness, but the quality. We were able to adjust graphical settings on a few titles, including DOOM, and have those changes reflected on screen. With DOOM in particular, we were able to play with medium to high settings at 4K and manage nearly 90fps.
DOOM is from 2016, though, so we also tested the much newer Resident Evil 3. Although the framerate wasn't as high — around 50fps to 60fps at high settings — we were able to get a playable experience in 4K. This is particularly impressive considering how demanding the Resident Evil 3 is, even on high-end systems.
Like all of our testing, we abided by Nvidia's recommendations, using a wired internet connection and closing all network tasks before launching. However, we also tested it with around 15 tabs opened in Opera on a 2.4Ghz WiFi band. There was more stuttering, but GeForce Now, surprisingly, delivered mostly the same experience.
Shadow
Although the video compression shows through more clearly here than with GeForce Now, the responsiveness is just as good.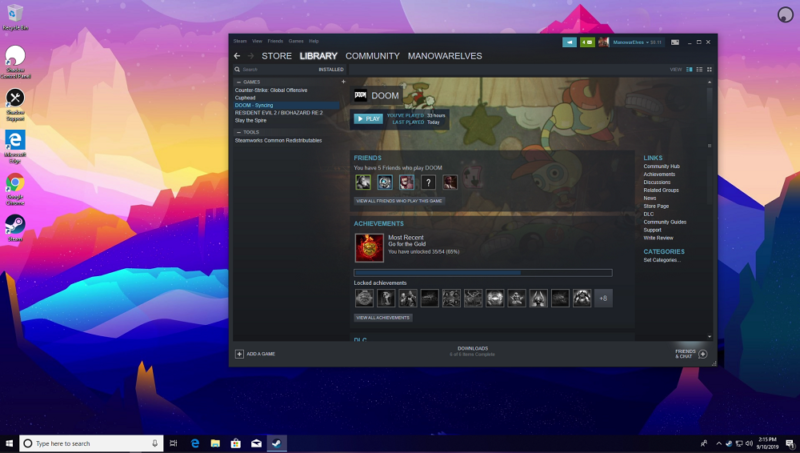 Like GeForce Now, we tested DOOM 2016, Cuphead, Resident Evil 3 and Counter-Strike: Global Offensive. Platforming in Cuphead was as precise as ever, with no perceivable input lag or stuttering. DOOM 2016 was equally as excellent, as was Resident Evil 3.
Counter-Strike: Global Offensive had some issues with Shadow, as it did with GeForce Now. We tested with bots, and although the experience was fine in that setting, the occasional hiccup is too much in a competitive setting. For the casual market, though, the performance is fine.
Project xCloud
Although not officially released yet, Microsoft's Project xCloud has some serious promise for the future. Testing on a modest WiFi connection on a Galaxy S9, xCloud provided a near local experience, with only the slightest amount of artifacting during intense sequences.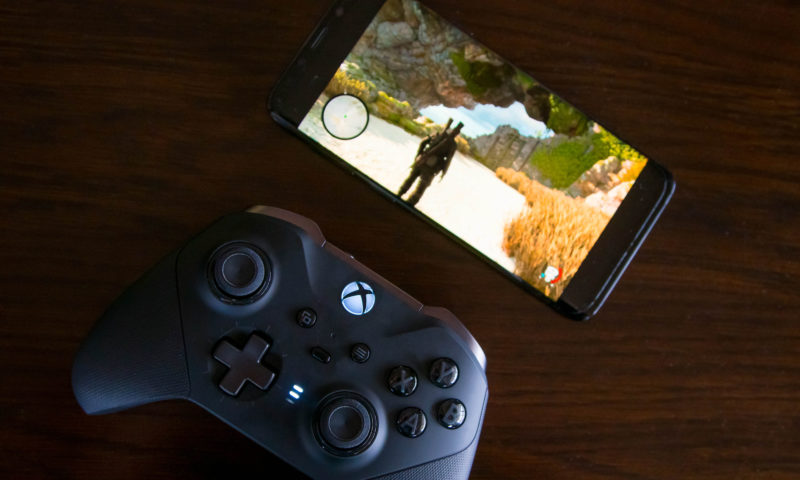 What was so shocking was the lack of input lag. Even playing Halo 5 and Gears of War 4, xCloud was able to keep up with the action. There was never a moment where we felt at a disadvantage because of the cloud-based system. It felt like there was an Xbox One in the phone. Its performance is the only feature that beats Shadow, though.
Artifacting was an issue, though, which puts xCloud in third place for this round. Whenever things heated up, the screen would often break into a series of unreadable blocks for a moment. Hopefully this issue will be solved prior to launch.
Coverage
The mileage you get out of a cloud gaming service will largely depend on where you're located and how close that location is to a data center. Because of that, it's important that cloud gaming services balance their coverage, ensuring they cover enough ground while not stretching their servers too thin. In this section, we're going to showcase three services that do just that.
Shadow
Shadow has six data centers in its network, and although the number is low, they cover a lot of ground. Four locations are dedicated to the U.S., covering each of the continental regions with data centers in Dallas, Texas; Chicago, Illinois; Santa Clara, California; and New York City.
Although most of the U.S. is covered, some locations don't have service. This means 38 states are accounted for. However, Shadow lacks coverage for Washington, Idaho, Montana, Utah, Arizona, Colorado, Wyoming, Alabama, Georgia and Florida, which, although disappointing, isn't a deal breaker.
If you're using a virtual private network — ExpressVPN is the best gaming VPN, but you can read our best VPN guide for more recommendations — you can appear as if you're in a supported state, and given Shadow's coverage, you shouldn't be tunneling over too far of a distance.
There are also two data centers in Europe, one in Paris and another in Amsterdam. However, the data center in Amsterdam only covers one location, Germany, and oddly doesn't cover the country it's located in. Paris covers more ground, providing service to France, Belgium, Luxembourg, Switzerland and the UK.
Project xCloud
Project xCloud is in an advantageous spot as a Microsoft service. Instead of trying to build a cloud from scratch, xCloud is taking advantage of Microsoft's Azure network, which is an international cloud that's already being used by companies around the world. There are more than 54 datacenters, offering the cloud to 140 countries.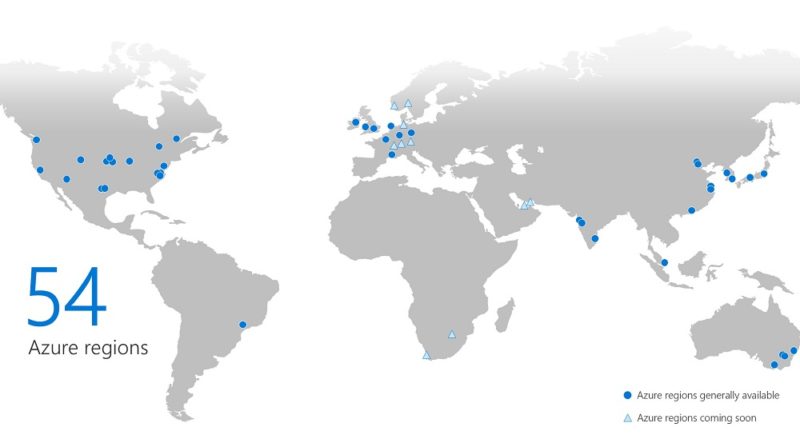 Most of the locations aren't for xCloud, which makes sense, given the service's limited trial period. The important thing to note is how easy it is to transfer xCloud to existing servers. Essentially, it's some Xbox Ones in a server, so Microsoft can deploy more cloud locations to meet demand.
xCloud would easily rank first in this round if there were xCloud servers in all Azure locations. However, seeing at the service is still in a trial period, it ranks third.
What Is the Best Cloud Gaming Service?
The best cloud gaming service, at the time of writing, isn't available. GeForce Now, in terms of performance, provides the best experience, though it's still in beta and some usability issues need to be resolved. Because of that, we're ranking Shadow at the top. 
Shadow gets near the performance of GeForce Now and is available right now. Additionally, the interface is a full release, fit with all of the conveniences that come with that title. Using the service is a breeze, and with how consistent the performance is, it's easy to forget you're gaming in the cloud.
Add on top of that the ability to do anything you could do on a normal Windows 10 desktop, and Shadow is the clear choice.
The Best Cloud Gaming Service for Android
Cloud gaming on Android feels a little clunky at this point, especially if you're using on-screen controllers. Like our overall pick, this one would easily go to GeForce Now, but the Android app doesn't have a firm release date yet, and even when it is available, it'll still be in beta.

For the time being, Blacknut is the best cloud gaming service for Android. Though a mediocre service overall, the library of games feels at home on a mobile device. Many smaller indie titles that would otherwise be unplayable on a phone or tablet are available with Blacknut, and since many of those games have simple controls, there's no problem using the on-screen controller. 
Final Thoughts: The Best Cloud Gaming
Cloud gaming is still in its infancy, but it has come far enough that there are a few great services available. Shadow is at the top for commercially available cloud gaming options, but if you're lucky enough to snag a GeForce Now beta key, we recommend that. As for the other options, they have their strong points, but they're nothing compared to the top dogs. 
Blacknut presents a wonderful interface and decent streaming quality but lacks a strong library. PlayStation Now packs a ton of value but needs some tweaks to usability. Lastly, Vortex gets most of the way there with supported games and ease of use but falls apart when it comes to performance.
What cloud gaming service are you going to sign up for? Are you willing to wait for GeForce Now? Let us know in the comments below and, as always, thanks for reading.
FAQs
What Is the Best Free Cloud Gaming Service?

There aren't many free cloud gaming services, and any that are available aren't very good. Cloud gaming is expensive to offer, so if you find a service claiming to be free, it's best to stay away.

What Is the Best Cloud Gaming Computer?

The best cloud gaming PC is fitted with a fast CPU and plenty of video memory. The best cloud gaming services — Shadow and GeForce Now — offer both, so you can play games even if they are high end.

What Is the Best Cloud Gaming for Slow Internet?

Cloud gaming, in most cases, doesn't need more than what a standard streaming service, like Netflix, would. If you're strapped for bandwidth, though, PlayStation Now is a great choice for people with slow internet speed.