Hulu Unblocked: How to Stream Anywhere With a VPN in 2023
If you're a student that wants to watch a few shows during lunch break at school, or someone that has a Hulu account but is traveling abroad, accessing the streaming service can be difficult. A good VPN offers a fast and secure way to get Hulu unblocked.
Hulu is an excellent streaming service by all standards. It has plenty of content, a plan for any budget and apps for almost any device you'd want to watch content on. That being said, it's not available outside of the United States, leaving plenty of people with no way to get Hulu unblocked and access its content library.
Key Takeaways: Hulu Unblocked
If you want to use your existing account with Hulu but you either aren't in the U.S. or are at school, using a VPN is the best way to access the streaming site.
Most VPNs have servers in the United States, but ExpressVPN and NordVPN are two VPN providers that check all the boxes when it comes to Hulu, both from a performance and security standpoint.
If you want to enjoy Hulu with a VPN for free, Proton VPN and Windscribe are two free VPN providers that will get you access to Hulu.
Using a virtual private network, or VPN, is a way to bypass such a restriction by routing your connection though a VPN's own servers — in this case, servers in the United States. There are plenty of VPN services out there, but ExpressVPN is by far the best tool for the job. You will also need a U.S. payment method, but we'll cover that, too.
You can unblock Hulu at school by using a VPN for Hulu — ExpressVPN and NordVPN are two excellent options.

Unfortunately, you can't unblock Hulu without a VPN. You may come across proxies as a suggested solution, but they aren't secure, and we wouldn't recommend them if you want to gain access to the Hulu website or app.
Why You Might Need to Unblock Hulu
There are two reasons you might want to unblock Hulu. First, you may want to watch Hulu abroad while you're traveling. Second, Hulu and other streaming services might be blocked on your school's internet network. In both cases, tunneling your internet connection through a VPN server in the U.S. will solve your problem.
Geoblocks such as the one Hulu has in place are very popular with streaming services. The reason is that production companies license their content to different streaming services depending on location. Certain services (or specific content) only being available in a specific location is a consequence of that kind of licensing deal.
Additionally, school networks often block streaming platforms, for obvious reasons, but a VPN service can bypass such a block and keep your connection hidden from your network administrator.
How to Access Hulu from Anywhere With a VPN
If you want to bypass Hulu geo-restrictions and unblock Hulu from abroad (or at school), you simply need to connect to a server in the United States using a VPN. Here is how to do it, using ExpressVPN as an example. If you want to use a different VPN app, you can go with any other VPN provider that has servers in the United States.
How to Get a US Payment Method
If you don't have a Hulu account, you'll need a U.S. payment method to get one. You can either get a digital gift card or pay for your subscription with a prepaid debit card. In both cases, you'll need to use the steps above to connect to a U.S. server with a VPN first.
The easiest option would be to buy a digital Hulu gift card from a retailer such as Amazon, Walmart, Target or Best Buy. Once you've connected to a U.S. server with a VPN, just order your digital gift card from one of the aforementioned retailers — it will be delivered to your email address.
Alternatively, if you have a prepaid debit card, you can use that to pay for your Hulu account. To do so, connect to a U.S. server using a VPN, go to Hulu's website and create an account. Then, use your prepaid card to pay for the subscription. You can use the card to continuously pay for your subscription, but you'll want to make sure to top it up regularly.
Best VPNs for Hulu
Even though there are plenty of VPNs out there, not all will let you watch Hulu from outside the U.S. You want a VPN that can access Hulu, to begin with, but also one that has solid speeds, ideally with streaming-optimized servers, and excellent security. Our two top picks are ExpressVPN and NordVPN.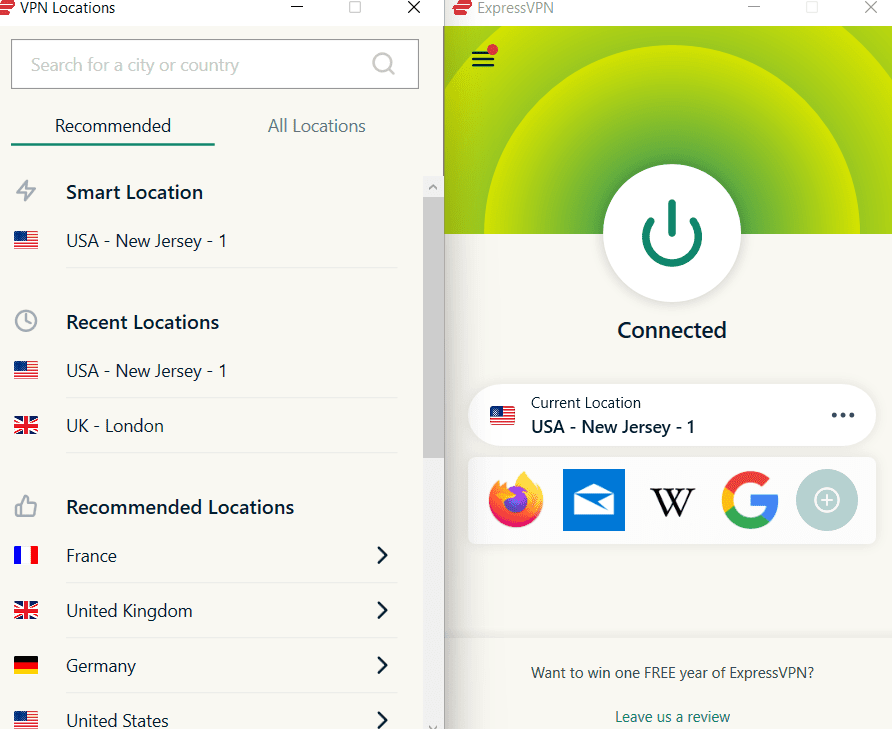 Pros:
Excellent streaming speeds
Solid security
App for almost any device
ExpressVPN has been our pick for the best VPN for quite some time, and it's also the best tool for the job if you want an American IP address. It's an incredibly fast VPN, which makes it perfect for streaming Hulu content, as well as content from any of the other popular streaming services. You can find out more about it in our ExpressVPN review.
Security-wise, ExpressVPN checks all the boxes, thanks to the use of its proprietary Lightway protocol, IP and DNS leak protection and solid privacy. It also has apps for almost any platform you can think of, so you can enjoy watching Hulu content on any device you'd like. The only downside is the pricing, but if you want to stream Hulu content, it is very much worth it.
Pros:
Very fast connection
Excellent security
Intuitive desktop app
Cons:
High latency on distant servers
NordVPN comes in at a close second, with speeds that are just as good as ExpressVPN, resulting in an almost-as-good Hulu experience. Security is top-notch, with features like a kill switch, split tunneling and excellent encryption. As we mentioned in our NordVPN review, the VPN uses its own NordLynx protocol, ensuring speed and security.
Speaking of speed, NordVPN is just as fast as ExpressVPN, if not faster, as we saw in our VPN speed comparison. Where it trails behind is latency — if you're physically far away from the United States, you may have issues with latency. This might result in buffering issues when you want to watch Hulu content with NordVPN and is the VPN's only downside when it comes to unblocking Hulu. That said, you can test it out risk-free using the 30-day money-back guarantee.
Can You Use a Free VPN to Watch Hulu?
Yes, you most certainly can, but not every VPN that's free is secure and able to access Hulu. If you're looking into accessing Hulu for free, our two recommendations would be Proton VPN and Windscribe. Both are excellent free VPNs with servers in the United States that will let you stream Hulu content.
Proton VPN is a highly secure free VPN with servers in the United States that can unblock Hulu content. It has an excellent app for almost any device, with a UI that's easy to navigate, and no limits on data. It will, however, throttle your connection speeds, which might cause issues in the Hulu app at higher resolutions — we cover this in detail in our Proton VPN review.
Windscribe takes a slightly different approach — you get no speed throttling, but you only have 10GB of data (15GB if you tweet about Windscribe). This isn't enough to enjoy the Hulu app for any extended period of time, but if you only want to access videos on Hulu occasionally, it may be enough. Windscribe also has solid security and a modern, easy-to-use app. You can find out more in our Windscribe review.
Final Thoughts
Getting IP addresses in the United States in order to stream Hulu when traveling, or when at school, isn't at all difficult if you use any of the providers above. They're all great in terms of performance on streaming servers and security, and they all have apps for multiple platforms on which you can use your Hulu account to watch movies such as Reservation Dogs, Justified: City Primeval and Only Murders in the Building.
What's your favorite way of accessing your Hulu account when you're at school or outside the U.S.? Do you splurge on ExpressVPN as your Hulu VPN, or do you go for NordVPN as a more affordable solution to access unblocked Hulu? Let us know in the comments what your favorite Hulu VPN is, and as always, thank you for reading.