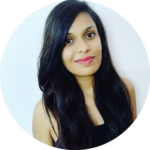 Beatrice Manuel
Writer
Snap Shot
Beatrice Manuel is an experienced B2B freelance writer and SaaS specialist. She focuses on VPNs and online security.
Background & Education
Beatrice graduated from Christ University, Bangalore, with a triple major in commerce, management accounting and insurance. She began her career at Goldman Sachs as an executive office analyst in 2018, where she worked with the management team on client engagement strategies and reported on performance, client activity and press and media engagements.
After working at Goldman Sachs, Beatrice became an independent B2B content writer and strategist. She works in the SaaS, finance and technology spaces and has written on a freelance basis for a number of clients.
Alongside writing for Cloudwards about VPNs and online security, she is the head of content at Mediaberry, where she manages a team of writers. She has also worked for Mediaberry as a content writer, link lead and content manager.
Beatrice prides herself on helping clients fulfill their vision through words by producing conversion-worthy content pieces. When she isn't helping her clients win readers, you'll find her working on her next novel and posting on her literary blog.
Last articles
Last Reviews