How to Remove DRM From Kindle Books in 2023
If you've bought an ebook from Amazon but want to read it with a device or program that doesn't support the Amazon Kindle format, you'll need to remove the ebook DRM before converting it to other ebook formats, as this guide will show you.
DRM — short for "digital rights management" — is found in basically every type of digital media, and e-books are no exception. In this guide we'll first show you how to download Kindle books directly onto a device. We'll also show you how to remove DRM from Kindle books once you have the files downloaded so you can read them on any kind of device or app.
Key Takeaways:
Calibre supports converting Kindle books to other formats and is capable of Kindle DRM removal with the use of the DeDRM extension.
You need either a Kindle device or an old version of Kindle for Windows or Mac to be able to remove DRM from Kindle files.
Removing DRM isn't illegal, but doing so in order to distribute copyrighted material usually is.
Although DRM is intended to stop the illegal distribution (or sharing) of digital content, that's not the only reason you'd want to remove it. DRM-protected Kindle books can only be opened with a Kindle or one of Amazon's Kindle apps. If you want to load your purchase into your favorite third-party e-reader or reading software, chances are you'll need to strip it of DRM first.
No. Almost all Kindle ebook files are DRM-protected.

Kindle DRM essentially stops you from opening or editing a book unless you're using Amazon's hardware or software to do so. The aim of this is to make it harder to illegally distribute the ebook files outside of the Amazon store.

The main reason you'd want to remove DRM from your Kindle books — besides piracy — is to use a third-party e-reader or reading software other than Amazon's Kindle applications.

We're not lawyers, but as far as we know it's not illegal to remove DRM from ebooks, or any digital content for that matter. That said, if you then proceed to distribute the DRM-free content, that may be illegal depending on where you live.
Guide: Remove DRM From Kindle Books
The DRM-removal process isn't super easy, so that's why we created step-by-step instructions on how to check if your Kindle book has DRM protection, and if it does, how to remove it by using Calibre.
Before You Begin: Check if a Book Has DRM Protection
These days, the vast majority of Kindle books sold have DRM protection. To check, look at the full list of product details on the book's Amazon store page.
If you see the phrase "simultaneous device usage: unlimited," the book is not protected and you can proceed to converting it to the desired format. Unfortunately, there's no other way to determine this, so you'll have to manually check each book.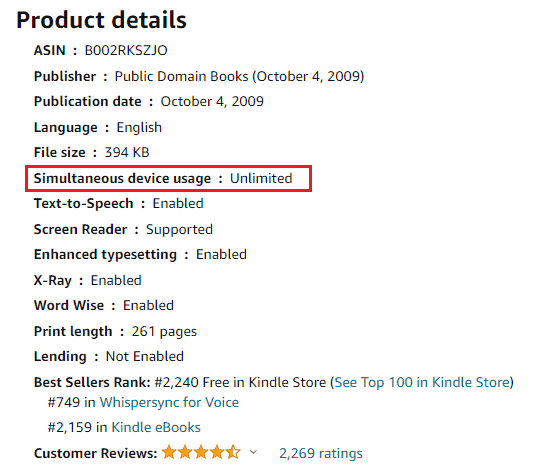 Removing Kindle DRM With Calibre
The easiest way to remove DRM from a Kindle book is to use an app called Calibre. Calibre is a reading app that by itself serves as an example of why you might want to remove the DRM from your Kindle book. It sports far more features than the Kindle app, but the only feature we're looking at today is the ability to add extensions to the program.
That's because Calibre doesn't offer free Kindle DRM removal on its own. For that, we'll need the DeDRM and KFX Input plugins. Calibre is available on Windows, Mac and Linux, but only the first of our two methods will work on Linux devices.
Remove Kindle DRM With Calibre & Kindle E-Reader
The fastest and easiest way to remove Kindle DRM is by using the DeDRM Calibre plugin and the serial number of a Kindle device. For these instructions, we'll assume that you've already downloaded the Kindle books that you want to perform DRM removal on, so check out our guide on how to read Kindle books on PC.
Remove Kindle DRM With Calibre and Kindle for Windows or Mac
If you don't own a Kindle, you'll need to use the Windows or Mac Kindle application. Unfortunately, the official version of the application won't work for our purposes, so we'll need to find an older version of the application — namely, 1.17 or older.
Final Thoughts: DRM-Free Kindle Books
That's all for our Kindle DRM removal guide. Although it's possible to get a DRM-free ePub from Amazon (albeit one that's been converted to AZW3), it's becoming increasingly rare.
Thus, if you want to use anything other than the Kindle desktop app, the Kindle Cloud Reader or an actual Kindle device, you'll need to remove DRM protection from the file before running it through an ebook converter. Now that you know how to remove DRM from Kindle ebooks, you can check out our guide on how to convert ebooks into other formats for the next step in the process.
What did you think of our guide to free Kindle DRM removal? Did it give you a clear idea of how to remove DRM for Kindle books, or does the process seem too convoluted and cumbersome? Is there another piece of software you like that supports removing DRM from Kindle books? Let us know in the comments below. Thank you for reading.