How & Where to Watch Ted Lasso in 2023: Stream All Three Seasons on Apple TV
Comedy series Ted Lasso is back for a third season on March 15 on Apple TV+. It looks to be the final season of the show, so if you don't want to miss out, this guide shares how and where to watch Ted Lasso from anywhere with a VPN.
The new season of Ted Lasso is finally here. Season three premieres March 15, 2023, on Apple TV+ and it looks to be the final season for the lovable soccer coach. Whether you're new to the series or you've been eagerly awaiting Ted Lasso's return, this guide will show you how and where to watch Ted Lasso season three — and the first two seasons — from anywhere in the world.
Key Takeaways: Stream Ted Lasso Online
The first episode of Ted Lasso season three will air on Wednesday, March 15.
It's only available on Apple TV+, but the service is available in many countries.
If you're in a country that doesn't have Apple TV+, you can use a VPN like ExpressVPN to access the service.
The multiple Emmy Award–winning show starring Jason Sudeikis is exclusively on Apple TV+, so if you've been trying to find out how to watch Ted Lasso on Netflix, you're out of luck. Apple TV+ is available in more than 100 countries, but if you're in a country where it's not accessible, a VPN like ExpressVPN can help.
We'll walk you through where all three seasons of the comedy series are available and how you can use a VPN to watch Ted Lasso in countries where it's not available.
03/13/2023

Rewritten to include season three, step-by-step instructions and two VPN recommendations.
No, Ted Lasso is an Apple TV+ exclusive, so you won't find it on any other streaming service.

Ted Lasso is available to stream on Apple TV+.
Where to Watch Ted Lasso: Which Streaming Services Have Ted Lasso?
The third season and the previous two seasons of Ted Lasso are only available on Apple TV+. You will not find the show on any other streaming service, not even on Netflix or Amazon Prime Video. As we already mentioned, it looks like the American football coach will wrap up with season three, and the first episode premieres on Wednesday, March 15. It will be the first of 12 episodes that will be released weekly.
Apple TV+ is available in many countries. However, if you're in one of the locations where the streaming service is geoblocked, you can hop on a VPN server to access the service as usual. A virtual private network (VPN) will fool Apple TV+ into thinking you're located in a country where it's available. We'll show you how to do this further down.
How to Watch Ted Lasso for Free
Since Ted Lasso is an Apple TV+ original series, you won't find it anywhere else to stream for free. However, Apple TV+ offers a free seven-day trial to new customers. You can sign up for an Apple TV+ subscription on the Apple TV app or the Apple TV+ website and get a seven-day free trial.
Alternatively, you can get a one-month free trial by bundling Apple TV+ with up to five other Apple services to get an Apple One subscription.
Apple is also offering three months of Apple TV+ for free if you purchase a new eligible Apple device. The devices include iPhone, iPad, iPod Touch, Apple TV and Mac.
Please note, though, that the streaming service requires you to have a payment method that matches your Apple ID location. A virtual prepaid card such as that offered by StatesCard can be useful, but you would need to change your Apple ID location for it to work. Read our guide on how to watch Apple TV Plus for more.
How to Watch Ted Lasso With a VPN
A VPN is a great tool for accessing services outside the countries where they're available. The following steps show you how to use a VPN — in this case, ExpressVPN — to watch Ted Lasso from a country where Apple TV+ isn't available.
The Best VPNs for Watching Ted Lasso
While you might be tempted to use the first VPN you come across, it's important you choose one that can bypass geoblocks and provide fast enough speeds for a quality stream. We've got two VPN recommendations for you, starting with the best VPN, ExpressVPN.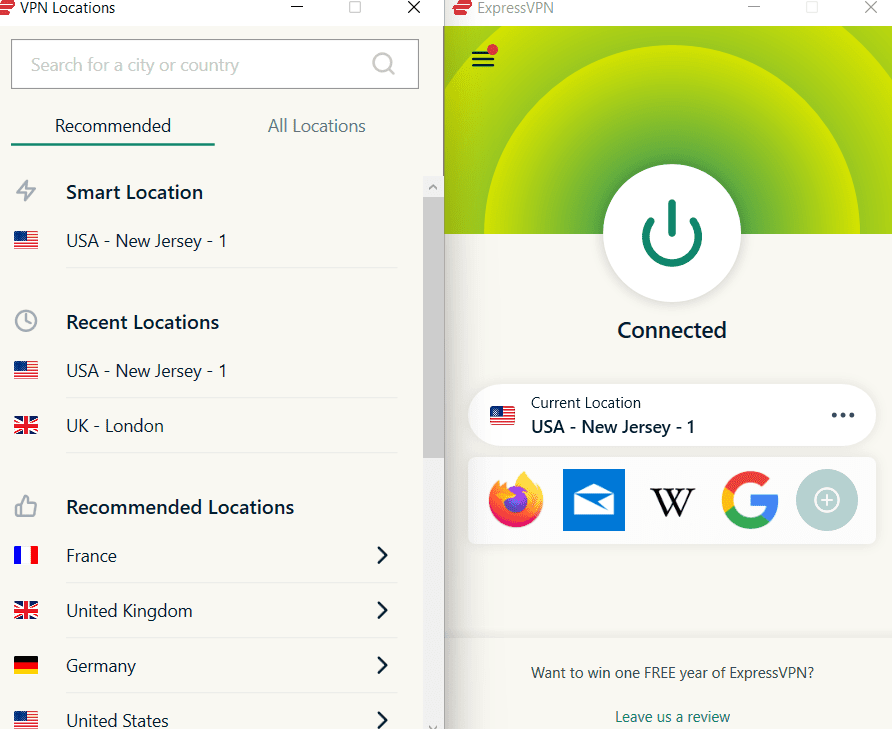 Pros:
Unlocks streaming apps
Fast streaming speeds
Easy to use on all devices
ExpressVPN is the best VPN for streaming, which is why it's our top pick for watching Ted Lasso. Its fast speeds mean you won't be plagued with a buffering screen and its large server network allows you to connect to plenty of countries where you can watch Apple TV+. It's also great at unblocking streaming services, including Netflix, Amazon Prime Video and Apple TV+.
ExpressVPN is highly secure, so you don't need to worry about staying safe if you stream on public WiFi. Plus, you can install ExpressVPN on pretty much any device, and its SmartDNS feature (MediaStreamer) allows you to use the VPN on devices like Roku or Apple TV that don't support the complete VPN app.
The only caveat is its price. The monthly fee is pretty standard, but even with a discount, the annual plan is still quite expensive. Then again, you get what you pay for, and in this instance, you get a quality service. There's a 30-day money-back guarantee and our ExpressVPN review goes into more detail.
Pros:
Rapid speeds
Thousands of servers
Long-term affordability
Cons:
Mobile interface is clunky
NordVPN is also good at bypassing streaming services blocks and it has thousands of servers available to help. It also has the fastest VPN speeds, so you won't have to worry about poor resolution or slow loading times.
NordVPN comes with top security features and a visually pleasing interface that includes an interactive map. However, the mobile version could be better, since it's a little awkward to use.
Still, that's no reason not to at least try NordVPN, and its 30-day money-back guarantee means you can get a refund if you don't like it. Plus, if you decide to stick with NordVPN, the two-year plan makes it a more affordable option. You can also read our NordVPN review.
Cast, Characters & Plot: Ted Lasso Season Three
Jason Sudeikis stars as Ted Lasso, an American college football coach who is hired to help boost the poor performance of English professional soccer team, AFC Richmond. However, the team's new owner, Rebecca Welton (Hannah Waddingham), actually hired Ted with the hope that he would lead the team to failure as a way to punish the previous owner — her ex-husband — for cheating on her.
Rebecca's plan doesn't quite work, though, with Ted successfully winning over the players and bringing the team closer together. That said, Ted's kindness and positive attitude doesn't magically bring a winning streak to the team, and they're relegated to the Championship in season one.
Season two sees the team pick themselves up and get promoted back into the Premier League, but we'll have to wait and see how things pan out in season three. Here is the main cast and crew list.
Production:
Written by — Jason Sudeikis and Bill Lawrence
Produced by — Jason Sudeikis, Bill Lawrence, Liza Katzer and Jeff Ingold
Cast & Characters:
Ted Lasso — Jason Sudeikis
Rebecca Welton — Hannah Waddingham
Coach Beard — Brendan Hunt
Roy Kent — Brett Goldstein
Keeley Jones — Juno Temple
Leslie Higgins — Jeremy Swift
Jamie Tartt — Phil Dunster
Nathan Shelley — Nick Mohammed
Dr. Sharon Fieldstone — Sarah Niles
Dani Rojas — Cristo Fernandez
Sam Obisanya — Toheeb Jimoh
Isaac McAdoo — Kola Bokinni
Jack — Jodi Balfour
Final Thoughts
Whether you want to catch up on the first two seasons of one of the best comedy series, Ted Lasso or you've been waiting for season three to drop, we hope this guide has helped. Although Apple TV+ is the only place you can watch the show, a VPN can help if you cannot access the service from your current location.
ExpressVPN is our top pick, but NordVPN is a solid choice too. Both come with a 30-day money-back guarantee.
Love science fiction thrillers? We recently published a guide on where to watch Inception online.
Do you need a VPN to watch Ted Lasso on Apple TV+? If so, which one will you choose? How many seasons of Ted Lasso do you hope there will be? Let us know in the comment section and, as always, thank you for reading.