When creating a backup plan, many SMB owners who decide to move their data to the cloud make the shift in full. It makes sense to think that way: backup enthusiasts, including the cloud-happy scribes here at Cloudwards.net, have long extolled the benefits of storing data remotely, and only remotely.
But the truth is that the argument of local versus remote backup isn't that one-sided; our 2017 backup strategy is in fact a hybrid one. Local storage has plenty of advantages, which is why we ultimately recommend a hybrid approach for people that need to access a lot of data often.
Stick with us as we acquaint you with the basics of hybrid backup and, as an added bonus, introduce a tool designed to maximize its efficiency: CloudBerry Backup (make sure to read our CloudBerry Backup review for more information).
Benefits of Cloud vs Local Backup
Before we get started discussing how to approach a hybrid backup setup, let's talk about the distinct advantages — and disadvantages — of using cloud and local backups.
Cloud Backup Advantages
The benefits of backing up data in a remote data center are numerous, though for many business users it all begins with peace of mind. Local storage hardware is susceptible to fire, flood and accidental damage. Theft is a concern, too.
True, servers housed in remote data centers aren't impervious to these issues. However, your data is considerably safer there because it gets stored on multiple servers for redundancy. Better yet, these data centers are generally "hardened," which means they're designed to withstand natural and man made disasters. They are also often monitored with video surveillance and patrolled by guards.  
Some storage vendors go to even greater lengths to secure your data. For example, Google Cloud data centers incorporate vehicle access barriers, perimeter fencing, biometric scanners and laser beam intrusion detection.
Cost is another advantage of cloud backup. With many business-class backup solutions, including Amazon S3 and Google Cloud, you're only charged for what you use. So, in addition to letting someone else handle the maintenance and security costs, you gain the financial flexibility that comes with scalable storage.
Cost per GB per Month for Several Cloud Storage Providers
| | Multi-regional | Regional | Cold storage |
| --- | --- | --- | --- |
| Azure | $0.0458 | $0.0208 | $0.0152 |
| Amazon S3 | N/A | $0.023 | $0.004 |
| Google Cloud | $0.026 | $0.020 | $0.007 |
| Backblaze B2 | N/A | $0.005 | N/A |
---
Then, of course, there's data access. With local storage, depending on your setup, you often need to be physically connected or in close proximity to your hardware. With cloud backup, you gain access to your data from any device, no matter where you are, with minimal hassle.
If you're still on the fence about moving your data to the cloud, we invite you to read how your business should move to the cloud, which will offer some more insight into the advantages of both cloud backup and cloud storage. If you're uncertain about the difference between backup vs storage, feel free to read up on that, too.
Benefits of Local Backup
As advantageous as keeping your data in the cloud might be, there's one way it can't quite keep up with local storage: speed.
When you're uploading or downloading data to the cloud, the speed of those processes are limited by both the strength of your Internet connection and the sophistication of the file transfer algorithms used by your backup service. File transfer algorithms are going to be impacted somewhat by the type of encryption used. More impactful, though, is whether or not a full backup or partial backups are being run.
Some of our best online backup services handle that second part better than others. There are three different types of backup that could be used:
Full backup: all data marked for backup gets backed up even if it already has been
Differential backup: only uploads changes since last full backup
Incremental backup: only uploads changes since last full, differential or incremental backup
Differential backup runs more quickly and uses less space than full backup, while incremental backup runs more quickly and uses less space than both full and differential backup. CloudBerry Backup, which we'll look at more, in a moment, runs incremental backup by default and can run full backups.
Another handy algorithmic technique to be on the lookout for is block-level backup, also configurable with CloudBerry. With block-level backup, only the parts of files that have been changed are backed up, further reducing speed. Even with incremental backup with block-level transfers enabled, however, the cloud-backup process still isn't as fast as backing up data locally.
Plus, it won't save you any time when it comes to disaster recovery.
If you're dealing with a few hundred gigabytes of data or data that isn't critical to your day-to-day operations, you can probably get by just fine with recovery from the cloud in the event of a hard drive crash or corruption. Business owners who need access to a terabyte or more of critical data, though, could be in trouble.
With local backup, you can achieve much faster data recovery, whether wirelessly or, better, plugged directly into your storage. USB 3.0 connections can, theoretically, achieve data transfer rates of up to 5GB per second. That's 5000 megabits per second. Even a reasonably fast Internet connection is 200Mbps and you're unlikely to get that with most backup services.
The advantages of maintaining a local backup solution are clear. The real question is whether you opt for a simple external hard drive, or go with a RAID solution for added redundancy. Another option is to use a NAS (we recommend both).
Hybrid Backup with CloudBerry Backup
Making up your mind to go with a hybrid approach is the hard part. Implementing it is the easy part. Assuming, that is, that you use the right tool.
Watch our video on how to set it up for your business: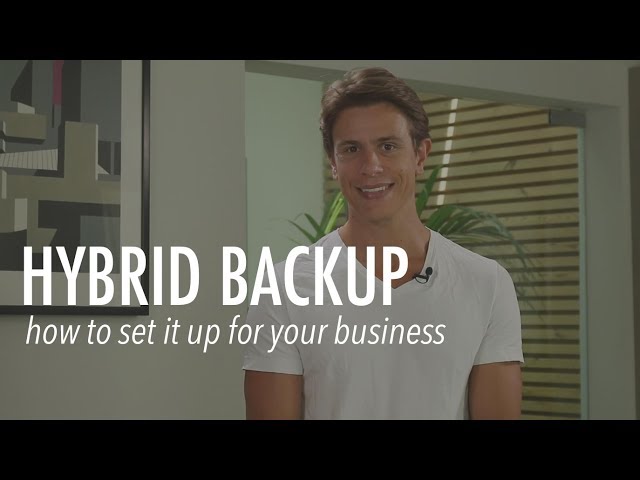 In theory, backing up your data to both the cloud and local backup should be more work. With many consumer backup solutions, you have to set the two up separately. Not only can this be time-consuming and tie up computer resources, segregated backup processes are error prone if you're doing file-level backup. That's because it's very easy to overlook files when creating a backup plan.
CloudBerry Backup, however, lets you manage both local and remote backups concurrently, while at the same time limiting the impact of running two backup processes on system resources.
For readers not yet familiar with CloudBerry Backup, the first thing to know is that it's a backup management tool only. CloudBerry, unlike rival Acronis, does not maintain its own data centers. Instead, you have to purchase cloud storage from a separate vendor.
Rather that a disadvantage, as you might expect, there's actually tremendous advantage in the CloudBerry approach, and not just because Acronis doesn't support local backup. CloudBerry Backup lets you choose from over fifty different cloud backup options.
The value there is that you get to pick the best backup solution for you, taking into account cost, location, speed and support and many other factors. If you need a little help brainstorming the options, our cloud backup showdown, featuring Amazon, Google, Azure and Backblaze, is a good place start.
When setting up a backup plan with CloudBerry Backup, you're given the option of creating a local plan, cloud-based plan or, since update 5.6, a hybrid plan.
With hybrid, your data first gets backed up to your local cloud storage. Then, its backed up from your local storage to the cloud. By backing up directly from local to the cloud, there's less impact on the resources of the device you're actually backing up.
How to Setup Hybrid Backup with CloudBerry
Once you've installed CloudBerry Backup on your machine, creating a backup plan is made smooth thanks to a nicely conceived wizard. CloudBerry Backup Desktop Edition supports files system backups. With you opt for the Server Edition, you can perform image-based backups, too. In fact, we recently rated CloudBerry the best image-based backup solution for 2017, as well as the best Windows Server backup tool (yeah, we're fans).
Once you make your pick, you'll next be asked to choose local or cloud, or hybrid.  
Pick hybrid, hit next, then find and select your local storage.
After, you'll be asked to select your cloud storage option. If you've never set up CloudBerry Backup before, depending on your online storage provider, you may need to acquire access keys in order to let CloudBerry connect.
These can usually be found by logging into the platform. Our Amazon S3 and Azure starter guides, also featuring CloudBerry (big fans), will give you an idea of where to look for them:
The rest of the process should be straightforward. You'll be asked to name your backup plan, pick a backup mode (advanced, simple, custom or archive), choose whether you want CloudBerry to perform block-level backup and make a few other selections. Then, if you've picked file-based backup, will need to select what folders and files you want backed up.
CloudBerry also lets you backup by file type rather than location. This option is very useful if you're afraid of overlooking certain files but don't want to perform a full image backup, or you haven't bought the server edition. You can also choose to exclude certain file types, or skip certain folders, or only backup files modified after a certain date and files of under a certain size.
Basically, the customization options far exceed what you'll find with consumer backup tools, even highly customizable Cloudwards.net favorites like IDrive and CrashPlan. That, in addition to many other reasons already discussed, makes CloudBerry Backup ideal for SMB owners and IT professionals.
Once you've made these file selections, you be asked to set encryption, choose a retention (versioning) policy and setup a backup schedule. There, you can choose to run a backup at night, for example, so that it doesn't interfere with your daytime work. If you've setup block-level backup, you'll be given the option of creating a full backup, too, which by default CloudBerry sets for once a month.
Create notifications, review your backup plan and hit "finish." That's really all there is to setting up a hybrid plan with CloudBerry Backup. Really, in the end, it's no more difficult than creating an ordinary cloud-backup plan despite having excellent advantages.
Conclusion
Among IT professionals, the prevailing "best practice" in backup revolves around a rule called "3-2-1." The idea is simple:
Maintain at least three copies of your data
Maintain copies on at least two different mediums
Keep at least one copy offsite
A hybrid approach using CloudBerry Backup takes this one step further by storing your data on at least three different mediums: your device, your local storage and a remote server. Do so and you'll be positioning your business to quickly and effectively manage any data loss scenario.
Sign up for our newsletter
to get the latest on new releases and more.
Have a hybrid setup of your own? Recommendations on cloud storage or NAS devices to pair with CloudBerry Backup? Share your thoughts in the comments below. Thanks for reading.