How and Where to Watch Virgin River Online in 2023: Stream Season 5 From Anywhere
Season five of the romance drama Virgin River is about to begin. If you want to know what's in store for Mel, Jack, Preacher and the rest of the group, keep reading, as this guide shares how and where to watch Virgin River online with a VPN.
Key Takeaways: Watch Virgin River Online
Season five of Virgin River starts Thursday, Sept. 7 on Netflix.
It's a Netflix original, so you won't find the show streaming anywhere else.
If you're in a country where Netflix isn't available or the show isn't in your local library, you can use a VPN to get access — we recommend using ExpressVPN.
Not available in your country?
Watch Virgin River now on Netflix
Status checked 2023/09/08:
www.expressvpn.com
The release date for season five of the romantic drama series Virgin River has finally arrived. It's been more than a year since the last season was released, and fans have been patiently waiting for another dose of cozy romance. If you want to know how and where to watch Virgin River season five, keep reading.
The series is based on best-selling author Robyn Carr's book series of the same name. The show follows Mel (Alexandra Breckenridge) as she begins a fresh start as a midwife and nurse in the fictional remote northern California town of Virgin River. However, while she has a new beginning, it isn't as trouble-free as she expected.
Virgin River is a Netflix series, which means you should be able to watch it in any Netflix region. However, if you're in a restricted country or Netflix isn't available in your country yet, you won't be able to access the show. Fear not — a top VPN like ExpressVPN can get you access. We'll show you how in this guide, as well as give you a few VPN recommendations.
Where to Watch Virgin River
As we already said, Virgin River is a Netflix original series, so you can't watch it anywhere else. Most Netflix originals are available in all Netflix libraries, but there are some instances where Netflix blocks certain regions from accessing an original show. Usually, this is due to cultural or language differences.
Getting past a Netflix geoblock is easy, though, so long as you have a good VPN (virtual private network). We'll show you how to do this further down, and it'll also work if you're in a country where Netflix isn't available at all, even if it's because of strict censorship.
Which Streaming Services Have Virgin River: Is Virgin River Season 5 on Netflix?
Yes, Virgin River season five premieres on Thursday, Sept. 7 on Netflix. Season five consists of 12 episodes, but for the first time, two of these will be special festive episodes that will air on Nov. 30.
You can also watch all four previous seasons on Netflix. As we already mentioned, we can't be sure that it'll be available in all Netflix countries (there are 190 of them), but you can easily get access to it with a VPN.
Plus, since Netflix has produced the show itself, it owns 100% of the rights, and you won't find it anywhere else to stream. If you can't access the show on Netflix due to geoblocks, censorship or because the platform itself hasn't made its way to your region yet, a VPN can help.
How to Unblock Netflix US & Other Libraries
Accessing a different Netflix region is easy. With a VPN, you can connect to a server in a country where both Netflix and Virgin River are available.
By doing this, your true IP address is masked by a new one in that country. Netflix detects your location from your IP address, so this fools Netflix into thinking you're in a country that has access to the show. All you have to do is sign in to your Netflix account and you'll see that country's library.
This is useful for accessing a ton of other shows that you might not be able to watch in your current region. To access a different Netflix region, simply switch to a different VPN server and log back in to the platform. Our tutorial below shows you exactly how to do this.
How to Watch Virgin River Online With a VPN
In the following steps, we'll show you how to watch Virgin River on Netflix from anywhere in the world. We've used ExpressVPN in this example, which is not only the best VPN for streaming in general, but also the best VPN for getting into Netflix.
The Best VPNs to Stream Virgin River
Accessing Netflix requires a reliable VPN that can bypass the blocks put in place. You should also choose one with fast speeds to ensure you're not plagued with buffering wheels or terrible resolution. Here are our top picks for watching Virgin River on Netflix.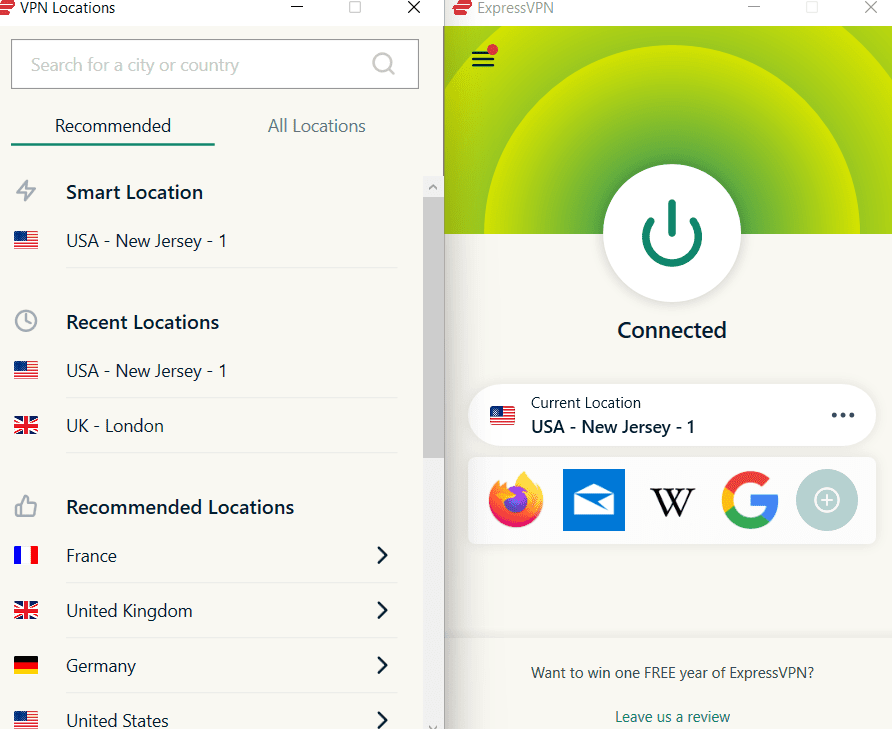 Pros:
Fast streaming speeds
Excellent unblocking ability
Easy-to-use apps
ExpressVPN ticks a lot of boxes when it comes to VPN features and reliability, which is why it's our pick for the best VPN overall. For streaming, ExpressVPN easily bypasses geoblocks and other restrictions to unblock all platforms, including Netflix. Plus, its server network is spread across 94 countries, meaning you can unblock a ton of Netflix libraries and access more shows.
It also has excellent speeds and apps available for most devices — all of which are user-friendly. ExpressVPN's strong security will help you stay protected while you stream, and although its price is a bit more hefty than other VPN services, it truly is worth the extra cost. You can find out more in our ExpressVPN review, or test it for yourself with the 30-day money-back guarantee.
Pros:
Fastest average speeds
Affordable annual plans
Unlocks streaming apps
Cons:
Server map doesn't work well on mobile
NordVPN is another great choice for accessing Netflix, and it's a more affordable option if you can't quite stretch to ExpressVPN's cost. It can unblock Netflix and other services with ease, and although it doesn't quite reach as far as ExpressVPN, NordVPN has servers available in 60 countries. It also often has the best average speeds available, as our daily speed tests show.
You'll benefit from NordVPN's top-notch security, and its server map makes it easy to choose a location. Well, at least on a desktop, that is. We found using the server map on mobile to be a little tricky due to the small screen.
Still, NordVPN is a cheaper option that doesn't skimp on quality. The two-year plan sees the best savings, and there's a 30-day money-back guarantee, too. Read our NordVPN review for more information.
Pros:
Decent free plan
Gets into Netflix
Decent speeds
Cons:
Free servers in only three locations
Finally, we have Proton VPN. It's a great option if you're looking for a free VPN. With the free plan, you get servers in three locations: Japan, the Netherlands and the U.S. These will get you access to Virgin River on Netflix very easily — Proton VPN is the best free VPN for Netflix.
You get unlimited data on the free plan, which is a rare occurrence. Free plans usually have a data limit, with you needing to upgrade to the paid plan to remove it, but with Proton VPN, you can stream as much as you like. On top of that, its speeds are fast enough, even with the free servers having more users.
Of course, you will likely see faster speeds on the paid plan, and purchasing also gives you access to more servers, which means you can tune in to more Netflix libraries. It's easy to use, and you can check it out either with the free plan or by using the 30-day money-back guarantee included with a paid plan. Read our Proton VPN review for more information.
Virgin River Season 5: Cast, Characters & Plot
Be aware that the following section contains spoilers for the first four seasons of Virgin River.
Virgin River is a heartwarming show that focuses on the story of Mel who, after accepting a job as a midwife and nurse practitioner, moves from Los Angeles to the small town of Virgin River. Mel is suffering from the grief of losing her baby and the death of her husband in a car accident shortly afterward. She's hoping that this new life will help her clear her head of those painful memories from her hometown.
However, even a small remote town like Virgin River comes with problems, and life isn't as quiet as she thought it would be. Still, Mel finds herself making new friends and falls in love with former U.S. marine, Jack.
Viewers were treated to a lot of storylines in previous seasons, such as Mel being pregnant, Jack asking her to be his wife, a new doctor in town and Preacher being left for dead after being drugged and lured into the woods. Season five is sure to please fans once again and make up for the extra wait time for the season premiere.
Virgin River's cast list includes four Grey's Anatomy stars: Martin Henderson (Jack), Jenny Cooper (Joey), Zibby Allen (Brie) and Annette O'Toole (Hope). Here's a complete cast list:
| Character | Performer |
| --- | --- |
| Melinda "Mel" Monroe | Alexandra Breckenridge |
| Jack Sheridan | Martin Henderson |
| Dr. Vernon Mullins | Tim Matheson |
| Hope McCrea | Annette O'Toole |
| Dan Brady | Benjamin Hollingsworth |
| Mike Valenzuela | Marco Grazzini |
| John "Preacher" Middleton | Colin Lawrence |
| Brie Sheridan | Zibby Allen |
| Lizzie | Sarah Dugdale |
| Denny Cutler | Kai Bradbury |
| Dr. Cameron | Mark Ghanimé |
| Muriel | Teryl Rothery |
| Joey Barnes | Jenny Cooper |
Final Thoughts
Hopefully, our guide has helped you understand why you might not see Virgin River in your local Netflix library or why you can't access Netflix at all if you're in a certain country. No worries, though: A VPN is the answer to either of those issues.
We suggest giving ExpressVPN a try. It comes with a 30-day money-back guarantee, so you can get a refund if you're unsatisfied. However, NordVPN and Proton VPN are also solid alternatives.
If you fancy other Netflix original series, we got you covered. We recently published a guide on where to watch The Upshaws — a family comedy starring Wanda Sykes and Mike Epps.
Will you need a VPN to watch Virgin River? If so, which VPN will you use? Let us know in the comment section, and as always, thank you for reading.
FAQ: Where to Watch Virgin River Season 5
The premiere for Virgin River season five is Thursday, Sept. 7 on Netflix. Season six has also been announced, but we don't yet have a release date.

Yes, season five of the drama series Virgin River begins this September on Netflix.

Virgin River season five premieres Thursday, Sept. 7 on Netflix.