How & Where to Watch Scrooged Online in 2023
It's the time of year when we grab some popcorn and watch both new and classic Christmas movies. Scrooged is likely on your watchlist, and if you want to know where you can stream it, this guide shares how and where to watch Scrooged with a VPN.
There are many different takes on Charles Dickens' A Christmas Carol with Ebenezer Scrooge, but none are quite as modern as Scrooged. The movie gives the right combination of comedy and Christmas spirit, and if you've yet to watch it this Christmas season, this guide shows you how and where to watch Scrooged.
Key Takeaways:
Scrooged is available on a few streaming platforms, including the U.S. Amazon Prime Video library, Philo, Paramount Plus and fuboTV.
It's also available to rent or buy on platforms like Vudu and Apple TV.
Since a lot of those services employ geoblocking, you might need to use a VPN to bypass the blocks. We recommend using ExpressVPN.
The 1988 film sees Frank Cross (Bill Murray) as a selfish yet successful television executive. His cold ambition and heartlessness have already pushed away the love of his life, Claire Phillips (Karen Allen), and he continues to do the same with others around him.
Frank wants his staff to work through the holiday so they can broadcast a lavish live performance of A Christmas Carol, complete with Solid Gold Dancers, on Christmas Eve, but when staff member Eliot Loudermilk disagrees, Frank fires him.
Later that evening, Frank is visited by the three ghosts: the ghost of Christmas past, Christmas present and Christmas yet to come. He gets the chance to reevaluate his attitude and make things right, and with this guide, you get to stream Scrooged for yourself.
Yes, Scrooged can be found on a few streaming services, such as Amazon Prime Video U.S., Paramount Plus and fuboTV.

No, Scrooged is not available on Hulu and we couldn't find it in the Netflix regions we checked.

No, Scrooged is a Paramount Pictures movie.

Scrooged is available on a few streaming apps, such as Amazon Prime Video U.S., Philo and Paramount Plus.
Where to Watch Scrooged
While you might have streamed Scrooged before, the services where it is available might have changed since Christmas past. Streaming services are bound by license and copyright restrictions, so they implement geoblocks. For example, a show that's available on Netflix U.K. might not be in the Netflix U.S. library.
Luckily, you can use a virtual private network (VPN) to bypass the geoblocks and access the streaming services you want. All you need to do is connect to a VPN server located in the same region as the content you want and voila, you're in. Some VPNs don't have what it takes to unblock services, but the two providers we've recommended have no issues.
Which Streaming Services Have Scrooged?
If you have an Amazon Prime Video account, you can stream Scrooged from there. That's only as long as you're in the U.S., though. If not, you can connect to a U.S. server to access it. New customers can even get a 30-day free trial. It's also available on Paramount Plus and fuboTV in the U.S., and you'll be able to stream it on Philo from 11 a.m. on Dec. 24.
If you'd prefer a different platform, there are some streaming services outside the United States that have Scrooged, such as Stan in Australia and NOW in the U.K.
It's also available to rent or buy on the following services:
Vudu
ROW8
AppleTV
Google Play
How to Watch Scrooged for Free
A lot of times, streaming something for free means turning to illegal streaming websites or questionable torrents. Thankfully, in this case, you can stream Scrooged for free on Pluto TV in the U.S.
Pluto TV is a free streaming service, but it's not ad-free. As long as you don't mind watching some ads during your stream, Pluto TV is a great choice. It's available in a few countries, but the content can differ. Since Scrooged is available on the U.S. version, you'll need to use a VPN to connect to a server in the U.S. if you're not in the country.
How to Watch Scrooged With a VPN
Depending on which service you decide to use to watch Scrooged, you might need the help of a VPN. In this section, we've provided steps on how to watch Scrooged on Amazon Prime Video U.S. with ExpressVPN. However, the steps should be similar on any platform or VPN service.
The Best VPNs for Watching Scrooged
We've listed two of the best VPNs here, so you don't have to go to the trouble of finding a reliable one yourself. Both providers are included on our best VPN for streaming list, but we'll go into more detail below.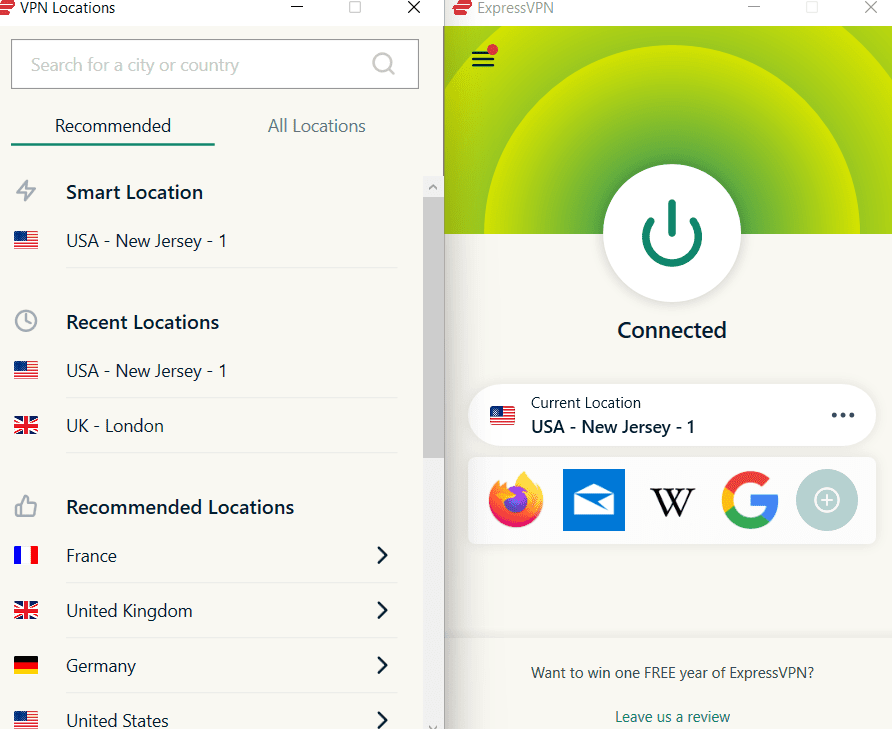 Pros:
Servers in 94 countries
Lightning-fast speeds
Accesses all streaming apps
ExpressVPN is a regular number-one choice because it excels in all areas. It can easily unblock streaming services, has fast speeds and ensures you stay protected at all times. You get access to thousands of servers in 94 countries, and its easy-to-use interface makes it easy to switch servers whenever you need to.
ExpressVPN's monthly cost is high, even on its best deal. However, if you want a VPN that provides the best service, you'll have to pay the premium. If you want to take it for a spin, you can make use of the 30-day money-back guarantee. You can also read our full ExpressVPN review for more information.
Pros:
The fastest speeds
Unblocks streaming services
Affordable plans
Cons:
Poor map interface on mobile
NordVPN isn't too far behind ExpressVPN and in a couple of areas, it's actually better — such as being the fastest VPN. It can get into streaming services with ease too, meaning you get an excellent streaming experience. NordVPN also has a huge number of servers in more than 50 countries, which can easily be found with an interactive map.
While the map interface is great on desktop, it's not as good on mobile, and that lets NordVPN down. However, one thing NordVPN does better than ExpressVPN is save you money with its subscription plans. The two-year plan is just $3.29 per month and there's a 30-day money-back guarantee in case you change your mind. Read our NordVPN review for more details.
More Details: Scrooged Cast & Characters
Scrooged gave us the complete "Murray" experience, with three of Bill Murray's brothers starring in the movie. Still, there are plenty of other names that deserve a mention, so here's the main cast list.
Director — Richard Donner
Writers — Mitch Glazer and Michael O'Donoghue
Frank Cross — Bill Murray
Claire Phillips — Karen Allen
Grace Cooley — Alfre Woodard
Eliot Loudermilk — Bobcat Goldthwait
Lew Hayward — John Forsythe
Preston Rhinelander — Robert Mitchum
Herman — Michael J. Pollard
Brice Cummings — John Glover
James Cross — John Murray
Earl Cross — Brian Doyle-Murray
Party guest — Joel Murray
Gramma — Mabel King
Ted — Mary Ellen Trainor
Ghost of Christmas Past — David Johansen
Ghost of Christmas Present — Carol Kane
Ghost of Christmas Future — Robert Hammond
Final Thoughts
If you're after some classic Christmas movies, Scrooged is a perfect choice for a cozy Christmas Eve. There are a few streaming services that have the movie, and we hope this guide has helped you find one that suits you.
Remember, if you're in a country where Scrooged isn't available, you can hop on a VPN to get access. ExpressVPN is our top suggestion for a VPN to watch Scrooged, but NordVPN is a great alternative, too.
Where will you stream Scrooged? Will you need a VPN to watch it? If so, which one will you choose? Have you righted your wrongs? Or do you think you'll be visited by three ghosts this Christmas Eve? Let us know in the comments section and, as always, thanks for reading.