Western Digital My Book Review
Western Digital's My Book range are powerful external HDs that take up more space than its competitors, but offer a lot more storage for a decent price. For the details, read our Western Digital My Book review.
Western Digital My Book drives are a staple of the storage giant's external range. They've been around a while, in many iterations, and it's easy to see why. My Books allow you to get a lot of storage for little money, outfitted with archival drives and a sleek exterior. That said, the need for dedicated power and a large form factor make it a poor choice for storage on the go.
In this Western Digital My Book review, we're going to see if it's among the best external hard drives or if you should go with another option. We ordered a drive on Amazon to ensure our sample wasn't cherry-picked and took it through the ringer, testing speed, errors and more.
Thankfully, our findings were mostly positive. Though a My Book lacks the functionality of the Western Digital My Cloud range, it's much cheaper, making for a cost-effective local backup solution. It comes with a slew of features, too, which are worth the price of admission alone.
Strengths & Weaknesses
Strengths:
Backup utility included
Encryption tool included
Password protection
Comes in massive sizes
Fast
No errors
Weaknesses:
Requires external power
Large
Spinning drive will eventually fail
Alternatives for Western Digital My Book
Features
Unlike most of the external drives we've reviewed, the Western Digital My Book isn't a portable drive. You could take it with you, but the expanded storage space, larger size and dedicated power source suggest that it's an external drive that's meant to live on your desktop.
A My Book is actually a hard drive enclosure with a drive included. Inside is a Western Digital Red hard drive, which spins at 5,400 rpm and is meant as an archival solution. The space on Red drives is also much larger compared to Western Digital Blue and Western Digital Black drives, which top out much sooner than the network-attached storage counterparts.
That said, it's not a direct conversion. We've heard grumblings online about different models being included in the enclosure, with some people pointing towards HGST drives. We know that the My Book 6TB model we tested has a Red drive inside, though.
Western Digital My Book Setup
Setting up a My Book isn't hard, especially when Windows and macOS are ready to take the drive. Plugging in the power cable and wiring the USB type A to USB micro type B from the drive to your computer will instantly show your available storage space and two installers preloaded on the drive.
They're the installers for Western Digital Discovery for Windows and macOS. You don't have to run the installer if you're on Windows — the drivers are preloaded — but we recommend doing so if you're interested in Western Digital's utilities. During the installation, you'll be asked if you want to share information, which, if you've read our best VPN list, you know we don't recommend.
We're glad to see WD Discovery on the drive. It wasn't included on the Western Digital Elements drive we tested (read our Western Digital Elements review). Discovery is useful because it shows your available hard drive space and allows you to set passwords and install other Western Digital utilities. It even detected a 64GB SD card we had plugged in through an adapter.
There's also an option to import data from a cloud backup. You get few choices, though, and none are true online backup services, such as Backblaze (read our Backblaze review). Instead, you get cloud storage import options, including Microsoft OneDrive, Google Drive and Dropbox (read our OneDrive review, Google Drive review and Dropbox review).
Western Digital Utilities
You can set a password for your drive, but that password is tied to your device. That means if you set a password for your drive, you won't have to re-enter it each time you want to access data on your machine. Rather, the functionality is there to protect from others stealing your drive and trying to access data on a different machine.
There's also a tab labeled "apps" where you can install the other Western Digital utilities. They include a backup tool, a security tool and a general utility that can be used for many things, including RAID configurations (read our what is RAID guide).
With those tools, you can encrypt the data on your drive, set passwords, backup locally and configure advanced storage setups. The options are seemingly endless, which should be seen across external drives, especially when they get as large as the My Book drives do.
That said, you're trading form factor for functionality. Compared to the Toshiba Canvio Basics and Seagate Portable hard drives, a My Book has more tools but isn't as easy to transport, especially considering it needs a dedicated power source (read our Toshiba Canvio Basics review and Seagate Portable review).
Western Digital My Book Features Overview
| | |
| --- | --- |
| Capacity | 3 TB, 4 TB, 6 TB, 8 TB, 10 TB |
| Backup utility | |
| Interface | USB 3.0 |
| Windows | |
| macOS | |
| Android | |
| Drive Speed | 5400 |
| Hard Drive Type | Spinning |
| Warranty period | 36 Months |
| Recovery Services | |
| Speed Table | |
Price
My Book drives are the star of Western Digital's lineup, and it shows. In addition to the 3TB, 4TB, 6TB, 8TB and 10TB single drive options, you can purchase dual-drive configurations that range from 12TB to 20TB.
As you can see in the chart above, though, you get diminishing returns. The lowest point for price per gigabyte is the 6TB model, with the 10TB option actually increasing. Plus, those larger drives will likely have poorer performance, as there are more platters, which means more room for error.
It's hard to beat the price on My Book drives, though. The closest point of comparison would be the Seagate Backup Plus Portable, which clocks in higher for the 4TB model (read our Seagate Backup Plus Portable review). Even so, the Seagate drive is, as the name implies, portable, and the My Book isn't.
The bang for your buck is there, but that doesn't mean the My Book is a slam dunk. It requires a specific application that may not be suitable for you. It's meant to live on your desktop, unlike the LaCie Rugged Mini, which can handle the most terrible of beatings (read our LaCie Rugged Mini review).
Plus, the available capacities show that My Books are meant for that purpose. As part of a 3-2-1 backup solution, they're great. That said, for quickly reading data off of or taking movies on the go, there are much better options.
Speed & Performance
Our speed tests begin with running the drive through CrystalDiskMark, which measures sequential reads and writes and random reads and writes. We chose to use a 4GB test file, running five passes to ensure we don't have flash-in-the-pan results.
Seq Read
Seq Write
Random Read
Random Write
2.3 GB Transfer
Western Digital My Book

208.2 MB/s

200.1 MB/s

0.593 MB/s

11.54 MB/s

17.8 sec.
Despite the slow drive and being an archival solution, our My Book performed well. Given its speed, it makes a solid argument for a desktop solution compared to small, portable drives, such as the Canvio Basics or the Elements. It was almost twice as fast as our Elements drive for sequential reads and writes, but it had around the same speed for random reads and writes.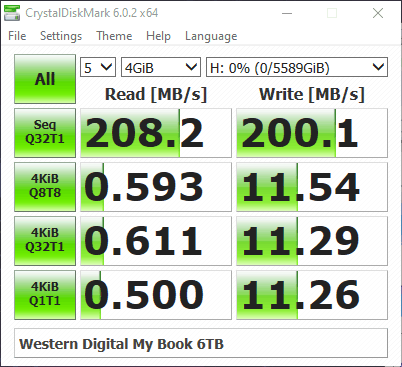 Further testing speed, we transferred a 2.3GB test folder filled with video clips, music and documents and timed it. Our My Book hovered around 130 megabytes per second, with little variance, totaling 17.8 seconds for the transfer, which isn't bad.
Error checking comes next, and for that, we started with CrystalDiskInfo. Though the tool isn't made for error checking, it's a good way for us to see if there are major problems, such as overheating, before doing our extended error check. Thankfully, our My Book was clean.
Our extended error checking, in which we ran the "chkdsk" utility on Windows and scanned the drive for errors, took just under 24 hours. Though completing the test on the 6TB drive was a hassle, there were no errors found.
Warranty & Support
My Books come with a three-year limited warranty, which is, thankfully, advertised on the box. The warranty starts from the purchase date on your receipt and the stipulations are clear. As outlined in the multilingual user manual in the box, the warranty covers defects relating to functionality or craftsmanship under normal use cases.
That means if you want to, for example, open up your drive to see what's inside, you won't be covered. Most of it's common sense for limited warranties, but it's important to note that Western Digital won't cover everything.
Product support is excellent, though. Heading to the product page and clicking "support" will bring up a page that shows an FAQ, downloads, specifications and community discussion. As is the case with all Western Digital drives, you aren't hung out to dry if something goes awry. Rather, there's an extensive set of support resources to help you.
That said, getting a hold of Western Digital isn't a simple affair. Only phone support is available outside of the warranty request form and there are set working hours. Those hours are generous, running 13 hours on weekdays and 11 on weekends, but a few more options would be nice.
The self-help resources are so good, though, that's it's easy to overlook the shortcomings in direct support. On the support page, you can find numerous tools for troubleshooting your drive, including a version of Acronis Cyber Protect Home Office (read our Acronis True Cyber Protect Home Office).
The Verdict
Despite the modest price tag, the My Book range of external hard drives is impressive. They're fast, packed with features and come with a generous warranty, to boot. That said, you're trading the flexibility of a portable hard drive for those upsides, which may be a deal breaker for you.
If you fit in that camp, read our other external hard drive reviews. If you're interested in a desktop solution that can give you seemingly infinite storage for cheap, though, it's hard to beat a My Book drive.
Do you plan on picking up a My Book drive? If not, what are you going with? Let us know in the comments below and, as always, thanks for reading.
Western Digital My Book FAQ
You can open a My Book by wedging a screwdriver in the top cover and breaking the tabs that hold on the shroud. Doing so risks damaging your hard drive and voiding your warranty, though.

You can attempt to decrypt a My Book, but you won't have much luck. Western Digital allows users to protect data with AES-256, which is one of the most difficult ciphers in the world to crack.

You can default, or format, your hard drive on Windows by right-clicking it in the file explorer and selecting "format."
Buy on Amazon