Shadow vs Project xCloud in 2022: The Mouse That Roared
Shadow is one of the largest names in cloud gaming, and for good reason. Outfitted with a full Windows 10 desktop and support for every game that runs on Microsoft's OS, it's the closest thing we've found to local gaming in the cloud.
Microsoft's yet-to-be-released cloud gaming service, Project xCloud, is competent in its own right, though it struggles when it comes to game support and performance. In this Shadow vs Project xCloud matchup, we're going to compare the two in features, pricing, ease of use, coverage, game support, platform support and performance to see which is the better option.
Before diving in, make sure to take a look at our Shadow review and Project xCloud review. Although we'll go in depth on our competitors here, the dedicated reviews provide a little more context, as well as comparisons to the rest of the cloud gaming market.
Setting Up a Fight: Shadow vs Project xCloud
We're throwing Shadow and Project xCloud into the ring in seven categories, each touching on a different aspect of cloud gaming. In each round, we'll award a point to the service that reigns supreme, and whichever service has more points at the end will be our champion.
During each round, we'll compare competitors point for point, seeing which is the better option. Unfortunately, there isn't always a clear winner. As is the case when comparing most software, we often have to paint in shades of gray. The winner in a certain category may be different for you depending on a variety of factors.
We often use coverage as an example. For instance, Project xCloud is available in far more regions than Shadow. However, as long as you live in a region that Shadow supports, that doesn't make a difference. Because of that, we recommend reading through rounds to get an idea of why we awarded the point the way we did.
shadow.tech

www.xbox.com
1. Game Library
Judging Project xCloud's library right now is complicated. There are around 100 games available, 50 of which came only a few months after the preview launched. The service should eventually integrate with Xbox Game Pass, too, bringing the total to somewhere in the neighborhood of 300 games.
All of the first-party heavy hitters are present, including Gears 5 and Halo: The Master Chief Collection. Project xCloud has remarkable third-party support, too. You can load up games like Tales of Vesperia and Bloodstained: Ritual of the Night on the service. Once the Xbox Game Pass integration goes live, the list will be even more impressive.
Still, it's no match for Shadow. As we'll talk about throughout this comparison, Shadow gives you a full Windows 10 computer, so any game you could play on Windows 10, you can play on Shadow. That includes classic titles from services like GOG, as well as newer games on Steam and the Epic Games Store.
You need to actually buy those games, though, just like you need to with GeForce Now (read our GeForce Now review and our GeForce Now vs Project xCloud comparison). It's unclear if you'll need to buy games with Project xCloud, but it's a safe bet.
Still, it's hard to complain when Xbox Game Pass is on the table. Microsoft has asserted that Game Pass and xCloud will be under the same subscription, giving you a large library of games for free, like PlayStation Now does (read our PlayStation Now review).
We're just assuming, though. As it stands now, Project xCloud can't compare to Shadow when it comes to game support. There are simply more games on PC, and Shadow allows you to play them all.
2. Pricing
It's tough to talk about pricing because both of our competitors are in a bit of a transition period. Shadow just recently overhauled its pricing structure, adding two new tiers of service and a slight price increase. Project xCloud, which is currently available only in a limited preview, doesn't have any pricing.
Starting there, the only way to experience xCloud is to throw your name in the hat and cross your fingers. The limited beta is slowly giving users access to experience what Microsoft is working on. That said, we don't know how many new users Microsoft is accepting when it goes to hand out invitations.
We're left to speculate, which we've become pretty good at with the current state of cloud gaming. Assuming Microsoft decides to bundle all of its online Xbox services, we'd expect the monthly price to be around $20 to $25. That's more expensive than Google Stadia (read our Google Stadia review), but considering how much Project xCloud has to offer, it's hard to complain.
Thankfully, we have numbers for Shadow. The only plan available at the time of writing, Boost, runs $11.99 per month when billed annually and a clean $15 if you go month to month. For that price, you're getting 1080p streaming and 256GB of storage, as well as the standard 1Gbps network connection.
Boost
: Billed annually, full HD, 256GB of storage
Ultra
: Billed annually, 4K, 512GB of storage
Infinite
: Billed annually, 4K, 1TB of storage
The two new tiers, Ultra and Infinite, increase in price and resolution support. These plans offer support for 4K resolution and bump the storage capacity to 512GB and 1TB, respectively. Unfortunately, they're expensive and not currently available. For example, the Infinite plan will cost $49.99 when billed month-to-month once it's released.
Project xCloud is technically free right now, but that's assuming you can actually get on Microsoft's list of testers. Shadow is on the expensive end of things, even more so than Vortex (read our Vortex review). For this comparison, though, it's the winner purely because it's actually available to purchase.
3. Features
There isn't much to talk about in the way of features with Project xCloud because Microsoft is still focused on getting the service working, not outfitting it with goodies. Still, there's some interesting tech behind xCloud. As we'll get to in the "coverage" round, xCloud servers use Microsoft's global network of Azure servers.
Each xCloud server houses the guts of four Xbox One S consoles. Although games look great on a phone, the Xbox One S is starting to show its age, especially in load times. It has a traditional hard drive, not an SSD.
As you can see in our best external SSD guide, this means it's pretty slow. You don't have the option to hook up an external hard drive, like you would with a local console, either (read our best external hard for Xbox One guide for more on that).
Since xCloud is, essentially, an Xbox One in the cloud, you have all of the features that come with Microsoft's console, including friends, achievements, Microsoft rewards and the store. The lack of third-party controller support or keyboard and mouse support puts a damper on the experience, though.
Shadow is stuffed with features, none of which Shadow actually made. The service is basically a Windows 10 PC in the cloud, so you have access to all of Windows' features, as well as any application that runs on the platform. Shadow even provides a 1Gbps network connection, so browsing the internet is on the table.
More impressive is Shadow's peripheral support. Games are ready to play with keyboard and mouse or your controller of choice, no matter if you connect over a USB line or Bluetooth. Remapping is handled through Windows applications, too. For example, you can use Steam controller profiles on games that would otherwise need a keyboard and mouse.
Currently, you're locked to using Windows 10, which is hardly a complaint, considering you can configure your remote machine in any way you like. Even so, Shadow says it's working on adding Linux support.
4. Performance
This round is interesting because Shadow and Project xCloud are targeted at different markets. xCloud is simply a different way to use your Xbox One, not a way to replace it. Shadow, on the other hand, caters to those who don't mind cutting the console entirely, focusing on a full gaming experience in the cloud.
Starting with Project xCloud, we tested with a 5Ghz WiFi connection. Because xCloud doesn't have a PC application, we were unable to test using a hardwired connection. Playing Halo 5, Gears 5 and Forza Horizon 4, we ran into very few issues. There was little to no input lag, and streaming artifacts were few and far between.
Based on our testing, signal strength is the greatest factor with xCloud. You'll need a lot more speed than Microsoft advertises, too. We tested with a download speed of 60Mbps, which far exceeds Microsoft's recommendation. Even then, we ran into weak signal notifications and dropped frames.
Furthermore, there didn't seem to be any scaling based on signal strength. Most cloud gaming services will reduce the quality of the video stream to accommodate weak signals. In the case of xCloud, the game would either stutter or totally lock up when our signal started to wane.
Shadow doesn't have that problem. We tested Doom 2016, Counter-Strike: Global Offensive and Cuphead on a wired and wireless connection, and in both cases, Shadow delivered a near local experience. Outside of the occasional streaming artifact, we would be hard-pressed to tell it apart from a gaming PC.
Shadow worked just as well on Android, though we were disappointed by the lack of on-screen controls. You need to use your finger to move around the cursor and your Android keyboard of choice to type. Given how small mobile screens are, there's often too much on the screen at once, which is annoying when trying to launch a game.
Still, there's no denying that Shadow has the edge this round. Out of all the cloud gaming services we've tested, Shadow gets the closest to providing a local experience in the cloud, putting services like Blacknut to shame (read our Blacknut review).
5. Platform Support
Project xCloud is available on one platform: Android. If you get accepted into the preview, you'll need a device with Android 6.0 or greater and Bluetooth 4.0 or better. You can't use any third-party controller during the preview, either. If you want to play Xbox games, you'll need an Xbox One controller.
Shadow's support is much more wide, with native applications for Windows, macOS, Linux, Android and iOS. The team is working on applications for smart TVs, too, meaning you should be able to load up games on any screen in your house.
It's an unfair comparison because Project xCloud is in preview. Still, Microsoft has a long way to go before it supports the breadth of platforms that Shadow does. For us, iOS and smart TV support make the difference. Shadow is the only game streaming service to currently offer support for these platforms.
6. Ease of Use
Project xCloud is pretty bare-bones right now, and as such, it's easy to use. Still, Microsoft's thoughtful approach to design with the xCloud app and Xbox One gives us hope for the full release. The mobile app — the only platform currently available — is focused solely on games.
You can browse the list, view your recently played games and search for a title. Outside of that, there's a feedback tab, but that's it. Project xCloud is bare-bones, sure, but Microsoft is still doing more than other cloud gaming services. For example, PlayStation Now lacks a search bar on its PC application, and GeForce Now doesn't have a dedicated library page (read our PlayStation Now review).
Shadow is more involved, but still just as easy to use. When you sign up, you'll have the option to configure how Windows is installed or go with Shadow's recommended installation. After that, it's a waiting game. We had to stay put for about an hour waiting for Shadow to send us an email that our remote machine was ready.
After that, though, you're ready to go, no need for Windows or driver updates. Although you can jump into Windows right away — Shadow simply has a bare-bones launcher — you can't start playing games. Your subscription comes with a limited amount of storage space, so you'll need to download games before you can play them.
The Windows experience is excellent, though. Outside of some Shadow-specific hotkeys, you can fully use Windows shortcuts to get around. Furthermore, you can transition between the Shadow window and your local session with ease. Shadow doesn't require any specific input permissions.
Usability-wise, Shadow is no more complex than Windows. As a cloud gaming service, though, there's a problem. Services like Stadia and Project xCloud work so well because you can launch a game right away, no patching or installation required. In order to have the openness that Shadow does, it needs to approach the problem differently. Still, that puts a damper on the experience.
However, it's hard for us to give the win to xCloud. Although the mobile app is impressive for what it is, it isn't very much. Shadow, as a commercial product, is able to flex its design, despite the fact that you'll have to wait for games to install.
7. Coverage
Like pricing and game support, we're working with limited information when it comes to Project xCloud's coverage. The preview is limited to the U.S., UK, Canada and South Korea. South Korea is an interesting inclusion because most game streaming services have skipped past Asian markets.
When launched, xCloud will quickly wrap the globe, though. Microsoft's global Azure network already serves 140 countries, and although most of those data centers aren't being used for xCloud yet, Microsoft says they will be in the future. The Azure centers with xCloud servers currently cover North America, Europe and Asia.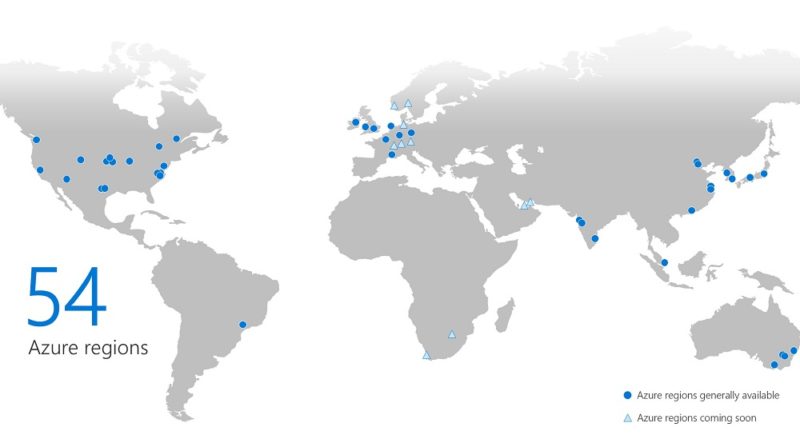 Even with xCloud's limited range during beta, it destroys Shadow when it comes to coverage. Shadow supports only the continental U.S., and even then, only 38 of those states are fully supported. Shadow tags the rest as "exploration mode" states, which include Washington, Idaho, Montana, Utah, Arizona, Colorado, Wyoming, Alabama, Georgia and Florida.
That means users in those states won't have as good of an experience based on infrastructure, terrain and other factors. You can still buy Shadow, but you'll be susceptible to more input lag and potential connection drops. As for international support, Shadow hasn't announced anything yet.
Although Shadow serves the states it fully supports well, the spread isn't as wide as xCloud, which is all the more embarrassing considering Microsoft hasn't launched its game streaming service yet. Because of that, we're giving the point to team Xbox.
8. Final Thoughts
In a landslide, Shadow took the win in six of our seven rounds, leaving Project xCloud ahead in only one category: coverage. That doesn't surprise us much, though, seeing that Shadow is a commercially available product and Project xCloud is still in beta. Regardless, Shadow is our winner.
Even though xCloud is still in beta, our greatest issue is performance. Microsoft has its work cut out in tightening up the service, especially when it comes to weak connections. Once the performance issues are solved, though, it'll be much more impressive and able to compete with, though not exceed, Shadow. See how Google Stadia compares to Shadow, too.
Do you agree that Shadow is better? Were you fortunate enough to get access to Project xCloud? Let us know in the comments below and, as always, thanks for reading.