SanDisk Extreme Portable Review
The SanDisk Extreme Portable is a easy to carry and very powerful, but also its price is extreme. Though it's a good product, there are far cheaper alternatives out there of similar quality, as you can read in our full SanDisk Extreme Portable review.
SanDisk is under the same corporate umbrella as G-Technology and Western Digital, but it's focused on a different market. It primarily makes portable flash storage devices, namely USB flash drives and SD cards. That said, as the cost of flash storage has gone down, SanDisk has expanded its line to feature internal and external solid-state drives.
In this SanDisk Extreme Portable review, we're going to look at the top-of-the-line option. As the name implies, the Extreme Portable is about maximum performance on the go, and thankfully, it achieves that goal. With a clunky setup and a high price tag, though, it'll still have to battle to be featured on our best external hard drives list.
Strengths & Weaknesses
Strengths:
Fast
Compact
Attractive design
SSD
Available up to 2TB
Encryption tool included
Excellent support options
Weaknesses:
No USB-A cable included
No backup utility included
Expensive
Included USB-C cable is short
Alternatives for SanDisk Extreme Portable
Features
As we've seen with other external SSDs, the SanDisk Extreme Portable is just that, portable. The tiny disk is smaller and slimmer than a G-Technology G-Drive (read our G-Technology G-Drive review), but not as small as the Samsung T5. In the box, you get a drive, a USB-C cable and a USB-C to USB-A adapter.
The cord is short, though. When we plugged it into the back of a desktop machine, it couldn't even reach the top of the case. More annoying is the adapter. If you're taking the Extreme Portable on the go and you don't have a USB-C port on your laptop, you're forced to use a clucky adapter that just begs you to break it.
That said, the drive is excellent. There's a soft-rubber feel that wraps around it and a notch at the top right, presumably for attaching it to a keychain. Though it wouldn't look out of place considering how small it is, there are probably better solutions for transporting your drive.
SanDisk Extreme Portable Setup
After plugging in and opening the Extreme Portable on your computer, you'll find an application and a folder. Interestingly, the application is only for Windows. The drive works on macOS, but there isn't an application dedicated to it. If you want SecureAccess, which is what the included app installs, you'll need to find it elsewhere.
The application allows you to set a password and walks you through how to add files to the drive. It also creates a few folders on the drive. There's a folder with two files dedicated to your settings and another with multiple files pertaining to your SecureAccess vault.
Other than that, the drive is set up. Collectively, the created files and folders take less than 10MB, but it's still annoying. We hoped the setup process would be similar to the Seagate Portable drive we tested, which allows you to install extra software while registering the drive for warrant purposes, as you can see in our Seagate Portable review.
SanDisk SecureAccess
As mentioned, the included installer will get SecureAccess running on your machine. It's an encryption application that protects your data with AES-128, which isn't the best, as you can read in our description of encryption. There's debate about whether a 256-bit key is more secure, but considering speed isn't a factor for local encryption, it's better to go with the larger key.
We've seen password protection on other drives — read our Samsung T5 review for an example of one — but rarely encryption. SecureAccess is powered by EncryptStick, and there are many ads in the application to upgrade from SecureAccess to DataVault. It's the same program, except you can automatically backup data and sync it across your devices.
For $14.99, it's not a bad deal, but an online backup service such as Backblaze is probably a better long-term solution (read our Backblaze review). Honestly, DataVault's interface is dated and unattractive, and though the functionality is there, other options provide that as well as a pretty face.
There isn't a backup utility, but that's not too much of a bother. Topping out at 2TB, a SanDisk Extreme Portable isn't an ideal local backup solution. If that's what you're looking for, a desktop drive, such as a Western Digital My Book, is probably a better option (read our Western Digital My Book review).
SanDisk Extreme Portable Features Overview
| | |
| --- | --- |
| Capacity | 250GB, 500GB, 1TB, 2TB |
| Backup utility | |
| Interface | USB 3.0 |
| Windows | |
| macOS | |
| Android | |
| Drive Speed | |
| Hard Drive Type | SSD |
| Warranty period | 36 Months |
| Recovery Services | |
| Speed Table | |
Price
As is the case with all portable SSDs, the Extreme Portable is expensive. That said, it's not above the price we expect. If you're looking for an inexpensive drive and speed doesn't concern you, you'd be better off with the Toshiba Canvio Basics (read our Toshiba Canvio Basics review).
Even so, there's a sweet spot in Extreme Portable's range. 500GB and above shows the most reasonable price per gigabyte. The 250GB drive, on the other hand, is almost double the price. If you're interested in a low-capacity, portable SSD, the ADATA SD600 will scratch that itch for less money (read our ADATA SD600 review).
Though 500GB and up is around the same price per gigabyte, we were hoping there'd be more value as the price increased. That's a trend most external drives follow — read our Western Digital Elements review for just one example — so it's a bummer that SanDisk doesn't follow suit.
Speed & Performance
Our performance testing consists of two categories: speed and error checking. In each of those categories, we run two tests, one of which is a benchmark and the other is more of a hands-on trial.
Seq Read
Seq Write
Random Read
Random Write
2.3 GB Transfer
SanDisk Extreme Portable

564.8 MB/s

503.2 MB/s

159 MB/s

157.2 MB/s

16.61 sec.
Speed was first, so we used CrystalDiskMark to see how quick the drive was with sequential and random reads and writes. We did five passes with a 4GB test file, and were happy with the results.
As you can see in the screenshot below, the Extreme Portable went above the advertised speed of 550 megabytes per second with sequential reads. It was slower than the Samsung T5 on random reads and writes, but the difference was negligible.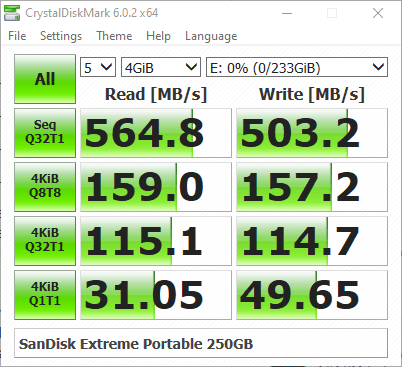 Next, we copied a 2.3GB test folder filled with video clips, music and documents to the drive to see how long it'd take to transfer. Our Extreme Portable drive clocked in at 16.61 seconds, which isn't the best we've seen, but it was only beaten by the Samsung T5 by less than a second. It hovered at a consistent 143 MBps during the transfer, meaning it's plenty fast.
During both tests, we ran CrystalDiskInfo in the background, paying attention to the temperature of the drive, as well as errors that came up. Thankfully, it stayed at a cool 25 degrees Celsius throughout our testing and there were no errors.
Not content to simply trust CrystalDiskInfo, we also ran the "chkdsk" utility in Windows with the "/r" command, which checks for errors on the drive. Our Extreme Portable drive came back clean after a short 20-minute stress test.
Warranty & Support
The booklet included with your Extreme Portable drive says there's a three-year limited warranty and directs you to a URL to see the full warranty information. The warranty covers defects from manufacturing but not from normal use. It also doesn't cover excessive use of the drive, such as being used for security cameras or set top box recording devices.
If you need to capitalize on the warranty, SanDisk says it'll do one of two things, at its discretion. It'll replace or attempt to repair your drive or it'll refund you for whatever the fair market value of the drive is at the time.
As for support, there are many options on the Extreme Portable support page. In addition to checking SKUs and specifications, you can register your drive, request a replacement, send an email and start live chat. There's also a link to the forum, but it's worth noting that it'll send you to the homepage of the forum, not the Extreme Portable section.
That said, the support options are great, as is the warranty period. SanDisk is among the few to offer three years of coverage, with a surprisingly lenient limited warranty. You shouldn't have issues solving problems with your drive, either, considering how many support routes are available.
The Verdict
The SanDisk Extreme Portable may not have the most fluid setup, but despite the short cable that's included and dated encryption application, the performance is undeniable. It's a fast drive stuffed into a small and lightweight package. The support options are solid, too, but the speed is the star of the show.
That comes at a cost, though, which can be a tough pill to swallow when you're getting a quarter of the storage for twice the price compared to the Seagate Backup Plus Portable (read our Seagate Backup Plus Portable review). If value is a larger concern than speed for you, read our other external hard drive reviews.
What do you think of the SanDisk Extreme Portable? How will you take advantage of the speed? Let us know in the comments below and, as always, thanks for reading.
SanDisk Extreme Portable FAQ
The Extreme Portable SSD uses a USB-C connection. In the box, you get a USB-C to USB-C cable, as well as a USB-C to USB-A adapter.

As the name implies, the Extreme Portable SSD is a portable solid-state drive. It's built for fast transfer speeds, no matter where you are.

The Extreme Portable SSD is "plug and play," meaning you don't need additional software to use it on Windows or macOS. Simply plug the drive in and find it in your file explorer.
Buy on Amazon