Samsung T5 Review
Though normally known for making hard drives that go inside a computer, we're pretty impressed with Samsung's offering into the externals market. Check out why in this full Samsung T5 review.
Samsung is known for many things, but external hard drives isn't one of them. It's better known for internal hard drives, specifically solid-state drives. That said, transporting data over PCI or SATA isn't the same as transferring it over USB. In this Samsung T5 review, we're going to see if the tech giant can port the excellent performance of its internal drives to the external realm.
Thankfully, the specs are there. The T5 is solid-state, transporting data over USB 3.1 for maximum bandwidth. It's portable, too, meaning you can have ultra-fast transfer no matter where you are.
That said, it's pricey, as are all SSDs. The pros outweigh that small con, though. With some of the fastest speeds we've seen, support for Windows, macOS and Android, an attractive exterior and a generous warranty, the T5 might just be the best external hard drive around.
Strengths & Weaknesses
Strengths:
Fast
Small
Uses USB 3.1
Included USB-C cable
Password protection
SSD
Weaknesses:
Expensive
No backup utility
Alternatives for Samsung T5
Features
If you've never opened a Samsung product, you're in for a treat with the T5. As is the case with all Samsung offerings, the product packaging fits like a glove, nestling the drive and two USB cables inside. You get a USB-C to USB-C cable as well as a USB-C to USB-A cable, each of which has a velcro strap for neat transport.
What stands out more, though, is how well the drive is built. As Samsung points out, it's smaller than a business card, measuring 57.3 mm by 74 mm and weighing only 51 grams. It's also covered in metal, meaning it can handle a fall more than, say, the Western Digital Elements drive (read our Western Digital Elements review).
It doesn't have the ultra-rugged exterior of the LaCie Rugged Mini, but as you can read in our LaCie Rugged Mini review, that drive needs padding. The T5 is solid-state, meaning the metal housing can handle almost any beating and still function.
Samsung T5 Setup
Setting up your T5 is a simple affair. Just plug it in using one of the included cables and find the drive in your file manager. There, you'll find three setup applications corresponding to Windows, macOS and Android. If you're using Android, plug the drive in using the USB-C to USB-C cable.
After the installer runs, you'll be sent to a screen where you can name your drive and set a password. You can skip it if you don't want the extra security, but considering it's a hallmark feature of the drive, we recommend going through the process.
Otherwise, the software is barren. You can change your password, turn password protection off and rename your drive. In the bottom right corner, you can also check for updates. Though firmware updates aren't the first thing that comes to mind with external drives, they can be important, making the included functionality useful.
It's important to note, though, that you need to turn off password protection to proceed with the update. You'll also need to set a new password once the update finishes, which we suggest doing by generating a password with one of our best password managers, such as Dashlane (read our Dashlane review).
Samsung T5 Password Protection
As mentioned, the T5 comes with password protection, which is about it for features. Unfortunately, there's no backup utility like we saw with the Seagate Backup Plus Portable (read our Seagate Backup Plus Portable review).
That said, the T5 isn't aimed at that. Topping out at 2TB, a T5 is better for taking files on the go than it is for backing up a machine. If you're interested in that, a desktop solution such as the Western Digital My Book is a better option (read our Western Digital My Book review).
Alternatively, you can use one of our best online backup services, such as Backblaze (read our Backblaze review).
Though it's a bummer that a backup utility isn't included, the addition of password protection is huge, especially with how portable the drive is. Given the rugged exterior and small size, we imagine the T5 will have a natural home in backpacks. Password protection ensures that any losses won't have catastrophic consequences.
Samsung T5 Features Overview
| | |
| --- | --- |
| Capacity | 1 TB SSD, 2 TB SSD |
| Backup utility | |
| Interface | USB 3.0 |
| Windows | |
| macOS | |
| Android | |
| Drive Speed | |
| Hard Drive Type | SSD |
| Warranty period | 36 Months |
| Recovery Services | |
| Speed Table | |
Price
Though excellent in features and performance, the Samsung T5 is expensive. That should be expected of any SSD, especially one built as well as the T5, but your wallet will be lighter. Even so, Samsung hasn't priced its drive higher than the competition, meaning you aren't paying for a name.
Samsung T5
$ 289.00
$
272.57
Save $ 16.43 (6 %)
$ 199.99
$
129.99
Save $ 70.00 (35 %)
$ 799.99
$
212.58
Save $ 587.41 (73 %)
It comes in 250GB, 500GB, 1TB and 2TB capacities, with the first two getting a light blue treatment on the exterior and the latter two getting black. There are gold and red variants, too, but they're solely for the 1TB model.
Out of the lineup, the Samsung T5 500GB is the best option, and it happens to be the model we tested. The 250GB model is actually more expensive as the time of writing. Though the 2TB model costs less per gigabyte, it starts above $300. The 1TB model is the same price per gigabyte as the 500GB version, so you could buy two of those if you want to split your data.
Overall, though, the price isn't bad, even if it's higher than some of the cheaper, spinning alternatives. Compared to, say, a G-Technology G-Drive, the price is great. A 1TB G-Drive will run you 21 cents per gigabyte while the T5 will only run 17 cents per gigabyte (read our G-Technology G-Drive review).
Speed & Performance
It should come as little surprise that the Samsung T5 performed well. The solid-state drive showed the power of USB 3.1 during our testing, in which we ran it through four benchmarks to test speed and errors.
Seq Read
Seq Write
Random Read
Random Write
2.3 GB Transfer
Samsung T5

562.4 MB/s

520 MB/s

160.1 MB/s

195.7 MB/s

16.08 sec.
The first test was CrystalDiskMark, and the T5 swept the board when it came to sequential and random reads and writes. Though the performance benefit is clear compared to the Seagate Portable (read our Seagate Portable review), the T5 still managed an edge over competition SSDs, such as the SanDisk Extreme Portable (read our SanDisk Extreme Portable review).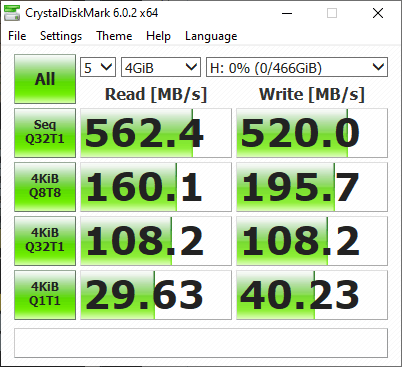 Next, we transferred a 2.3GB test folder filled with music, videos and documents to the disk, measuring the time it took to transfer. The T5 hovered around 145 megabytes per second during the transfer, and though it's still our fastest performer, the much cheaper Toshiba Canvio Basics isn't far behind (read our Toshiba Canvio Basic review).
During those tests, we also had CrystalDiskInfo running so we could check on the status of the drive, including its temperature and errors that might've come up. The disk was cool under pressure, showing no errors or strange behavior throughout our testing.
Lastly, we ran the "chkdsk" utility on Windows to dig through the drive for any bad sectors or clusters. As if the craftsmanship of the drive wasn't clear enough, we found no errors on it, even after the grueling scan.
Warranty & Support
As is the case with all Samsung portable SSDs, you get a three-year limited warranty. The same limited warranty song and dance is present: Samsung only covers defects in workmanship or manufacturing and doesn't honor the warranty request if you've misused the drive.
That said, there are more stipulations than normal. In the warranty information, Samsung says it won't honor requests for improperly shipped drives, physical damage to the product during or after shipping, open product casing or missing serial numbers. Any data loss before or as a result of a warranty claim isn't covered, either.
As for support, Samsung gives you three options. You can call the support line, send an email to the sales team or request service through the service center. The last one allows you to schedule an in-home repair, but given Samsung's dense line of products, we imagine few of those requests go through. Still, we went through the process, and you can submit a request.
Given that Samsung doesn't offer recovery services, though, there's little reason to request an appointment. In most cases, you'll need to submit a warranty request, which can be a lengthy process.
Though all that sounds like groaning, Samsung offers more support avenues than most, even if there isn't any support documentation. Plus, the drive is so well built that we doubt any requests will need to be made.
The Verdict
The Samsung T5 is a powerhouse hard drive that can handle the most demanding tasks. Not only is it ultra-fast, it's also lightweight and compact, making it the perfect device to take on the go. There are even camera mounts made for the drive if you're interested in recording high-resolution video.
Even when the price is factored in, the T5 is a slam dunk. It's not great for backups, but nothing about the drive is geared to that market. If you're more interested in backing up your machine than taking files on the go, read our other external hard drive reviews.
What do you think of the Samsung T5? What do you plan to use yours for? Let us know in the comments below and, as always, thanks for reading.
Samsung T5 FAQ
The Samsung T5 is a portable SSD that allows data transfer over USB-C. In most cases, it's used as a portable hard drive, but it can be used for video and audio recording, too.

You can copy files from your Android device by connecting the drive using the included USB-C to USB-C cable. Then, navigate to your file manager and move the files you want to copy over.

The Samsung T5 SSD comes with support for password protection. You can set your password by installing the included software.
Buy on Amazon