Project xCloud Review
Microsoft's Project xCloud is supposed to be the next big thing in cloud gaming. We were able to take a look at the platform in a development stage and were pretty impressed. Check out our in-depth preview of xCloud.
Project xCloud is the latest take on cloud gaming from Xbox and Microsoft. Although similar in structure to services like Google Stadia, xCloud doesn't have as high of ambitions. Instead of being a replacement for your console, xCloud is just another way to play games. Still, it's on track to earn a spot in our best cloud gaming guide.
In this Project xCloud review, we're going to take a look at the service in its preview state. Although we're going to pass judgement on how it operates and performs, that judgement isn't final. Microsoft is still working on xCloud, so we expect additional features and performance improvements upon launch.
If you're lucky enough to gain access to the Project xCloud preview, you're in for a treat. Games look and run wonderfully, so long as you have a strong 5GHz signal. Right now, though, Project xCloud is more of what could be, rather than what is. The service could go toe-to-toe with the best, but only if Microsoft sticks with its development timeline.
Strengths & Weaknesses
Pros:
Easy to setup
Excellent image quality
Growing library of games
Cloud saving
Powered by Azure
Solid performance
Cons:
Needs 5GHz WiFi
Occasional stuttering
Alternatives for Project xCloud
Features
Project xCloud has little to no features right now, which makes sense, given its preview state. Instead of talking about what's not there, which is just about everything, we're going to cover the features Microsoft plans to have upon release.
xCloud Server Hardware and Cloud Saving
A video released by Microsoft shows that each xCloud server is outfitted with the guts of four Xbox One S consoles. It's not clear if games are being rendered with the combined horsepower of all four systems or if they're given out piecemeal. Regardless, for a mobile-based experience, it doesn't matter.
The games look fantastic, but you'll have to suffer through some lengthy load times. Using the older Xbox One S hardware, games are, presumably, loaded on standard hard drives. As you can read in our best external SSD guide, traditional HDDs have longer load times. However, if Microsoft sticks with xCloud, the servers will likely be updated.
Project Scarlett, the new console from Microsoft, is coming out in 2020, so it's likely that Microsoft will start updating xCloud servers to run the latest titles. That console will ship with solid-state storage, which will improve load times moving past 2020.
xCloud is aimed to be available on every device possible, which means cross-save abilities. Microsoft is using the same system from the current Xbox Play Anywhere program to allow you to play across platforms. With that system, you'll be able to stop playing on one screen and pick up where you left off on another.
Project xCloud: Powered By Azure
One of the largest advantages Microsoft has over other cloud gaming services is its Azure cloud infrastructure. As you can see in our Microsoft Azure review, the network is massive. Microsoft's far-reaching hand has been used in a variety of applications, and Project xCloud is harnessing that power to bring cloud gaming to the world.
We'll talk more about the specifics of Azure and where xCloud is currently located in the "coverage" section below. However, we still want to point out Azure as a feature of Project xCloud. By having such a large network, xCloud can deliver game streams from data centers close to your location.
The lack of physical distance means less latency when playing games. Based on our testing, which we'll get into in a minute, the power of Azure's network shows through. Although xCloud isn't perfect right now, it provides a much better experience than services starting from scratch, such as Vortex (read our Vortex review).
Project xCloud Features Overview
| | |
| --- | --- |
| Android | |
| iOS | |
| Windows | |
| macOS | |
| Browser | |
| Supported Games | |
| Coverage | U.S., UK, South Korea |
| Supported DRM platforms | |
| Knowledgebase | |
| Chat | |
| Email | |
| Phone | |
| 24/7 support | |
Supported Games
At the time of writing, Project xCloud supports more than 50 games, though the number will be larger in the near future. Launching in beta with only a handful of games a few months ago, Microsoft has continued to expand the xCloud lineup, so you should expect something similar to Xbox Game Pass within a few months.
That's because developers don't need to adapt their games to run on xCloud. If the game can run on Xbox One or PC, it can run on xCloud with no additional development required. Microsoft has plans to integrate xCloud with Game Pass, too, so you can expect to be able to stream the Game Pass library wherever you are.
In fact, Project xCloud can stream more than 3,500 games right now without any modifications, according to Microsoft.
Talking specifics, the current lineup has a handful of solid AAA titles, including Borderlands: The Handsome Collection, Gears 5 and Halo 5: Guardians. As is true with Game Pass, there are a number of smaller titles, too, including Bloodstained: Ritual of the Night, Battle Chasers: Nightwar, Puyo Puyo Champions and Tales of Vesperia: Definitive Edition.
Compared to services like GeForce Now (read our GeForce Now vs Project xCloud piece), which allow you to stream your Steam Games, xCloud is lacking (read our GeForce Now review).
However, considering how generous Microsoft has been with digital release dates when it comes to Game Pass, the future of xCloud looks bright. Compared to Stadia, which has an abysmal launch lineup, we'd put our money on xCloud (read our Google Stadia review, as well as our Google Stadia vs GeForce Now piece, to see how they compare).
Do You Need to Buy xCloud Games?
Given the recent release of Stadia, there remains the question of if you need to buy xCloud games separately. Microsoft hasn't said if the platform works like Stadia, but considering Xbox already has a digital storefront, it's unlikely you'll need to purchase the games. At the very least, you shouldn't need to repurchase games already registered to your account.
It's more likely that xCloud is similar to PlayStation Now, which, as you can see in our PlayStation Now review, includes a curated library of games with your subscription. The majority of currently supported games are first-party titles, so it would seem that Microsoft is going after a similar model.
Knowing that xCloud will eventually integrate with Game Pass, it seems that Microsoft is going for a one-stop-shop subscription where Xbox Live, Game Pass and xCloud are offered together, allowing you to stream a library of games from your Android phone without having to buy them.
Price
Project xCloud is currently in a preview period, and no pricing information has been announced. It's free to anyone lucky enough to be invited to the program, so long as you have a compatible Android device and an Xbox controller. We have some speculations on what the service will cost when it launches, though.
Microsoft is inviting waves of people to preview xCloud before it's launched. You'll need four things to get on the list: an Android device with version 6.0+ and Bluetooth version 4.0+, an Xbox controller with Bluetooth, 5GHz WiFi and the Xbox Game Streaming app. After that, you can use your Microsoft account to register for access.
You'll be placed on a list, and if you're chosen, Microsoft will email you the next steps. It's unclear if participants are chosen on a first-come-first-serve basis or based on a variety of factors. Right now, though, the only way to play xCloud is to throw your hat in the ring.
How Much Will Project xCloud Cost?
Microsoft hasn't been clear about how much xCloud will cost once it has fully launched. So, the short answer to how much Project xCloud will cost is: We don't know. However, we can speculate based on competitors' pricing and Xbox's existing subscription services.
PlayStation Now, which is the most directly comparable service, costs only $10 per month, whereas Game Pass Ultimate, which should integrate with xCloud in the future, costs $15 per month. It's possible that Microsoft will roll Project xCloud into existing Game Pass Ultimate memberships once it has fully launched.
Being generous, though, we'd expect xCloud to land around the $20 to $30 mark if it includes an existing library of games, which is around what Shadow charges (read our Shadow review, as well as our Shadow vs Project xCloud comparison). It's unclear if xCloud will include games or if you'll need to buy them, but seeing that Microsoft already has a digital storefront, it's likely the library will be curated.
That doesn't mean your current Xbox One games are lost, though. xCloud is meant to work alongside consoles, with Microsoft giving you the ability to turn your own Xbox One into an xCloud server. This functionality is available now for Xbox Insiders, so if you're interested in console streaming, you can set that up.
Ease of Use
There isn't a signup process for xCloud right now, as it's currently in preview. However, the simplistic mobile app and straightforward setup sets a high bar for the future.
The Project xCloud mobile app is very focused. It's devoid of features outside of a search bar and section for recently played games. You can view a synopsis of each game, search for a game and, of course, launch a game, and that's it. That said, the barebones design isn't surprising.
Microsoft has a dedicated feedback button in the app and will ask for a rating after every play session. It's likely that by the time xCloud fully launches, the app will look completely different.
Still, launching games is a breeze. Like Stadia, there's no downloading or patching required to get playing. Simply choose a game, hit "play" and wait for it to load. Because of the older hardware running inside of the xCloud servers, games take a while to load. Thankfully, though, connecting to the servers is quick.
Project xCloud Controller Support
Project xCloud is currently compatible with Xbox One controllers alone, be it a standard Xbox One controller or an Elite controller. The expectation, though, is that Microsoft will support multiple other controllers starting in early 2020, including the PS4 controller and other PC controllers, including some Razer game pads.
Microsoft is also working toward on-screen controls for mobile devices, similar to what Blacknut has (read our Blacknut review). Like nearly all of its features, Microsoft says on-screen controls will come in 2020 when Project xCloud gets closer to launch.
For our purposes, we used an Xbox One controller and a phone clip to test Project xCloud. Microsoft is selling an official phone clip right now and has partnerships with multiple accessory brands to create more products for Project xCloud in the future.
Performance
Project xCloud can stream games competently, but it's not on the level of GeForce Now or Stadia quite yet. As a plus-one to existing Xbox consoles, Project xCloud provides a different experience. It isn't the same as playing on your local Xbox One, and it doesn't aim to be, but that doesn't mean the experience is bad.
Microsoft recommends a 5GHz WiFi, and for good reason. We tested on 2.4GHz and 5GHz bands, and the 5GHz one performed much better. The 5GHz band supports more bandwidth, though it covers less ground than a 2.4GHz signal. Furthermore, there's less interference with other wireless devices — such as your garage door opener — when using a 5GHz signal.
Playing Halo, Forza and Gears on Project xCloud
All of our testing was done wirelessly, as that's the only way to play Project xCloud right now. Using a Samsung Galaxy S9+ connected to a 5GHz network, we got to work testing Halo 5: Guardians, Forza Horizon 4 and Gears of War 4. Although all of the games felt responsive, we were constantly at the mercy of signal strength.
Testing from around 30 feet away from the router, we had a download speed just shy of 60Mbps, which is much higher than what Microsoft recommends. The phone we tested on was around 10 feet from the router. In short, we had plenty of speed to work with while testing.
It seems that games don't have any sort of scaling based on signal strength. This is, of course, speculation, but there was never any reduced resolution during testing. Instead, the audio would stutter or the game would lock up whenever issues came up. Thankfully, those issues were few and far between, but still present.
When everything worked, it worked great. There wasn't any perceivable input lag when playing, even with fast-paced, precision shooters like Halo and Gears. Furthermore, the quality was excellent. There wasn't a drop in resolution, even when the signal became weak. xCloud's biggest weakness right now is stuttering.
Coverage
Microsoft's existing Azure cloud infrastructure has serious benefits for game streaming. Although the trial period of Project xCloud is limited to a few locations, the Xbox development team can easily scale the operation internationally upon release.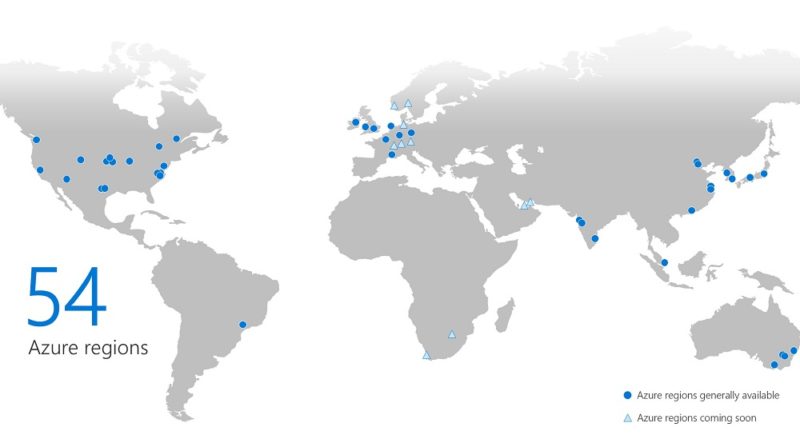 The goal with Project xCloud, as is the case with all cloud gaming services, is to scale around the world. That's reasonable for Microsoft, though. There are more than 54 Azure datacenters around the world already providing service to 140 countries. Although most of those locations aren't available for xCloud yet, Microsoft says they will be in the future.
Right now, Project xCloud is only available in the U.S., UK and South Korea. Like the game library, though, those locations shouldn't be taken as law. There are xCloud servers in 13 Azure regions, covering North America, Europe and Asia.
Given Microsoft's focus in those areas, it's reasonable to expect xCloud servers in Canada, the rest of Europe, Asia and Australia, once it comes time for launch.
The Verdict
Project xCloud provides a nice glimpse into how the future landscape of gaming will look. Although not reaching as high as Google Stadia, xCloud put up an impressive fight, streaming high-quality, intensive games without batting an eye. Further improvements to the application and wireless infrastructure are needed to make it everything it could be, though.
Are you excited for Project xCloud? Are you going to try to get access to the preview? If you do, let us know about your experience in the comments below and, as always, thanks for reading.
Project xCloud FAQ
Project xCloud doesn't have official pricing, but it probably won't be free. That said, players who own an Xbox One or Xbox One X can use their console as a personal xCloud server free of charge. Those players can stream games they already own to their mobile device.

Project xCloud is a game streaming service from Microsoft. Currently in a preview period, xCloud is slated to launch sometime in 2020. Although the library is limited right now, more than 3,000 games can run on xCloud servers right now, allowing players to play Xbox games wherever they are.

Project xCloud is not available on iOS right now. However, as the 2020 launch gets closer, Microsoft plans to roll out support for Windows and iOS devices.

There isn't a firm release date for Project xCloud. Currently, the platform is in preview, with a general 2020 release date. The full release will likely come out in the latter half of 2020, as Microsoft gears up for the Project Scarlett release.