PlayStation Now Review
Though the oldest cloud gaming service in our list by far, PlayStation Now was plagued by problems at launch. A few years down the line, however, and it's grown into its own, featuring powerful technology and a large library. Read our full PlayStation Now review for the details.
PlayStation Now has been around for a while, launching in 2014 on PS4, PS3, PS Vita and PS TV. Due to the complexity of the PS3's architecture, Sony created custom PS3-based servers for the service, providing games from the older system to the (at the time) new PS4 console.
At launch, PS Now wasn't impressive, plagued by streaming artifacts and input lag after only a few moments of gaming. Now, however, with an expanded library and new technology to play with, the service has grown into its own, with performance that's worthy of our best cloud gaming services list.
In this PlayStation Now review, we're going to detail our experience after spending some time with the service. Although there are still a few kinks, PS Now is much better than it was a few years ago. With an impressive library of games and a low price, to boot, it's a must-buy for any PlayStation fan.
Strengths & Weaknesses
Strengths:
Inexpensive annual plan
Large library of games
Games included for free
PC & PS4 support
Cloud saves
Decent performance
Weaknesses:
Games stream at 720p
May have to queue for games
No keyboard & mouse support
Clunky UI
Expensive monthly plan
Alternatives for PlayStation Now
Features
What is PlayStation Now?
PlayStation Now isn't the same as a service like Vortex (read our Vortex review). Instead of promising a library of games no matter where you are or what device you're using, PlayStation Now is restricted to two platforms: PS4 and Windows PC.
Its draw is more along the lines of playing through PlayStation's history rather than having your PC games on the go. A long list of titles are included — we'll mention some examples in the section below — and you can play these across your PS4 and PC without losing any save progress.
You'll need a PS4 controller to do so, though. Although that's not an issue for PlayStation Now subscribers who want to use the service on their PS4, it's a problem for PC players. A — the controller PS4 uses — can cost as much as $60.
PlayStation Now has no keyboard and mouse support, which is a shame. If playing on PC, you'll need to either buy a DualShock 4 and use a micro-USB cable (which isn't included) or spend an additional $65 or so to buy the DualShock 4 wireless adapter.
Additionally, Windows 10 supports the Xbox One controller, not the PS4 one, which can cause some problems when configuring drivers.
There are other issues with the service outside of that. The top of PlayStation Now's FAQ is dedicated to questions about queuing. If there are too many players trying to play the same game — Sony doesn't say what the specific number is — you'll have to queue for that game. As far as how long you'll have to wait, there's no saying.
Those aren't our words, either. In the FAQ, Sony says "it's impossible to guess how long you will be waiting." That's unacceptable. At $100 per year, or $20 per month, subscribers shouldn't have to wait to use the service they're paying for. That's like saying you can't watch the new season of Stranger Things on Netflix until other users stop.
The fact that you have to queue provides a glimpse into how Sony is offering PlayStation Now. Most likely, it has a few servers in each data center dedicated to the PlayStation Network with users streaming off of what is essentially a super PS4.
This section isn't all bad, though. PlayStation Now has a lot of quality-of-life features that make the experience seamless between PC and PS4. Saves, for example, are automatically sent to the cloud, so you easily transition between PS4 and PC.
Furthermore, there are multiplayer options, such as online and couch co-op, as well as voice, text and video chat.
PlayStation Now Features Overview
| | |
| --- | --- |
| Android | |
| iOS | |
| Windows | |
| macOS | |
| Browser | |
| Supported Games | |
| Coverage | Austria, Canada, Finland, Denmark, Belgium, France, Germany, Ireland, Italy, Japan, Luxembourg, the Netherlands, Norway, Portugal, Spain, Sweden, Switzerland, the U.S. and the UK. |
| Supported DRM platforms | |
| Knowledgebase | |
| Chat | |
| Email | |
| Phone | |
| 24/7 support | |
Supported Games
Unlike most streaming services, PlayStation Now isn't focused on your Steam library. Although that approach can offer a larger library — read our Shadow review for an example, and see how it compares in our Shadow vs Playstation Now piece — it also comes at a higher cost, as you'll need to purchase a license for each game you want to play. With PlayStation Now, more than 800 titles are included for free, unlike GeForce Now (read our GeForce Now vs PlayStation Now piece). Read our Shadow vs GeForce Now piece, to see how the two compare.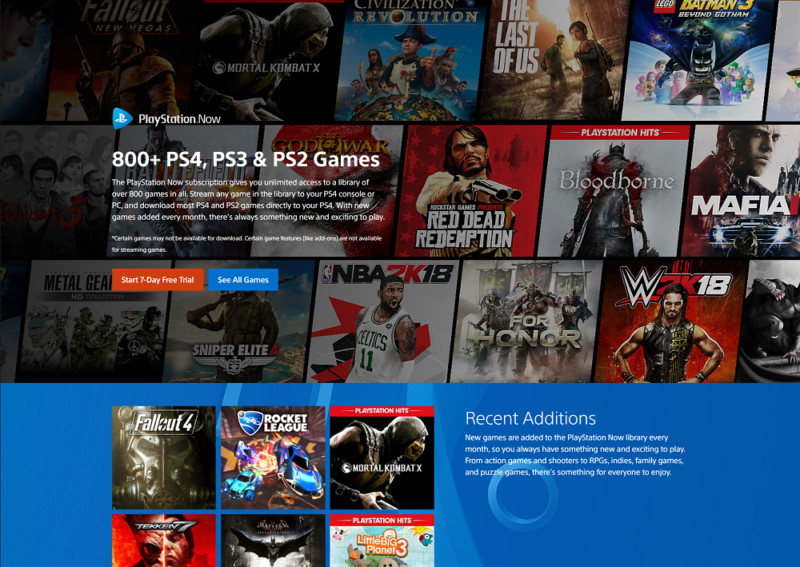 PlayStation Now Games
Pulling from PlayStation's long history, the service offers titles dating back to the PS2. There aren't any original PlayStation games, which makes sense, given that the greatest hits are available on the PlayStation Store. Even so, the library of games is impressive, considering the price.
Classic PlayStation properties, like Jak and Daxter and Ratchet & Clank, are present, as well as modern exclusives, including Bloodborne and The Last of Us. Games that have received a remaster — such as God of War III Remastered and the Metal Gear Solid HD Collection — are included, as well.
That's not to say that multi-platform titles are forgotten about. Sniper Elite 4, Fallout 4, Mafia III, Batman: Arkham City and many, many more titles are included. From modern titles to old favorites, PlayStation Now includes a little of everything. Given Sony's long history of providing stellar first-party titles, this means you'll have a slew of great games to play.
However, there's no ignoring the fact that the library is limited. Although not as limited as, say, Blacknut (read our Blacknut review), PlayStation Now doesn't include everything. Popular new indie titles, such as Celeste and Slay the Spire, aren't included, and recent first-party titles, such as Spider-Man, are omitted, as well. 
Price
PlayStation Now can be very expensive, but, thankfully, you're given the choice between multiple durations that offer tiered discounts. Although the upfront cost seems high, you don't have to purchase any games.
As is the case with a PlayStation Network subscription, the best rate, by a long shot, comes from the annual plan. We expect most people will land there, as the annual monthly rate drops below $10, putting even the cheapest cloud gaming services to shame. Compared to the monthly and quarterly options, the annual plan is much better. 
We like the flexibility in duration, but the three-month plan doesn't make sense. When added up, it's around half the price of the annual plan but only offers a quarter of the duration. Similarly, the monthly plan is $140 more expensive than purchasing a year upfront.
The rate is good on the annual end of things, especially considering more than 800 games are included, but that's assuming you already have a DualShock 4 controller. As mentioned in the "features" section, PS Now doesn't support keyboard and mouse input. If you don't own a PS4, that could radically change the upfront cost.
Even on the cheap end of things, you'll have to spend an additional $120 to get a DualShock 4 and wireless adapter, bringing the overall cost to more than $200 if you go for an annual plan. Although PlayStation Now is a great deal if you already have a PS4 or the controller that accompanies it, starting from scratch is expensive.
PlayStation Now Free Trial
Thankfully, Sony offers a free trial, unlike most cloud gaming services. You have a full seven days to try out the service and, afterward, Sony will automatically charge you for a monthly subscription. We like that the rollover goes to a monthly subscription instead of an annual one. If the trial period slips your mind, at least you'll only be charged $20 instead of $100.
Ease of Use
Getting started with PlayStation Now is clunky, at least on PC. Getting started on PS4 is simple, though. All you need to do with PS4 is go to the PlayStation Store, purchase a subscription and launch the preloaded PS Now app. On PC, however, you'll have to use the desktop PlayStation Store, which is more than a few years out of date.
From there, you have to navigate to the PS Now section and purchase a subscription or a free trial. That's not the problem, though. After purchasing your subscription, nothing happens. You aren't brought to a download page or a list of your current subscriptions. You'll get a generic confirmation email, but that's it.
You actually have to go back to the PlayStation Now section and download the app yourself. Furthermore, the PS Now screen doesn't recognize that you're already subscribed, so you'll still see the same buttons for starting a free trial.
It may not seem like a big deal, but not updating to your account login can be confusing. For us, that meant bouncing around the site until we found the download link.
Finally, after installing the app, you can sign in. On desktop, though, there isn't a prompt to do so. The app loads with a list of games, with the "sign in" button located at the top-right of the window.
Using PlayStation Now
The PS Now application looks nice on PC, but it poses a few usability issues. For instance, there isn't a search function. Rather, games are laid out in a block-like format, similar to Netflix. You can make a list, browse new additions and see what other people are playing. As far as browsing the library, Sony, oddly enough, has games broken up in multiple alphabetical lists.
There's a strange lag when scrolling through the interface, too. Most of those issues are solved using controller mode, which lets you use the app like you would on your PS4, but the lack of search functionality still stings. Thankfully, you can put the app into full-screen mode so the tile-like interface doesn't feel so claustrophobic.
Once you select a game, you can see some related media about it, choose to play it or add it to your list. The interface itself works well, but the lack of organization and filtering makes it feel cumbersome. After seeing how games are displayed once you select one, it's clear that Sony could make it a great UI. It just hasn't yet.
It takes a few moments to load the game, but it's painless, overall. While starting your session, the interface will show you how to exit the game and sync your cloud saves. If you're a PlayStation Plus subscriber, you can download your cloud saves to PS Now directly in the application.
PlayStation Now Cloud Saves
There are a handful of non-obvious ease-of-use issues with PS Now. As mentioned in the "features" section above, your saves are sent to the cloud so you can go between PS4 and PC. However, if you buy a game that's available on PS Now and want to continue your save locally, you'll have to manually sync your PS4 system with the PS Now servers.
The same is true the other way. If you start a game locally and want to play it on PS Now, you'll have to manually sync your saves. However, Sony says you can only do this "sometimes." If you have PS3 saves tied to your account, you may be able to sync your save and trophies with your PlayStation Now session, but it doesn't always work.
Combined with the queuing, PlayStation Now doesn't inspire a lot of confidence. The FAQ gives the ever disappointing "maybe" to a lot of very important questions. It's as if PS Now was tacked onto the existing PlayStation Network ecosystem without full thought, which can lead to issues when syncing saves or starting a new session.
There's even more gray areas when factoring in downloadable content, PlayStation VR and the PlayStation Camera. DLC that you own isn't supported, no matter if you purchased it from the PlayStation Store or received it from a disk. Likewise, you can't use your PlayStation accessories, such as PS VR or the PS Camera with PlayStation Now.
Performance
Sony recommends a modest 5 Mbps for streaming PlayStation Now, which is the same speed Netflix recommends for HD video. Before starting our tests, we used Speedtest.net to ensure we met the mark. For our testing, we had a ping of 10 milliseconds, a download speed of 83.04 Mbps and an upload speed of 9.01 Mbps.
PlayStation Now on PC
Well above the mark, we started PS Now and loaded up a few games. We tested a number of titles, but most of our time was spent with DOOM 2016, Mighty No. 9 and Bloodborne. Thankfully, we didn't have to queue for any of these games, though our testing was done mid-afternoon on a Wednesday.
The games felt surprisingly responsive. There were a few issues with artifacting, but they were quickly resolved. Out of all the games we tested, there was never a weak connection error, either. If you're playing a game and your connection drops, PS Now will warn you to save and exit the game.
That said, there was a decent amount of input lag. It didn't break the experience — even fast-paced shooters like DOOM were playable — but it was noticeable. It seems the issue is more pronounced on newer titles, like DOOM, as we didn't have many input issues with Mighty No. 9.
All games are locked to 720p, going down from there based on your connection. Games don't look bad on a standard 1080p display, but playing on a 4K display isn't a good time. Textures look muddy, with noticeable artifacting. Unfortunately, there's no way to adjust your resolution.
Despite being locked to 720p and having the slightest bit of input lag, PlayStation Now is very usable. We tried it a few years ago, in fact, and can speak to how much it has improved. Games are playable, which is more than most cloud gaming services can say. That said, you're still not getting an ideal experience.
You can get a solid experience with a handful of titles, though. More than 300 games from the library can be downloaded and played locally on your PS4, including any DLC or add-ons you own. This service, unfortunately, isn't available on PC.
Coverage
PlayStation Now is available in a lot of countries, including Austria, Canada, Finland, Denmark, Belgium, France, Germany, Ireland, Italy, Japan, Luxembourg, the Netherlands, Norway, Portugal, Spain, Sweden, Switzerland, the U.S. and the UK. As far as how many data centers serve those countries, it's hard to say.
Sony doesn't state the number of data centers it has for PlayStation Now. However, there are a few clues from the PlayStation Now FAQ. As mentioned above, you may have to queue for a game, which suggests that there are too few data centers dedicated to the platform.
Additionally, given how large the PlayStation Network is overall, there are likely a lot of servers dedicated to running the service. How many of those servers are dedicated to PlayStation Now, though, is a mystery. Similarly to the data centers, we can assume that there aren't many, given the fact that Sony disrecommends starting a session during peak hours to avoid queuing.
The Verdict
PlayStation Now isn't an impressive cloud gaming service Many PS4 games are available to download locally, making the hiccups that come along with cloud gaming obsolete.
Is PlayStation Now Worth It?
That's not why we recommend it, though. PS Now is a great service for fans of PlayStation that want to play through a backlog of titles that would otherwise be unavailable. Downloading PS4 games locally is fine, but with the issues that come along with cloud saving, it's better to buy the disc. Playing back to the PS2, though, is a treat.
Based on our testing, playing older or less-demanded titles leads to better results, too. Furthermore, you can pick up and play PS2 and PS3 games across your computer and PS4, which is great. Overall, PS Now isn't the best cloud gaming service, but it offers a history of games that few others do.
Do you plan on using the seven-day trial of PlayStation Now? Let us know about your experience in the comments below, and be sure to check out our guide to the best PS4 VPN. As always, thanks for reading.
PlayStation Now FAQ
You can cancel PlayStation Now from your browser by logging into your PlayStation Network account and clicking on you account icon. From there, click "subscriptions management" to cancel PlayStation Now.

PlayStation Now costs $19.99 per month or $99.99 per year. There's also a quarterly plan that costs $44.99 in addition to a seven day free trial.
Visit

PlayStation Now