Most Reliable External Hard Drive in 2023
When making the picks for our best external hard drive guide, there were a lot of factors we considered. Speed, build quality, price and support were at the forefront of our minds, while some other factors, such as reliability, took a backseat. In this guide to the most reliable external hard drive, we're going to remedy that issue.
With this different focus, we can hone in on the drives that will stand the test of time, both in terms of performance and build quality. We've picked five options from our external hard drive reviews that protect your data internally and externally, and offer excellent speed in the process.
Finding reliable hard drives is more difficult than it would seem, though. Before getting to our picks, let's talk a little bit about how we made our decisions.
Most Reliable External Hard Drive 2023
Choosing the Most Reliable External Hard Drive
There's a lot that goes into choosing a reliable external hard drive. The disk inside is the first point of concern. Although there has always been, and always will be, variation in hard drive manufacturing, there are some numbers we can go on.
Backblaze, for example, provides a quarterly summary of the drive failures it experiences with its unlimited online backup service (read our Backblaze review).
We can't draw a straight line from that to its external hard drives, as Backblaze is noting the drive failures among disks made for mass storage, but there are a few general conclusions we can draw.
For instance, Backblaze says in its latest report that it has retired all Western Digital hard drives, replacing them with HGST drives, which is owned by Western Digital. Another general note is that Seagate drives are slightly more likely to fail than Toshiba drives.
That's only one piece of the puzzle, though. We also considered the type of drive itself. Traditional spinning hard drives are much more likely to fail than solid-state drives. SSDs use memory chips, flashing the data through the PCB, whereas hard-disk drives use magnetic storage, which reads and writes data to a series of platters.
Since SSDs have no moving parts, there's much less room for failure. The only issue with SSDs is when data is written and deleted from the same section of the drive over and over again. Thankfully, that issue can be solved with wear leveling, which most modern external SSDs include.
With the internal concerns covered, we turned to the exterior. An external hard drive lives outside your computer, so it should be able to handle whatever you throw at it. We looked for drives that are built to withstand a beating, unlike the ADATA SD600 and Toshiba Canvio Basics (read our ADATA SD600 review and Toshiba Canvio Basics review).
We didn't ignore the threat of cybercrime, either. In addition to looking for drives that protected themselves internally and externally, we also looked for drives that could protect themselves on the digital front. That includes hardware encryption and password protection.
Fast, reliable and rugged, the G-Technology G-Drive Mobile SSD ticks all of the boxes when it comes to a powerhouse hard drive. It's a portable SSD, allowing you to take up to 2TB of content on the go. More importantly, though, it's built like a tank, ensuring the content you take is never lost.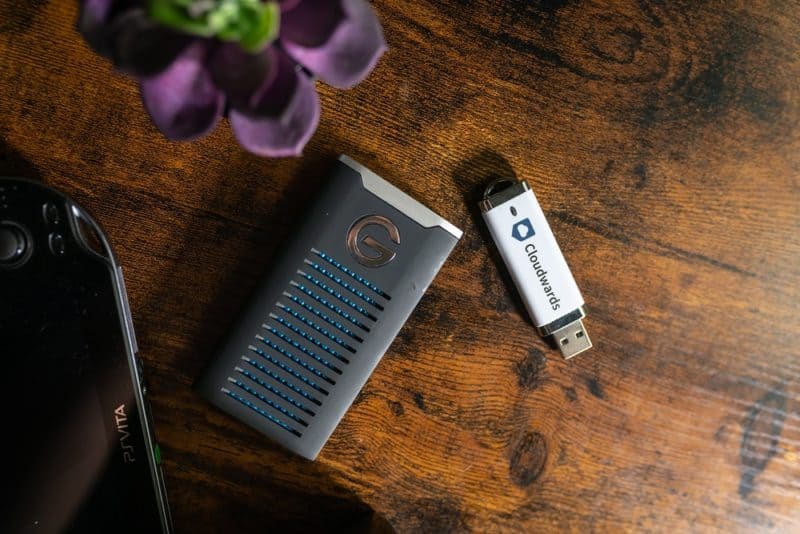 The exterior is humble enough, but G-Technology has a lot protection tucked just under the hood. The drive is IP67-rated for water and dust protection. The "6" is for dust protection, which means the drive is fully protected from harmful dust contact. That's the highest rating the International Electrotechnical Commission grants for the IP standard.
The "7" is for water protection, which is one step below the highest rating (IP68-rated products are the best of the best). Even so, you're not helpless to a little moisture. The rating means the G-Drive Mobile SSD will still function after being submerged in up to one meter of water for up to 30 minutes.
As far as the IP standard goes, the G-Drive Mobile SSD is near the top. Additionally, G-Drive packs in drop- and pressure-protection. Even when functioning, the drive can handle up to a 10-foot drop and 1,000 pounds of pressure.
Other Reasons We Like the G-Technology G-Drive Mobile SSD
The G-Drive Mobile SSD is in a class of its own not only when it comes to protection, but also when it comes to speed. It's one of the fastest external hard drives we've tested, clocking in with a sequential read speed of 562.8 MB/s, a sequential write speed of 515.6 MB/s, a random read speed of 177.9 MB/s and a random write speed of 170.5 MB/s.
Sequential performance is solid, but we're more impressed by the random performance. Based on our results, the drive is able to read and write data very quickly to multiple places on the memory modules. During our hands-on test, we noticed it in action, with the G-Drive Mobile SSD transfering a 2.3GB-test folder at a rate of 144 MB/s.
Everything the G-Technology G-Drive Mobile SSD does, it does well, but it's lacking in one area. G-Technology doesn't include hardware encryption or password protection. Although disappointing, the other areas the drive gets right overshadow the lack of encryption. You can read our full thoughts in our G-Technology G-Drive Mobile SSD review.
Pros:
Dust & water-resistant
Available up to 2TB
Very fast
The Samsung T5 isn't reliable in the same way as the G-Drive Mobile SSD. It's built well, but it doesn't come with any IP certification (Samsung will have its moment there a bit later). However, the draw to this drive isn't raw protection. It's the fact that Samsung has managed to make a portable disk that's reliable and beautiful.
It comes in 250GB, 500GB, 1TB and 2TB. The first two models come in a pale blue, while the 1TB and 2TB variants ship in jet black. Both versions, however, feature an all-metal shroud that, while robust, is lightweight. The T5 weighs only 51 grams and measures 74mm by 57.3mm, which is smaller than a business card.
Although an abundance of harmful dust and water will make quick work of the T5, it's protected from falls thanks to the solid-state interior and metal casing. It can probably handle a decent amount of pressure, too, but Samsung doesn't put any specifications on that. Furthermore, the T5 protects you on the digital front. When you first plug in the drive, you'll be prompted to install Samsung's management software. There, you'll be asked to set a password. When the drive isn't unlocked, all of your data is encrypted with AES-256 (read our description of encryption to learn more about that).
Other Reasons We Like the Samsung T5
Like the G-Drive Mobile SSD, the T5 is very fast. Sequential performance is slightly better, with a read speed of 562.4 MB/s and a write speed of 520 MB/s, but the random performance is more impressive. Although slower on random reads, the T5 is faster than the G-Drive Mobile SSD when it comes to random writes, measuring at 195.7 MB/s during our testing.
Although we didn't mention support, that could be considered an aspect of what makes an external hard drive reliable, and on that front, the T5 is excellent. Because Samsung manufactures a lot of products, it has a robust support system already in place, giving you multiple options to find answers to any questions you may have.
As our best external hard drive for Mac and best SSD external hard drive, it should come as little surprise that we highly recommend the Samsung T5. You can learn why it's our favorite disk in our Samsung T5 review.
Pros:
Compact
Lightweight
Very fast
The SanDisk Extreme Portable is made for, well, extreme situations. The compact, pocket-sized design features a hole for a carabiner and a soft-rubber finish, which will prevent the drive from slipping on surfaces. However, it's also there to provide the IP55-rated dust and water protection.
As mentioned, the first number in an IP rating is for dust and the second number is for water. On the dust front, the SanDisk Extreme Portable is well protected. As per the IP rating table, "ingress of dust is not entirely prevented," but the operation of the drive won't be intruded upon even under total contact with harmful dust.
Water protection is less impressive, though still not bad. The SanDisk Extreme Portable can't handle full submersion, but it can handle powerful water jets with up to a 12.5mm-diameter (about half an inch) nozzle from any direction. In practice, a small spray of water or quick drop shouldn't be an issue.
Additionally, the drive is shock- and vibration-resistant, and comes with password protection. The included SecureAccess software will allow you to encrypt data on your drive with AES-128. Although a smaller key size than seen on the Samsung T5, the power of AES should be enough to keep your files safe.
Other Reasons We Like the SanDisk Extreme Portable
Speed is, unsurprisingly, excellent with the SanDisk Extreme Portable. We noted sequential read and write speeds above 500 MB/s and random reads and writes near 160 MB/s on our 250GB test model. It's slower than the Samsung T5 and G-Drive Mobile SSD, but only slightly.
It could be much faster, though. In addition to the soft-rubber version, SanDisk also sells an aluminum version of the Extreme Portable. It's much more expensive, but it utilizes a NVMe SSD inside, transferring data over USB 3.1 Gen 2. With that setup, the aluminum version — which is only available in a 500GB capacity — can read sequential read speeds of up to 1,050 MB/s.
If you're on the go and need an external drive that can handle a beating, the SanDisk Extreme Portable is for you. It's slightly slower than the T5 and G-Drive, but it's also much smaller and lighter. You can learn more about the drive in our SanDisk Extreme Portable review.
Pros:
Lightweight
IP55-rated
Fast
Cons:
Dated encryption software
We said Samsung would have its time in the spotlight for build quality, and the X5 is it. The X5 is Samsung's no-compromises external SSD, combining excellent build quality with one of Samsung's fastest NVMe SSDs. It is undoubtedly the best of the best, but it comes with a price tag to match.
The drive is available in 500GB, 1TB and 2TB capacities, with the 2TB model clocking in at more than $800. That money doesn't go to waste, though. The NVMe SSD inside can deliver sequential reads of up to 2,800 MB/s and sequential writes of 2,300 MB/s, making all of the aforementioned SSDs look like a joke.
It's built like a tank, too, but you may not know that at first. Samsung drew inspiration from sports cars with the design, using a sleek, glossy gray top with red accents throughout. Just below the surface is a magnesium-alloy frame and a heat sink that will keep the drive below 45 degrees Celsius during operation and protect it from an up to two-meter fall.
Furthermore, the X5 is protected with the same AES-256 encryption that protects the T5. When you set up the drive, you'll be prompted to install Samsung's software and set a password. From there, you can lock down your drive, check for firmware updates and turn off encryption, should you choose.
Other Reasons We Like the Samsung X5 Portable SSD
In order to deliver such high speed, the Samsung X5 uses a Thunderbolt 3 connection. Although Thunderbolt 3 uses a USB-C plug, it isn't USB 3.1. Thunderbolt 3 offers four times the bandwidth of USB 3.1, which is needed for the ultra-fast transfer rates of the X5.
Any modern Mac has at least one Thunderbolt 3 port, so Apple users are covered. Things get messy with Windows, though. Thunderbolt is an Intel technology, and up until recently, companies had to pay to license it. Intel has since made Thunderbolt 3 royalty free, but no AMD motherboards up to this point have integrated it.
In short, if you're using an Intel-based system — meaning you have an Intel processor — you should be able to use Thunderbolt 3. If on AMD, you'll need to wait until a new batch of motherboards are released. It's a hassle, but given how fast the Samsung X5 is, it's a hassle that's worth dealing with.
Pros:
Extremely fast
Reinforced with a magnesium-alloy frame
Built-in heatsink
Cons:
Very expensive
Limited to Thunderbolt 3
LaCie is known for making high-quality, creator-focused hard drives. The Rugged series, featuring the same attractive silver drives and iconic orange shock absorber, are built to allow creatives to take data wherever they go and have it survive after the fact. Although the drives are very expensive, you can get protection for fairly cheap with the Rugged Mini.
It's a spinning hard drive, similar in size and performance to something like the Seagate Backup Plus Portable (read our Seagate Backup Plus Portable review). However, it's built much better than those drives. The build quality offers drop protection of up to four feet, rain resistance and pressure protection of up to one ton.
Compared to some of the SSDs above, the protection isn't that impressive. Compared to other spinning hard drives, though, it is. As mentioned above, spinning disks are at a disadvantage in terms of reliability simply by how they're designed. With the LaCie Rugged Mini, though, you're getting similar protection.
The two-year limited warranty shouldn't be overlooked, either. Although limited warranties are normally just to protect against manufacturing errors, the Rugged Mini protects against data loss, too. With your drive, you're eligible for one in-lab data recovery attempt as long as you're inside your warranty window.
Other Reasons We Like the LaCie Rugged Mini
Performance-wise, the LaCie Rugged Mini isn't great. It's definitely better with reads than writes, with a sequential read speed of 133.9 MB/s and a random read speed of 1.08 MB/s. Random performance is poor, with the Rugged Mini clocking in a random read speed of 27.89 MB/s and a random write speed of 0.88 MB/s.
However, the focus of the drive isn't on performance, it's on protection. It's similar to other blackbox external hard drives we've reviewed, such as the Western Digital Elements (read our Western Digital Elements review).
Unlike those drive, though, the LaCie Rugged Mini isn't constructed with a cheap, plastic shroud. If that sounds like something you're interested in, be sure to read our LaCie Rugged Mini review.
Pros:
Shock resistant
Available up to 4TB
Inexpensive
Final Thoughts
Reliability is important when it comes to external hard drives. All of the options above will operate for years to come, even under the harshest conditions. Overall, the G-Technology G-Drive Mobile SSD offers the best balance of speed, protection and price. If you're willing to spend more money, though, the Samsung X5 is a great alternative.
The T5 and Extreme Portable are just variations of the G-Drive Mobile SSD. They offer similar performance, a slightly lower price and slightly less protection. If you don't plan on taking your external hard drive hiking or throwing it into a lake, though, they'll work just fine.
What external hard drive did you go with? Was reliability the only factor you considered? Let us know in the comments below. As always, thanks for reading.