Where to Watch Black Mirror in 2023: Season 6 & Previous Seasons
After being away from our screens since 2019, the sixth season of Black Mirror finally arrived on June 15, 2023. In this guide, we'll show you how and where to watch Black Mirror season six and previous seasons from anywhere in the world, with a VPN.
Key Takeaways: Stream Black Mirror Anywhere
Black Mirror season 6 released on June 15, 2023, with five episodes.
Season 6 and previous seasons are all available on Netflix in most (or all) Netflix countries.
If you're in a country where Netflix isn't available or it's not in your local Netflix library, you can use a VPN like ExpressVPN to access the show.
Not available in your country?
Watch Black Mirror now on Netflix
Status checked 2023/07/10:
www.expressvpn.com
A new season of sci-fi drama Black Mirror is finally here. Fans have been waiting for more twisted tales since the last season ended in 2019, and now it's back for a sixth season. If you want to know how and where to watch Black Mirror from anywhere, this guide has you covered.
Being an anthology series, each episode is different, with a new mind-bending story. The series as a whole explores the problems we often see in modern society and with new technology, with a slightly more disturbing edge to it.
Black Mirror originally aired on British network Channel 4, but it has since moved to Netflix. This means it's available in most — if not all — Netflix libraries. However, if you find it's not available or you're in a restrictive country like China and can't access Netflix at all, you can use a top VPN like ExpressVPN to watch it. Read on to find out how.
07/16/2023 Facts checked

We rewrote this article to include information on the new Black Mirror season six. We also included three VPN recommendations and a guide on how to watch the show.
Where to Watch Black Mirror Season 6 & More
There are a few places you can find Black Mirror, depending on the season you want to watch. That said, those include pay-per-episode services, and you might find that some of the options are not available to you because of regional restrictions. These restrictions, also known as geoblocks, stop viewers in certain countries from accessing content or entire platforms.
Geoblocks are mostly used so that streaming services keep in line with distribution rights. They can also be used when a particular show or movie doesn't fit the market, perhaps due to a language difference. Then, of course, there are countries like China and North Korea, where certain services are simply not accessible.
In any of those instances, a virtual private network (VPN) can help. All you need to do is connect to a server in a country where the content or service you want is available. This will replace your real IP address with one from that country, making the service think you're actually located there and granting you access.
Which Services Have Black Mirror Episodes?
As we already mentioned, Black Mirror started out on Channel 4, but after disagreements with production costs, the network no longer wanted to continue the show. The Christmas special Black Mirror: White Christmas was the last episode aired by Channel 4. In 2016, the show switched over to Netflix and it's been there ever since.
If you don't have a Netflix account, you can rent or buy episodes and seasons on some services, such as Amazon Prime Video, Google Play, Apple TV and YouTube.
Is Black Mirror on Netflix?
Yes, you can watch all previous seasons on Netflix, as well as the new season six. That said, we can't be 100% sure that it's available to watch in all 190 Netflix libraries. If, for whatever reason, your local Netflix library doesn't have Black Mirror, you'll need to use a VPN to watch it. We'll show you how to do this a little later.
Since Black Mirror is now considered as a Netflix original, the service has exclusive rights to it, meaning you won't find it anywhere else on demand.
How to Access Other Netflix Libraries
Netflix's country libraries are always changing, and if your local Netflix library doesn't have Black Mirror, you can check to see if another library does have it. Simply connect to a VPN server in another country and log in to your account as usual.
This is also a great tip for other shows and movies, since the content pool differs greatly between countries. For instance, if you're in a country like Singapore, connecting to the American Netflix library will open up a ton of new content for you to watch.
Just connect to a U.S. VPN server and log in to Netflix. You should then see the U.S. library. If you have trouble, switch to a different server and try again.
How to Watch Black Mirror for Free
Unfortunately, Netflix doesn't offer a free trial anymore, and it doesn't look like there will be one available anytime soon. That means there's no way to watch Black Mirror for free.
There are ways to get a cheaper Netflix subscription, and to reduce the cost further, you can use a VPN's money-back guarantee to get a refund when you're done with it. You might need to wait until the season is almost finished, though, to ensure the refund period doesn't end before the season finale.
If you need to watch the entire Black Mirror series, most VPNs offer a 30-day refund period, so you can use that to binge-watch it.
How to Watch Black Mirror With a VPN
In this section, we'll show you how to watch Black Mirror on Netflix from anywhere with a VPN. If Black Mirror isn't available in your local Netflix library, or you're unable to access Netflix at all, this how-to will help.
The Best VPNs for Watching Black Mirror
First off, for you to access Black Mirror on a different Netflix library, you need a VPN that can actually unblock the service. Many VPNs fail to do so, so it's important to choose one that can successfully and reliably unblock the service. Our VPN recommendations below have what it takes and are part of our best Netflix VPNs lineup.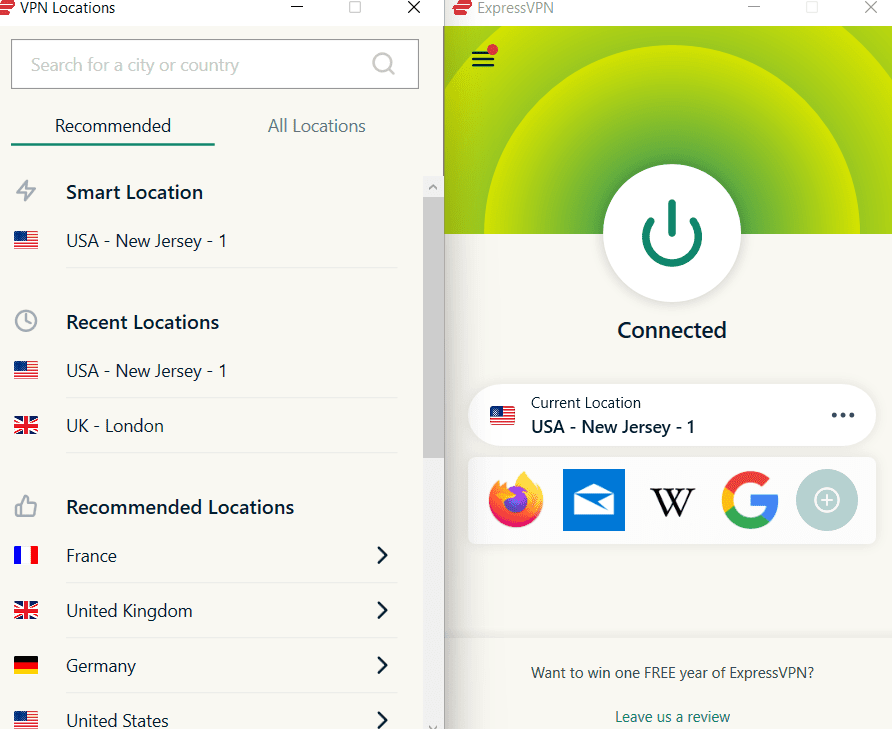 Pros:
Top streaming speeds
Reliably unblocks Netflix
Servers in 94 countries
ExpressVPN has everything you need to stream on Netflix successfully. It can unblock the service easily and has servers in 94 countries, meaning you can also access content from a ton of other countries. You'll also benefit from fast speeds. All of that — and its ability to access other streaming services as well — contributed to it being the best VPN for streaming.
ExpressVPN's only flaw is in its pricing. While other VPNs offer heavily discounted long-term plans, ExpressVPN's longest plan is still pricey compared to others. Still, if you don't mind the extra expense, you'll have a premier VPN at your fingertips. Read our ExpressVPN review for more details or use the 30-day money-back guarantee to see how good it is for yourself.
Pros:
Fastest average speeds
Cheap long term plans
Thousands of servers
Cons:
Poor mobile map interface
If you need something a little more affordable, consider NordVPN. It's a great service in its own right and is capable of accessing Netflix and other streaming services. It has thousands of servers available in 60 countries, providing enough ways of accessing Black Mirror. Plus, our speed tests have found that NordVPN has the fastest average speeds.
NordVPN's interface includes an interactive map that works well on desktop, but it's awkward to navigate on smaller screens. Still, the good outweighs the bad, and you can get a great deal by signing up for the two-year plan. There's also a 30-day money-back guarantee in case you change your mind. Read our NordVPN review for more details.
Pros:
Unblocks streaming apps
Unlimited connections
Affordable plans
Our last recommendation is Surfshark. It's another affordable VPN that includes a decent feature set and can easily access streaming servers. It has good speeds, although they can vary a bit in the U.S., and its server network covers 100 countries. It's also easy to use and comes with plenty of security features.
When we say Surfshark is another cheap option, we really mean it — it costs less than NordVPN. You need to commit to the service for two years to see the best price, but the 30-day money-back guarantee means there's no risk. Read our Surfshark review for more information.
Surfshark Starter
Unlimited GB bandwidth, Unlimited devices, Secure VPN, Ad blocker, Cookie pop-up blocker.
Unlimited GB
Unlimited
Yes
Surfshark One
Everything in Starter, plus Antivirus protection, Identity protection, Email Breach and Credit Card Alerts, Online Alias
Unlimited GB
Unlimited
Surfshark One+
Everything in One, plus Data removal
Unlimited GB
Unlimited
Cast, Characters & Plot: Black Mirror Season 6
Since its first-ever episode, "The National Anthem," Black Mirror has had viewers glued to the screen, trying to make sense of each story. The mind-bending anthology series is inspired by The Twilight Zone, but adds its own twist by including some of technology's greatest innovations and reveals humanity's worst traits.
Black Mirror season six has five episodes titled "Joan Is Awful," "Loch Henry," "Beyond the Sea," "Mazey Day" and "Demon 79." That's five brand new stories with mysterious plots to get through, and they're all written by Black Mirror creator Charlie Brooker.
Since it's an anthology series, with a new character and cast set for each Black Mirror episode, we've split our season six cast list up accordingly.
Previous seasons included the likes of Jesse Plemons, Bryce Dallas Howard, Andrew Scott, Georgina Campbell and Joe Cole, among many others. However, it would be too long to list the entire cast from previous seasons and you can easily find that information online. Below, you'll see the episode title, along with the cast and characters starring in it.
Episode 1: "Joan Is Awful" — Cast & Characters
| Character: | Performer |
| --- | --- |
| Joan | Annie Murphy |
| TV Joan | Salma Hayek Pinault |
| Krish | Avi Nash |
| TV Krish | Himesh Patel |
| Mac | Rob Delaney |
| TV Mac | Ben Barnes |
| Beppe | Michael Cera |
Episode 2: "Loch Henry" — Cast & Characters
| Character: | Performer |
| --- | --- |
| Davis | Samuel Blenkin |
| Pia | Myha'la Herrold |
| Janet | Monica Dolan |
| Stuart | Daniel Portman |
| Kenneth | Gregor Firth |
| Iain Adair | Tom Crowhurst |
| Richard | John Hannah |
Episode 3: "Beyond the Sea" — Cast & Characters
| Character: | |
| --- | --- |
| Cliff | Aaron Paul |
| David | Josh Hartnett |
| Jessica | Auden Thornton |
| Lana | Kate Mara |
| Kappa | Rory Culkin |
Episode 4: "Mazey Day" — Cast & Characters
| Character: | Performer |
| --- | --- |
| Mazey | Clara Rugaard |
| Bo | Zazie Beetz |
| Hector | Danny Ramirez |
Episode 5: "Demon 79" — Cast & Characters
| Character: | Performer |
| --- | --- |
| Nida | Anjana Vasan |
| Gaap | Paapa Essiedu |
| Michael Smart | David Shields |
| Len Fisher | Shaun Dooley |
| Vicky | Katherine Rose Morley |
| Keith Holligan | Nicholas Burns |
Final Thoughts
We hope this guide has helped you know how to watch Black Mirror online, especially if you're in a country with restrictions. With a Netflix subscription, you can watch Black Mirror season six, as well as previous episodes, such as "Fifteen Million Merits," "The Entire History of You" and "The Waldo Moment."
If you're in a country where Netflix is blocked or your local library doesn't have the show, you can use a VPN to watch it. We recommend using ExpressVPN, and you can try it risk-free with its 30-day money-back guarantee.
What's your favorite episode of Black Mirror? Do you want there to be a Black Mirror season 7? Do you need to use a VPN to watch Black Mirror? If you do, which VPN will you choose? Let us know in the comment section and, as always, thank you for reading.
FAQ: Stream Black Mirror From Anywhere
Black Mirror is exclusive to Netflix, meaning you won't find it on any other streaming service. That said, you can purchase or rent it on Apple TV, Amazon Prime Video, Google Play and YouTube.

Since none of the Black Mirror episodes are related, you can watch the series in any order you like. However, there are some little easter eggs planted throughout the series that have prompted some websites to provide a chronological watch order.

Yes, because Black Mirror is now exclusive to Netflix. You can find all seasons there to stream. If it's not available in your current location, you can use a VPN to access it.

Black Mirror is an anthology series, which means each episode has a new story. While the stories may share some similarities, such as style and genre, they are not connected in any other way.