Google Stadia vs Shadow: Goliath and David Meet in 2022
Google announced that Stadia will shut down on January 18, 2023. You will likely be able to move games you own on Stadia to PC through Ubisoft Connect. Cloudwards.net will not longer be updating this article.
Google Stadia and Shadow are two of the biggest names in cloud gaming. Both offer excellent remote gaming experiences, earning spots in our best cloud gaming guide. In this Google Stadia vs Shadow comparison, however, only one can emerge victorious. 
We're going to compare the services in game support, device support, coverage, performance, pricing, ease of use and features to see which is the better option for your money. Google Stadia and Shadow take very different approaches to cloud gaming, and we'll be taking into account all of those differences throughout this guide.
Still, you should take a look at our Google Stadia review and Shadow review. This Google Stadia vs Shadow comparison serves the purpose of, well, comparing the two, but it doesn't leave much room to talk about other options. We'll bring in other cloud gaming services for points of reference, but this comparison is focused mainly on our two competitors.
10/04/2022

Updated this versus article to reflect that Stadia will shut down in January 2023.
Setting Up a Fight: Google Stadia vs Shadow
We have seven rounds comparing Google Stadia and Shadow in a variety of categories. Each round is worth a point, and we'll hand out points to whichever service we think is better in a particular round. At the end, we'll collect the final scores and declare a winner.
Awarding a point isn't always clear cut, though. With how young cloud gaming is as a technology, it's tough to say one service is conclusively better than the other in certain categories. For instance, Google Stadia covers far more countries than Shadow, but that doesn't make a difference as long as you live in a region where Shadow is supported.
Because of that, we recommend using our scores as indicators rather than a concrete answer. Some rounds, such as performance, are clear. However, others are dependent on where you're located, your budget and more.
Instead of just skimming the winners, we recommend reading through each round of this Google Stadia vs Shadow comparison to get an idea about why we chose one service over the other.
stadia.google.com

shadow.tech
1. Game Library
When it comes to game support, there's really no contest between Google Stadia and Shadow. Stadia, as we've pointed out before, is very similar to a console in the games it supports, with only a handful of titles shipping with the service and a few heavy hitters making their way over since.
Shadow, on the other hand, supports every PC game ever created. Or, at least every PC game that can run on Windows 10. As we'll get to in the "features" round below, Shadow gives you a fully functional Windows 10 desktop. Any game that could run on a local Windows 10 machine can run with Shadow. That includes games from platforms like GOG, too.
Shadow isn't the only platform to support games on Steam and the like — read our GeForce Now review for another example — but it is the only cloud gaming platform that gives you a full remote desktop. Because of that, Shadow doesn't have the same licensing issues that GeForce Now has been experiencing in recent months.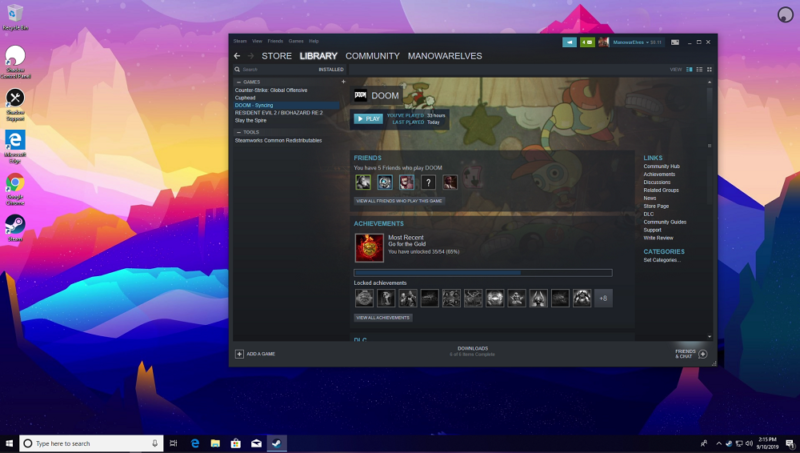 Still, you'll need to buy games with Shadow. Unlike PlayStation Now, Shadow only works with titles you've already purchased on Steam, the Epic Games Store, Uplay and Origin (read our PlayStation Now review). That point's easy to forgive with how often games go on sale on these platforms.
It's even easier to forgive, considering Stadia's pricing. With Google's cloud gaming service, you'll need to buy games, too, but those games work only on Stadia. Furthermore, Google charges full price for games, with only Stadia Pro members receiving slight discounts from time to time. In practice, that could mean paying a full $59.99 for a game that costs $20 or less on Steam.
Stadia's library is very limited, too. Sure, there are some heavy hitters like Final Fantasy XV and Doom Eternal, as well as upcoming releases like Cyberpunk 2077. However, you can play all of these games on Steam with Shadow, too. Furthermore, you'll still own those games if you decide to buy a gaming PC down the line. Shadow is the better option, no matter which way you look at it.
2. Pricing
Shadow handedly took down our first round, but things get interesting when it comes to pricing. Starting with Shadow, it has three tiers of service, though only one is available at the time of writing. The base plan, Boost, runs $12 per month' when billed annually and comes with 256GB of storage and 1080p streaming.
Boost
: Billed annually, full HD, 256GB of storage
Ultra
: Billed annually, 4K, 512GB of storage
Infinite
: Billed annually, 4K, 1TB of storage
Above that, there's the Ultra plan and Infinite plan, both of which offer 4K streaming, though the amount of storage varies. Although $12 per month isn't bad for 1080p streaming, Shadow's higher tiers run a pretty penny. For example, the Infinite plan runs $50 per month when billed monthly.
Shadow charges more than every other cloud gaming service, but it also offers more than every other cloud gaming service. Stadia can stream at 4K, but only with the Chromecast Ultra, and most other services are locked to 1080p or even 720p. Shadow is an industry leader, and it comes with the price tag to match.
Stadia is much more modest, running a mere $10 per month for Stadia Pro, with a free plan coming some time in 2020. Subscription-wise, Stadia is cheaper. However, that's not factoring in the $70 Stadia controller and $70 Chromecast Ultra that are required to stream on your TV in 4K HDR.
Furthermore, you can't actually subscribe to Stadia right now. The only way to access Google's cloud gaming platform is to buy the $130 Premiere Edition, which comes with a Chromecast, a controller and three months of Stadia Pro. You'll also need to buy games from Stadia's marketplace, which, as we mentioned above, is usually more expensive than Steam.
This round is messy because we're dealing with services that are currently available, as well as services that will be available in the future. Judging based on what's available now, Shadow is the clear winner because you don't need any proprietary hardware to get started. In the future, though, Stadia is the better option with its free plan, so we're giving it the win this round.
3. Features
Although Google has taken great strides to compete with the features of a gaming PC or console, it's not quite there yet. Shadow hasn't put in that effort, but it doesn't need to. Instead, it pulls from the feature sets of services like Steam and Windows itself to provide a full experience to users.
We'll talk more about it in the "ease of use" round below, but Shadow offers subscribers a Windows 10 computer in the cloud. In addition to playing your favorite games, you can also install the software you want, customize the Windows settings and browse the internet with your remote machine.
Stadia's features are more focused on gaming, with support for achievements and friend lists, as well as voice chat. Shadow supports these features, too, but they're handled through other platforms. For instance, you can use Discord for chat and Steam for achievements, just like you would on a PC.
The biggest difference between the two is hardware. Stadia supports a range of third-party controllers, but only on PC and Android. Furthermore, the way you connect those controllers changes depending on the device you're using. Some controllers support Bluetooth and hardwired connections, while others need a hardwired connection.
Shadow doesn't have those hurdles. If you can normally connect a controller to Windows, you can connect it to Shadow, be that over Bluetooth or a USB cable. You can also use Nintendo Switch-like devices designed for smartphones, such as the Razer Junglecat.
Stadia has more features in the sense that Google has built systems specifically for the platform. Shadow doesn't have anything proprietary, but rather pulls from the wealth of features on Windows and the software that works on the OS. Because of that, Shadow is the winner of this round.
4. Performance
For all the differences between Google Stadia and Shadow, the biggest is performance. Despite Google's frail promise of delivering 4K HDR games no matter what screen you're using, the service falls flat when it comes to performance. Shadow, on the other hand, is the closest thing we've seen to a local gameplay experience.
Using the Stadia controller and Chromecast Ultra, Google's offering works well on a few fronts, though fails on others. The Stadia controller actually uses WiFi instead of Bluetooth, leading to much less input lag. Based on our testing, though, that actually works against the service.
Rather than having consistent input lag, the different elements of the game have different amounts of lag. In Destiny 2, the vibration of the controller, the gun animation and the sound would all start at different points when firing. None of them are too far behind the input, but it's much more noticeable because they're out of sync.
That problem, thankfully, isn't present when playing in your browser. Instead, it's replaced by a slight — but still noticeable — amount of input lag that follows every action. Even with that, it's hard to fault Google. Input lag is par for the course with cloud gaming, and Google is far from the worst offender on that front (read our Blacknut review for a truly laggy experience).
Although input lag is standard for most cloud gaming services, Shadow is far from standard, thankfully. During our testing of Doom 2016, Counter-Strike: Global Offensive and Cuphead, we couldn't perceive any input lag. In a blind test between Shadow and a local gaming PC, we wouldn't be able to tell a difference.
There are some hiccups when streaming with Shadow in the form of video artifacts and stutters, but those are few and far behind, and they never ruin the experience. Although we wouldn't recommend Shadow in any competitive application with games like CS:GO and Fortnite, it works perfectly for just about every other purpose.
Every cloud gaming service has problems right now, from the limited resolution of PlayStation Now to the input lag of Google Stadia. Shadow has some problems, too, though they're far less severe than the competition's. If you're looking to get into cloud gaming and all you care about is performance, Shadow is an easy sell.
5. Platform Support
Upon launch, Stadia's platform support was abysmal, working only on the Pixel, Chromecast Ultra and Chrome. Since then, however, Google has built the platform out, adding support for modern Android phones and most third-party controllers. The problem of playing on your TV hasn't been totally solved yet, though.
In order to play Stadia on your TV, you'll need a Chromecast Ultra and the Stadia controller. You can use inputs like the Xbox One controller and DualShock 4 on your phone or laptop, but TV play requires the Stadia controller. That's the only way to get 4K HDR, too. Browser play is locked at 1080p.
Shadow has much wider support, with native applications for Windows, macOS, Ubuntu, Android and iOS. Furthermore, Shadow is working with LG to bring its apps to smart TVs. Between the platforms Shadow supports, it truly captures the idea of playing no matter what screen you're on.
Stadia gets close, much more so than services like PlayStation Now and Project xCloud, but it's not fully developed yet (read our Project xCloud review, as well as our Shadow vs Project xCloud comparison). Until Google can release an application that can run on TVs without the need for a Chromecast, Shadow is the better option. That's not to mention the lack of iOS support on Stadia.
6. Ease of Use
For all of its problems, using Google Stadia is like magic. Setting up the proprietary hardware and syncing your Google account is an involved process, but not overbearing. It seems Google forgot about a lot of critical elements when releasing Stadia, but the user experience isn't among them.
After pairing the controller and submitting your invite code — the combination needed to activate your Stadia Pro subscription — you can jump right into the action. Stadia Pro subscribers have access to a range of free games, including Destiny 2 and Samurai Shodown. Since it's a cloud gaming service, you don't actually need to download these games, but rather "claim" them.
Claiming a game will add it to your library. The magic comes when you go to launch the game. Without needing to check for updates or patches, your game will launch. From setup, it takes only a matter of seconds to launch a game, no matter if you're picking from the free titles or buying something from the Stadia store.
Shadow is easy to use, but that doesn't really come as a surprise. Outside of a bare-bones launcher that shows recent news, Shadow is just Windows 10. If you can make your way around a PC, you can make your way around Shadow. The only difference is a couple of hot keys to tab out of the remote machine.
Those hot keys never get in the way of Windows shortcuts, though. You can still use "Windows key + S" to search and "CTRL + C" to copy text to your clipboard. Outside of the slightly transparent Shadow logo in the corner of the screen, we'd be hard-pressed to notice a difference between it and a normal Windows 10 desktop.
Time is Shadow's biggest hurdle. Stadia is great in that you can start playing games within a matter of seconds. Shadow not only needs an hour or so to configure your machine, but also the time to download games to it. You'll need to wait to install your games just like you would on a Windows machine.
Shadow is basically PC gaming in the cloud, and for all the pros that come along with that system, there are some cons, too. Stadia offers a system built from the ground up for streaming video games, and because of that, is able to provide a much more streamlined system. Although Shadow isn't difficult to use, by any means, it's not as fluid as Stadia.
7. Coverage
Our last round is as polarizing as our first, though not in the same way. Shadow is available only in the continental U.S., and even then, some states aren't as supported as others (more on that in a minute). Stadia, with the power of Google's massive network in tow, is available in countries around the world.
Google's cloud gaming reaches Belgium, Canada, Denmark, Finland, France, Germany, Ireland, Italy, the Netherlands, Norway, Spain, Sweden, the UK and the U.S. — or, for a more concise definition, most of North America and Europe. Its spread is far greater than Shadow's, and unlike Vortex, Google is able to adequately serve all of those areas (read our Vortex review).
Although Shadow is available in the 48 continental states, only 38 of them are fully supported. Meanwhile, Washington, Idaho, Montana, Wyoming, Utah, Colorado, Arizona, Alabama, Georgia and Florida are known as "exploration mode" states, so factors like terrain and infrastructure could mean you'll have a subpar experience.
For the states that Shadow fully supports, there's no better option. Still, millions of potential U.S. users are stuck with a worse experience, and those abroad don't have the option at all. Stadia has some faults, but coverage isn't one of them, with the service able to adequately serve games across North America and Europe.
8. Final Thoughts
This Google Stadia vs Shadow matchup is close, much more so than our other comparisons. Still, with four wins out of seven rounds, Shadow is our champion. Although Stadia put up a good fight, it can't compete with the uncompromising performance of Shadow and the features that come along with a full Windows installation.
Google's offering has merit, and when the promised features are released and more games make their way to the service, Stadia will be a force to be reckoned with. Right now, though, it feels disjointed and barren, and given Google's track record of abandoning services that aren't immediately successful, that doesn't bode well for the future.
Do you agree that Shadow is the better option, or are you a fan of Stadia? Let us know your thoughts in the comments below and, as always, thanks for reading.