G-Technology G-Drive Mobile SSD Review
The G-Technology G-Drive Mobile SSD is a very powerful, high-end device that gets the job done fast. It might be too pricey for most wallets, though, as you can rewad in our full G-Technology G-Drive Mobile SSD review.
G-Technology is one of a few storage brands owned by Western Digital. Western Digital casts a wide storage net, while SanDisk, another one of its brands, focuses on portable flash storage. G-Technology caters to a different market, namely creators. The rugged drives are built for speed and rigidity, which is ideal for photographers, filmmakers and producers.
In this G-Technology G-Drive Mobile SSD review, we're going to look at a solid-state drive that's supposed to go wherever you do. With an uncompromising build and ultra-fast speed, the G-Drive Mobile can handle almost any task. The price tag, though, may be too much for you to handle.
If you've ever looked at G-Technology's lineup, though, that should come as little surprise. With storage solutions built for dumping footage that cost multiple thousands of dollars, its range isn't focused on those looking for value. If you're looking for the best of the best, it's hard to look past G-Technology, even compared to our best external hard drives.
Strengths & Weaknesses
Strengths:
Fast
Excellent build quality
USB-C & USB-A cables included
Five-year warranty
Dedicated knowledgebase
Great support resources
Weaknesses:
Expensive
No password protection
No backup utility
Alternatives for G-Technology G-Drive Mobile SSD
Features
The G-Drive Mobile comes in modest packaging, but it doesn't skimp on essentials. You get the drive, a USB-C to USB-C cable, a USB-C to USB-A cable and a raft of manuals. Including two cables for different machines is big because some drive manufacturers are happy to give you a cheap adapter instead (read our SanDisk Extreme Portable review for an example).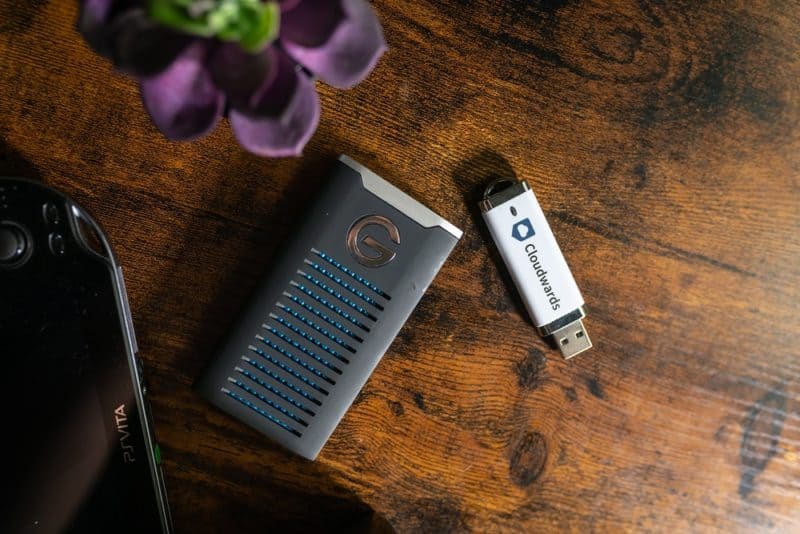 That said, the cables are short. In fact, they're so short, they couldn't reach the top of a desktop PC when plugged into the back. They hold in place when bent, though, and seeing as the drive is marketed at those on the go, a short cable isn't necessarily a bad thing.
G-Drive Mobile Setup
Setting up the G-Drive Mobile was odd. After plugging it in over USB-C to a Windows 10 laptop, it pulled up with less than 4GB of capacity available. Simply named "G-Utilities," we opened it to find multiple files and installers and a text file with instructions. Though we've seen that before — read our Seagate Portable review for an example — G-Technology includes too much.
There are two installers on the drive, one for the format wizard and another for something called Paragon (more on it in a minute). Though we could figure the one we needed, that won't be the case for everyone. The instructions help, but they're lengthy. Putting the installer you need at the root of the drive and everything else in a folder would work better.
We reached for the format wizard, hoping it'd give us the 500GB capacity we paid for. It did, but it erased the other utilities in the process. We can appreciate having everything included on the drive, but a web-based setup like the Seagate Backup Plus Portable's or an all-in-one installer like the Western Digital My Book's would be better (read our Seagate Backup Plus Portable review and Western Digital My Book review).
G-Drive Mobile Durability
While not as aggressively marketed as rugged as the ADATA SD600, the G-Drive Mobile can handle a beating. In fact, it can probably take more of one than the ADATA SD600, as you can read in our ADATA SD600 review. The G-Drive Mobile gives you the protection of the LaCie Rugged Mini while having a slim and attractive form factor (read our LaCie Rugged Mini review).
The soft-rubber body provides a nice feel, but it's backed by a metal interior. It's the definition of solid, with a decent weight, to boot. That's thanks to the waterproofing, dust resistance, drop protection and crush protection.
It's not just a marketing point, either. The drive is IP67-rated for water and dust protection, it can handle an almost 10-foot drop and it can withstand up to 1,000 pounds of pressure. With its impressive speed and build, the G-Drive Mobile can handle any workload in any condition.
G-Technology G-Drive Mobile SSD Features Overview
| | |
| --- | --- |
| Capacity | 500GB, 1TB, 2TB |
| Backup utility | |
| Interface | USB 3.0 |
| Windows | |
| macOS | |
| Android | |
| Drive Speed | |
| Hard Drive Type | SSD |
| Warranty period | 60 Months |
| Recovery Services | |
| Speed Table | |
Price
To date, the G-Drive Mobile is the most expensive portable disk we've reviewed. The price per gigabyte on the 2TB is nearly as much as some leading 1TB portable SSDs (read our Samsung T5 review for more on that).
G-Technology G-Drive Mobile SSD
$ 85.00
$
79.99
Save $ 5.01 (6 %)
$ 139.99
$
70.99
Save $ 69.00 (49 %)
$ 349.95
$
138.85
Save $ 211.10 (60 %)
$ 299.99
$
150.99
Save $ 149.00 (50 %)
$ 479.99
$
359.99
Save $ 120.00 (25 %)
Without a doubt, this is the point of diminishing returns for external SSDs. G-Drive Mobiles are faster than other SSDs and come with an exceptional form factor, but the margins between it and disks from SanDisk and Samsung are slim. Plus, it lacks features that you'd get with the Samsung T5, such as password protection.
If value is what you're concerned with, a G-Drive Mobile isn't the place to look (read our Toshiba Canvio Basics review to learn about a more value-focused disk). That said, if uncompromising speed and build quality are your primary concerns, G-Technology is one of the few manufacturers that nail both.
Speed & Performance
We test speed and errors to gauge the overall performance of a drive. Though there are always manufacturing factors that can change how well a drive performs, the four tests we use attempt to get as accurate a picture as possible so we can compare the drive to the rest of the market.
Seq Read
Seq Write
Random Read
Random Write
2.3 GB Transfer
G-Technology G-Drive Mobile SSD

562.8 MB/s

515.6 MB/s

177.9 MB/s

170.5 MB/s

16.54 sec.
Speed starts with CrystalDiskMark. We ran our 500GB G-Drive Mobile through the benchmark using a 4GB test file and five passes. As advertised, sequential reads reached above 560 megabytes per second. Plus, the random read and write speeds were the fastest we've seen from a portable SSD.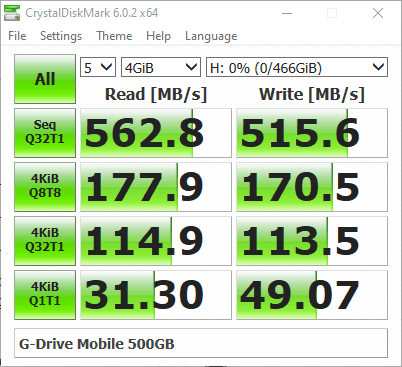 Next, we copied a 2.3GB folder filled with movies, music and documents to the drive. It took 16.54 seconds to transfer, which is the second fastest time we've seen, only beaten by the Samsung T5. It hovered at a constant 144 MBps throughout the test, meaning it's fast.
We were also monitoring the drive for errors with CrystalDiskInfo. There were none, but as you can see in the screenshot below, we spotted something interesting. It registered as a SanDisk X600 M.2 SSD. It's possible, if not likely, that the G-Drive Mobile is just an M.2 X600 in a rugged chassis. G-Technology and SanDisk are owned by Western Digital, after all.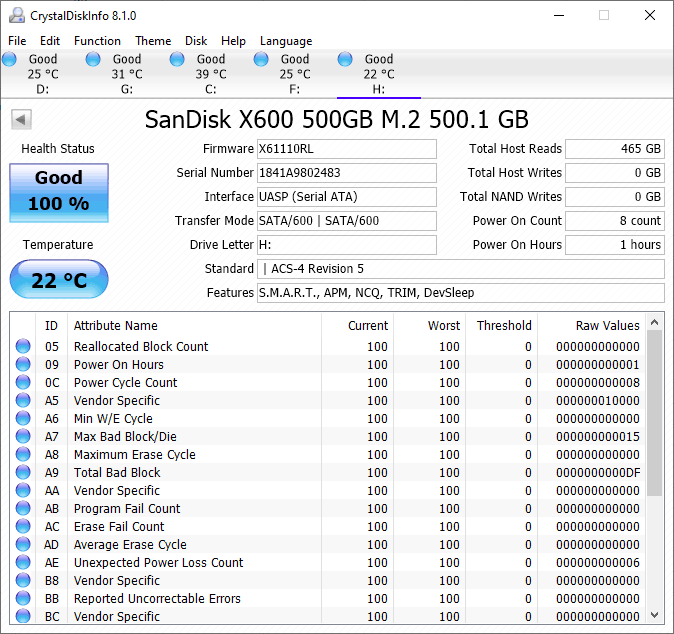 Warranty & Support
Outside of the excellent performance and build, one of the reasons you buy a G-Drive Mobile is for the warranty. You get five years with a G-Drive Mobile, which is the longest we've seen from any external hard drive. It's still a limited warranty — there's no way around that — but G-Technology isn't as strict as other manufacturers.
Basically, if you break or damage the drive, G-Technology isn't responsible. Uninterrupted operation or loss of data aren't covered, either. If the drive is damaged from a manufacturing error, though, it'll be replaced free of charge. As with all warranties, you'll need to go through a return merchandise authorization process.
You can do a lot of troubleshooting on your own, though. Unlike most drive manufacturers, G-Technology provides a proper knowledgebase for its products. There, you'll find getting started guides, an FAQ, downloads, specifications and community discussions. Though other manufacturers provide those resources, they seldom provide them in one spot.
If you're looking for more specific answers, you can click the "ask a question" button at the top of the knowledgebase. There's a lengthy contact form, which, unfortunately, is the only way to talk to a support rep. That said, the many self-help resources should solve most problems.
The Verdict
More expensive than the competition, G-Technology isn't concerned with cutting corners to appeal to value-focused customers. Instead, you'll be paying more and getting more. The performance is near other leading SSDs, but the build quality and generous warranty are something we haven't seen.
That said, the price is high. For those who want what G-Technology delivers, there are few suitable replacements. Those looking for a more value-focused option will be better off reading our other external hard drive reviews, though.
What do you think of the G-Drive Mobile? Is the extra cost worth the speed? Let us know your thoughts in the comments below and, as always, thanks for reading.
G-Technology G-Drive FAQ
G-Drives are a range of external hard drives manufactured by G-Technology. They're built for speed and rigidity, often using the latest connectivity option and an all-metal chassis.

G-Drives, in most cases, come ready to use for Windows and macOS. All you need to do is plug the included cable into an open port on your computer and find the drive using the file explorer.

G-Technology doesn't include a backup utility for G-Drive. You can use another backup program, such as Backblaze, to backup online or something like Dropbox to mirror your storage locally.
Buy on Amazon