Blacknut Cloud Gaming Review
Blacknut is a bit of a disappointment as it offers one of the best cloud gaming interfaces we've seen, but also suffers from poor image quality and a boring game library. See what could have been in our full Blacknut review.
Blacknut is a unique cloud gaming service that offers a library of more than 300 games for free with your subscription. It focuses on families who want to get into cloud gaming, with parental control options and a four-person family plan available. However, the limited library of games and lackluster image quality makes it a tough sell, family or not.
In this Blacknut review, we're going to see if it has what it takes to make it on our best cloud gaming list. We'll talk about features, supported games, price, ease of use, performance and coverage before giving our verdict.
Using Blacknut is disappointing, not because the local applications are bad — quite the opposite, actually — but because the service isn't everything it could be. The interface and features are excellent, making the lackluster library of games and poor video quality all the more disheartening.
Strengths & Weaknesses
Strengths:
Inexpensive
Parental controls
Free two-week trial
Profile support
Available on multiple platforms
Very easy to use
Weaknesses:
Mediocre game library
Horrible video quality
Stuttering
Alternatives for Blacknut Cloud Gaming
Features
Blacknut has a slew of excellent features that, although not obvious, make the experience feel more fluid. It has taken a lot of notes from Netflix in terms of design and functionality, which we'll get into in the "ease of use" section below. One of the key features it adopted is profiles.
Like Netflix, you can maintain as many profiles on your account as you want. There are limits to the number of screens that can be active at any given time, but not on your profiles.
Furthermore, profiles can be customized depending on who's using them. You can restrict the library to only games for children, set a PIN number for accounts and even customize your profile image.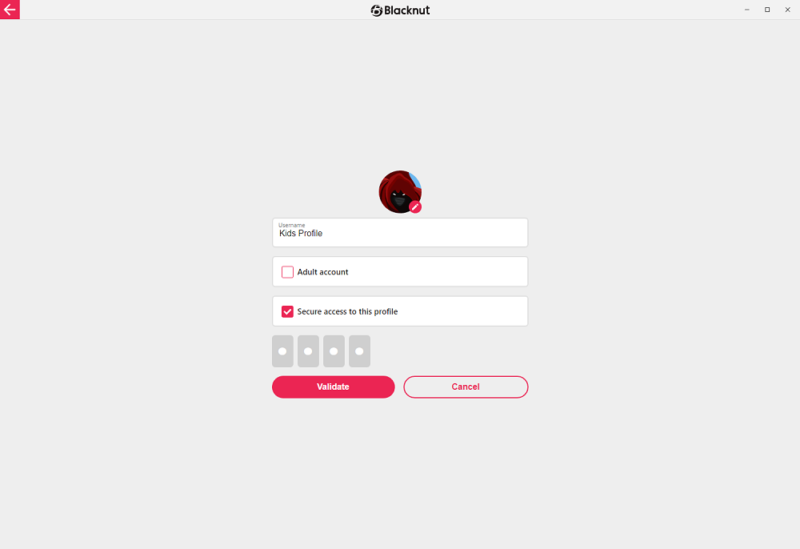 Though it doesn't change how the service functions too deeply, the addition of profiles shows a well thought-out approach that's seldom seen in the cloud gaming market. As the technology gets more attainable, companies are rushing to market with products that have design oversights, such as PlayStation Now.
Compatibility is a huge plus for Blacknut, as well. There are apps available for Windows, macOS, Amazon Fire TV, Android, Linux and select TVs from Panasonic and Samsung. There's an iOS app in development, according to Blacknut, but it hasn't been released yet.
The range of supported platforms mirrors the controller support. On PC, most games support a controller, keyboard and mouse, and on mobile, you can use a controller or customizable on-screen buttons. If you're into playing games on your smart TV, you can use your Amazon Fire TV or Android TV remote, too.
Support for these input devices don't span games — you won't be able to play newer titles, like Sniper: Ghost Warrior 3, with your TV remote — but we appreciate that there's flexibility with most titles.
Other features include cloud saves — meaning you can pick up your game on any device and continue — and parental control. Blacknut offers controller and platform support like no other cloud gaming service, with a variety of useful features to back it up.
Blacknut Cloud Gaming Features Overview
| | |
| --- | --- |
| Android | |
| iOS | |
| Windows | |
| macOS | |
| Browser | |
| Supported Games | |
| Coverage | North America and Europe |
| Supported DRM platforms | |
| Knowledgebase | |
| Chat | |
| Email | |
| Phone | |
| 24/7 support | |
Supported Games
Blacknut offers a limited library of games. However, unlike Vortex, which allows you to play games that you own on Steam or another DRM platform, Blacknut includes games for free (read our Vortex review).
Although that may seem like a positive, it isn't. The library offers more than 320 titles, but there aren't any titles that stand out as truly great games.
Any recognizable titles are either B-grade indies or double-A titles. Blacknut claims that new games are "chosen carefully every week," which we can only assume means that games are chosen based on who wants to give their stuff away for free. The library is pitiful in size and quality, compared to something like PlayStation Now (read our PlayStation Now review).
It's hard to take Blacknut seriously when Garfield Kart is one of the top titles in the "speed runner" section. Any recognizable games are subpar replacements for larger titles, too. Lords of the Fallen, though a decent game, is a worse Dark Souls, and Sniper: Ghost Warrior 3 doesn't nail the sniping mechanics like the Sniper Elite series.
The best games out of the range aren't obvious. Another Lost Phone: Laura's Story is a hidden Steam gem, and Evoland 2 celebrates the long history of top-down RPGs. However, most of these titles are cheap on Steam and/or available on mobile devices. The majority of Blacknut's library, in fact, is available on mobile devices.
Some of the best titles are the retro ones. For example, Blacknut includes Metal Slug and the Double Dragon trilogy. However, it's difficult to justify paying between $13 and $20 to play these games, as they're only a few dollars on PC and mobile devices.
There's nothing to sell Blacknut outside of a few indie titles and some retro games. Ryse: Son of Rome is the only real triple-A title, and that received mediocre reviews. The library — and service, as a whole — is focused toward kids and families. There are plenty of mature titles, but they're not great.
Price
Blacknut is a family-focused cloud-gaming service, and the pricing backs that up. There are two plans available, and they only differ in price and the number of devices you can use at one time. Although the price isn't high — read our Shadow review for that — it seems that way when you consider the library.
There's a list of features for each plan on Blacknut's product page, but they're the same, for the most part, between the Family and Premium plans. Both subscriptions come with the entire library of games, unlimited access, no ads, parental control and cloud saves. The only difference is the number of screens.
Premium plans are good for a single screen, meaning no matter how many installations of Blacknut you have, only one screen can use the service at a time. For $7 more per month, you can upgrade to the Family plan, which allows you to use up to four screens at the same time.
In a vacuum, the price is good, and made even better by the fact that you don't have to buy any additional games. However, you can't buy any additional games. As mentioned, the library is, at best, mediocre, so it really doesn't matter what rate Blacknut charges. If the library stays in its current state, the cost will always be too high.
That said, if a few titles pique your interest, the price isn't bad. Blacknut is one of, if not the only, cloud-gaming services to offer a plan that allows you to use multiple screens at the same time. There's even a 14-day trial to see if you like it, too.
Ease of Use
For all of its faults, Blacknut has a very smooth sign-up process. It consists of three screens. You'll start by entering your email and selecting a password, move on to choosing which plan you want and, finally, entering your credit card information.
We had a small hiccup when autofilling our credit card information with LastPass (read our LastPass review), but, overall, the process was smooth.
The three steps could be condensed to a single screen, but with how fluid the website moves, we're content. After confirming payment, you'll be brought to a download screen that shows all of the platforms that you can use with Blacknut.
Finally, you can log in. There's an option to "create a free Blacknut account" in the application, but despite searching, we couldn't find a free plan. In the application, you also have the option to log in with Amazon or Google, which isn't an option granted when signing up on the website. Despite these inconsistencies, getting started on Windows was easy.
The application is simple, but wonderfully designed. Featured games get a high-res screenshot and video window at the top, with Netflix-like lists below for different categories. The menu, which can be accessed with the button in the top-left corner, allows you to jump to each category, view your favorite games, see your recently played games and search.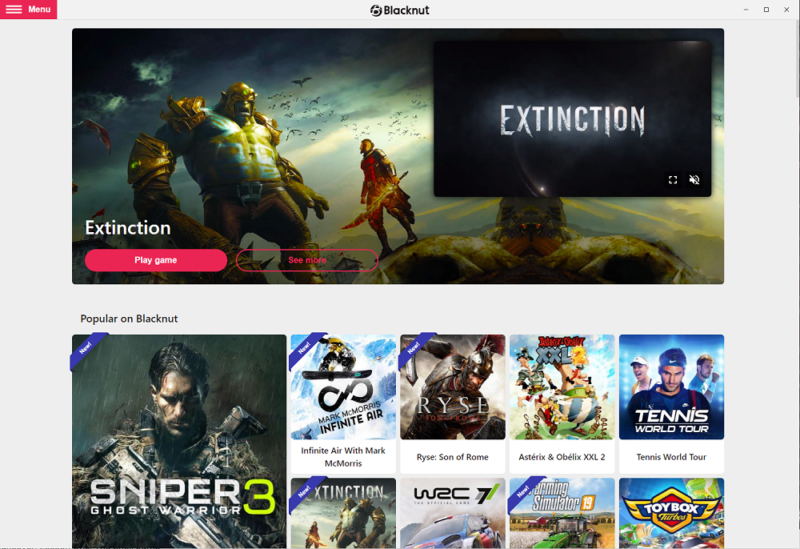 At the top of the menu, you'll also see your email address. Clicking there will bring you to a profile selection screen when you can view your settings and add additional profiles. Even if you have the single-screen plan, you can add more profiles. Furthermore, you can choose if it's an adult account and set a pin number.
Below the profile section, you can access your settings. Although not an exhaustive list, Blacknut allows you to control your profile directly in the application. You can change your plan no matter where you are in the month, update your password and change your payment method. You can even cancel your subscription in the application.
The Android app is similarly as easy to use and even includes on-screen controls for games. However, the Android app has a more limited library. Only mobile and retro games are available on mobile devices, which makes sense for performance on LTE connections. However, given the stuttering we experienced, there's little excuse for not including the full library.
Selecting a game, no matter on Android or desktop, will bring up a lot of useful information. You can see a trailer for the game; view details like duration, difficulty and keyboards; see similar games; and view the compatibility with platforms and controllers.
To round out our usability testing, we made a children's account and browsed the library. Sure enough, all mature titles had been removed, but many titles suitable for teens had been removed, as well. There isn't granular parental control; either you engage it or you don't.
Performance
Before testing, we ensured that we met Blacknut's recommended 6 Mbps download rate for optimal performance. Using Speedtest.net, we gauged our speed with a ping of 9 milliseconds, a download rate of 49.17 Mbps and an upload rate of 21.33 Mbps. Our speed was plenty fast.
That doesn't seem to be the limiting factor with Blacknut. We tested four games, three of them on desktop and one on Android. On desktop, we played Sniper: Ghost Warrior 3, Ryse: Son of Rome and Furi. Based on the available graphics options, we assume that these games are the PC versions rather than console ports.
We immediately went to the graphics options because the games looked so poor. Furi was fine, but given its simple aesthetic, that makes sense. Sniper and Ryse, however, quickly devolved into a pixelated, muddy mess. According to the in-game graphics settings, both of these games were running at 720p, but we suspect they're being delivered below that.
You can change the graphics settings — we bumped up the resolution to see if it would resolve our issues — but it doesn't change how the game is displayed. You'll still get the same pixelated stream no matter what resolution you choose.
However, changing the graphics settings does affect the game. Higher resolutions lead to much more input lag and lower framerates, despite looking the same.
It's odd that Blacknut allows you to change the graphics settings at all, as the stream you're getting doesn't change in quality. Thankfully, when using default settings, gameplay was solid. Though there was still a perceptible input lag, we were able to play a highly precise game like Furi without any issues.
Our mobile experience posed more issues. We tried Contra with the on-screen controls on a Samsung Galaxy S9+, testing WiFi and LTE. No matter the connection, there was a lot of stuttering, making even the most modest of games unplayable.
The largest issue with Blacknut, it seems, is its hardware. Given how drastically performance decreases with higher graphics settings, we can only assume that the servers that are hosting the games are underpowered.
There are a few hints to that. The decrease in performance but lack of quality means that you're not using a remote session; you're receiving a video stream. Because of that, the decrease in performance has nothing to do with your internet connection, but rather the hardware the game is being run on.
Because of that, no matter how fast your internet is, you'll have a subpar experience. Blacknut doesn't offer any sort of adaptive resolution, meaning you're getting the same piss-poor image quality no matter if you're paying for 10 Mbps or 1,000 Mbps.
At the very least, Blacknut delivers an experience free of stuttering and unusable input lag. You can play the games that are offered, and play them without giving up too much fluidity. However, you lose a lot of quality in the process. For example, when browsing the menus of Sniper: Ghost Warrior 3, we weren't able to tell the difference between an icon for the "e" and "f" keys.
Coverage
Blacknut doesn't publicly display its number of data centers, and when we reached out via email, someone got back to us, and got back quickly, at that. However, they didn't provide an answer to our question, but let us know that the service is currently available in Europe and North America. No specific European countries were mentioned.
The support rep also said that "technically, we can deploy the service globally via our public cloud infrastructure or via a private cloud approach." There wasn't any clarification on this point, but it gives a hint as to how Blacknut is running its network.
It's likely that Blacknut is renting server space from existing cloud networks, which allows it to expand to whatever areas it needs to. This would make sense given the performance we saw, too. The servers are likely general-purpose ones, which should have enough power to run most mobile games.
The most demanding games — Ryse: Son of Rome and Lords of the Fallen — require modest specs by today's standards, and even less so when run at 720p. As it relates to availability, Blacknut is officially available in the U.S. and most European countries. If you live elsewhere, it's best to contact Blacknut before purchasing a subscription.
The Verdict
Blacknut doesn't offer a bad cloud gaming experience — far from it, in fact — but the limited game library is hard to get over. Although the price isn't bad, you're buying into a list of titles that can't hold a candle to modern releases. There are a few indie gems and some retro games, but at the asking price, that's not enough.
If Blacknut could support DRM platforms like Steam, it would be a much different story. However, given its few, mediocre titles and subpar streaming quality, it's hard to recommend Blacknut.
That's a shame, given how excellent the UI is and how many features are available.
Do you plan on taking advantage of Blacknut's 14-day trial? Let us know about your experience in the comments below. As always, thanks for reading.
Visit

Blacknut