Best SSD External Hard Drive for 2023: When Speed is of the Essence
When it comes to performance, there's no substitute for a solid-state drive. These devices boast exponentially higher speed than traditional hard drives while being more compact and durable. In this guide to the best SSD external hard drives, we're going to show you which of our favorites can live outside of your computer.
We have five picks, each bringing something unique to the table. We're going to talk a little bit about what we like about each drive, share performance numbers we gathered and discuss the features offered.
Before getting to our selections, though, we want to clarify what an external SSD is and why it's a better choice than a traditional external hard drive.
Best SSD External Hard Drive 2023
: 1 TB SSD, 2 TB SSD
:
: SSD

: 250GB, 500GB, 1TB, 2TB
:
: SSD
Choosing the Best SSD External Hard Drive
Although we could find five fast external SSDs and slap them together into a list, that wouldn't provide much variety. There are plenty of solid performers available, and because of that, simply being fast isn't enough to make the cut. Instead, we focused on the balance of speed, price, features and build quality.
Additionally, we've included some specialized external SSDs that have downsides in one or more areas, but provide functionality that no other external drive does. Although these drives aren't the best external SSDs overall, they're the best for some.
What is an External SSD?
"SSD" stands for solid-state drive, and while they store data like any other hard drive, they do so in a very different way. Traditional hard drives use one or more rotating platters to store data, with a head that reads and writes information to and from those platters. The heads are magnetic, which is why traditional hard drives are considered "magnetic storage."
Magnetic storage has been around since 1888, and has been used in a multitude of different storage mediums. Everything from tapes to floppy disks to hard-disk drives — the more technical name for traditional hard drives — use magnetic storage.
For hard drives, magnetic storage poses a few issues, though. While magnetic storage was great in 1957, when the first hard disk drive was introduced, this form of storage requires a lot of space.
The higher capacity the drive is, the more platters it needs. The more platters it needs, the longer it takes for the read-and-write head to get around. That's not to mention the issues with spinning drives failing, as the platters inside are incredibly fragile.
That's where SSDs come in. Instead of using magnetic storage, SSDs use purely electric storage, hence the name "solid-state." Data isn't stored on platters. Rather, it's stored on small memory chips. This not only makes SSDs smaller than traditional hard drives, but also makes them more reliable.
SSDs and Flash Storage
Around a decade ago, flash storage — which is what SSDs use — was reserved for flash drives, SD cards and your computer's RAM. These low-capacity storage solutions focused on speed rather than capacity, and because of that, they weren't suitable for any true computer storage.
However, in recent years, the capacity of flash storage has increased significantly, with a 100TB SSD introduced in 2018. That's made consumer flash storage in the form of SSDs much cheaper and more accessible.
Combined with the introduction of USB 3.1 — which has twice the bandwidth of USB 3.0 — manufacturers have been able to put SSDs in external enclosures with little performance impact.
Today, there are numerous external SSDs to choose from. Although they have differences in performance compared to each other, nearly all external SSDs perform better than their HDD counterparts. If you're looking for the fastest possible external storage, a SSD is for you.
1. The Best SSD External Hard Drive: Samsung T5
When it comes to balancing features, price and speed, Samsung hit the nail on the proverbial head with the T5. The drive is expertly crafted and delivers some of the best performance we've seen, all while staying at a reasonable price for being a SSD.
For speed, we gathered numbers using CrystalDiskMark. The T5 clocked in with a sequential read speed of 562.4 MB/s and sequential write speed of 520 MB/s, both of which are above the advertised speed. Random reads and writes were solid, too, with the T5 clearing with a rate of 160.1 MB/s and 195.7 MB/s, respectively.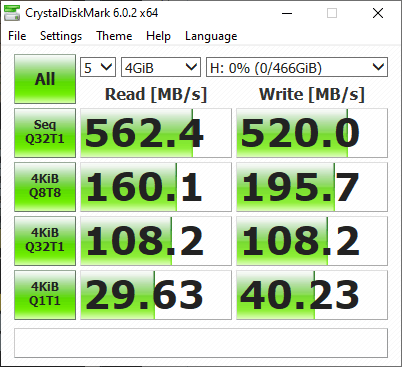 It manages those speeds at a reasonable price, too. The 1TB model costs just over $150, with the 2TB clocking in below $300. We recommend the 500GB model, though, as it's the same price per gigabyte as the 1TB model, which is rarely seen.
Compared to the ADATA SD600, the Samsung T5 is a clear deal. As you can see in our ADATA SD600 review, that drive is around the same price per gigabyte, limited to a maximum capacity of 512GB, is built worse and doesn't perform as well as the Samsung T5.
Other Reasons We Like the Samsung T5
The T5 is fast, but that's not the only reason it ranks first. Samsung has managed to build a drive that's not only attractive, but also durable, much unlike the LaCie Rugged Mini (read our LaCie Rugged Mini review ). It weighs only 51 grams and measures 57.3 mm by 74 mm, which is smaller than a business card.
Given its speed and size, the Samsung T5 for location work. If you're a photographer or videographer that needs to quickly dump data, the T5 provides an efficient path to do so. Furthermore, the speed is enough that you can fully edit off the drive. The T5's random read and write performance makes it ideal for pulling multiple chucks simultaneously from a large file.
Even in a non-professional setting, the T5 shines. It's an excellent way to expand laptop storage, and with support for Android, it's a great way to expand phone or tablet storage, too. You can learn more in our full Samsung T5 review.
Pros:
Excellent speed
Compact build
Support for Android
Cons:
High capacity models are expensive
The Samsung T5 can take a beating, and it looks great, to boot, but a few drops will scuff up the metal shroud. If you're looking for something a little more rugged, the SanDisk Extreme Portable SSD is for you. The drive manages similar performance to the T5 while being enclosed in a smaller casing.
It's covered in a soft-rubber shroud that has an IP55 rating for dust and water resistance. Additionally, SanDisk offers an aluminum variant of the 500GB-capacity drive, which increases rigidity and performance. The aluminum drive has a NVMe controller interface, which boasts sequential read speeds of up to 1050 MB/s.
There are some drawbacks, though, which is why the Extreme Portable ranks second. The included encryption software, SecureAccess, is wildly out of date and only protects your data with AES-128 (read our description of encryption to learn more about that).
Performance is on par with the Samsung T5, and we'd consider the build quality even better, but the features are lacking. Even so, it's hard to discredit the SanDisk Extreme Portable SSD.
SanDisk is an expert in flash memory, and the Extreme Portable showcases that. With sequential reads and writes above 500 MB/s and random reads and writes above 150 MB/s, the Extreme Portable is one of the smallest and fastest external hard drives around.
Other Reasons We Like the SanDisk Extreme Portable SSD
Portability is the main draw of the SanDisk Extreme Portable SSD. The casing is rugged, but there's also a small notch in the top-right corner so you can quickly hook it on a carabiner if you're on the go. Additionally, it has a USB 3.1 connection, making it simple to plug in.
Unfortunately, though, SanDisk doesn't include a USB-C-to-USB-A cable. In the box, you get a USB-C-to-USB-C cable and a USB-C-to-USB-A adapter, which has a small notch that corresponds to the cable.
There are a few issues with this approach. First, the adapter adds additional bulk to the cable and another point of potential failure, but more importantly, the adapter can only be used with the provided cable, thanks to the notch.
The SanDisk Extreme Portable definitely comes with some drawbacks, particularly with the included cable and bundled software. However, the build quality and speed can't be denied, making it one of the best external SSDs around. You can read more about it in our SanDisk Extreme Portable review.
Pros:
Very fast
Compact
Dust & water-resistant
Cons:
Dated, included software
No USB-C-to-USB-A cable included
If build quality is what you're after, the G-Technology G-Drive Mobile SSD can deliver. Like the SanDisk Extreme Portable SSD, it has a soft-rubber feel, but the drive's top and bottom is reinforced with metal. The drive is reinforced under the soft-rubber exterior, too.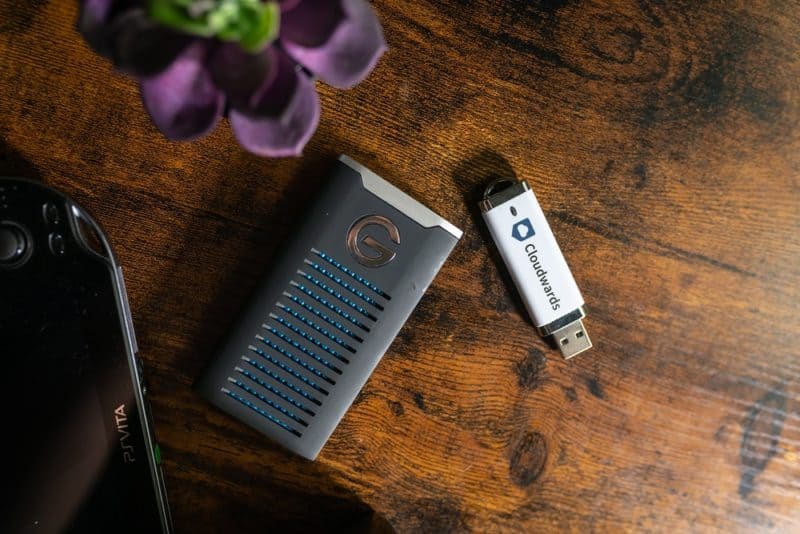 That extra material comes with extra protection. The G-Drive Mobile's SSD is IP67-rated for dust and water resistance. Additionally, it can survive a fall of up to 10 feet on concrete and handle up to 1,000 pounds of pressure without breaking.
G-Technology didn't skimp on performance when trying to make the drive rigid, either. Sequential read and write speeds are on par with the Samsung T5 and SanDisk Extreme Portable. Random speed is excellent, too, with the G-Drive Mobile SSD surpassing the Extreme Portable, but staying slightly south of the T5.
The G-Drive Mobile SSD proves you can have your cake and eat it, too, but that comes at a cost. It'll run you between $50 and $100 more than the SanDisk Extreme Portable and Samsung T5, depending on the capacity you purchase. That said, the G-Drive Mobile SSD comes with a five-year warranty, whereas the T5 and Extreme Portable only offer three.
Other Reasons We Like the G-Technology G-Drive Mobile SSD
Although the G-Drive Mobile SSD is more expensive than the SanDisk Extreme Portable SSD and Samsung T5, it justifies its price tag. In addition to the five-year limited warranty, G-Technology provides some of the best hard-drive support we've seen. There's a proper knowledgebase for all of G-Technology's products, as well as a contact form.
Given G-Technology's focus on media professionals, the extra support makes sense. If you have a question, it'll be answered promptly, either by browsing the available articles in the knowledgebase or by reaching out through email.
The G-Technology G-Drive Mobile SSD is bulkier and more expensive than the Samsung and SanDisk counterparts, but it comes with an upside in support and build quality. If those areas are important to you, be sure to read our G-Technology G-Drive Mobile SSD review.
Pros:
Built like a tank
Fast
Five-year limited warranty
If you're looking for performance no matter the cost, the Samsung X5 can scratch that itch. It's one of the most expensive external SSDs around, with the 2TB model clocking in at more than $800. However, with its Thunderbolt 3 connection and NVMe controller, it offers some of the fastest speeds available.
It can deliver sequential read speeds of up to 2,800 MB/s and sequential write speeds of up to 2,3000 MB/s, thanks to its Thunderbolt 3 connection. Although Thunderbolt 3 still uses a USB-C connector, it isn't the same as USB 3.1. In fact, it has four times the bandwidth of USB 3.1, making it ideal for ultra-fast transfer rates.
The Samsung X5 is basically the bigger, badder brother to the T5. It uses the same software to password-protect your drive, which encrypts your data with AES-256. Like the T5, you can also use the software to check for firmware updates and turn off password protection, should you choose.
Other Reasons We Like the Samsung X5
The Samsung X5 runs like a sports car but is built like a tank. You wouldn't know it at first, though. In fact, the design is inspired by sports cars, with a sleek silver top and red accents throughout. Additionally, the drive's bottom has a matte finish to prevent it from slipping.
It isn't fragile, though. Under the shroud are multiple layers of protection, including a frame that reinforces the drive from within and a heatsink that keeps the memory chips inside cool. Based on Samsung's testing, the drive will stay below 45 degrees Celsius at room temperature and can withstand a two-meter drop, thanks to the magnesium-alloy frame.
Put simply, the Samsung X5 is the best of the best. However, it comes with a price to match. It costs nearly $0.50 per gigabyte, with little discount as you move higher in duration. That said, it's essentially Samsung's highest-end NVMe SSD in a Thunderbolt 3 enclosure. With that considered, the price isn't too bad.
Pros:
Extremely fast
Built-in heatsink
Magnesium-alloy frame
The Western Digital My Passport Wireless SSD isn't that impressive when it comes to performance. It uses USB 3.0 for data transfer, which tops out the sequential read speed at under 400 MB/s and is nearly as expensive as the Samsung X5. However, as the name implies, it's wireless.
You can access your data wirelessly and stream movies from the drive, but that's not its ideal function. The drive actually casts its own 802.11ac WiFi signal, allowing photographers and videographers to record and edit directly from and to the drive without any connection. Additionally, you can preview files using a smartphone or tablet with an app like FiLMiC Pro.
Furthermore, the My Passport Wireless SSD has a built-in SD card reader, allowing location photographers and videographers to dump media without the need for a computer. This is especially useful in a nature-photography setting where minimal gear is important.
Other Reasons We Like the Western Digital My Passport Wireless SSD
Given Western Digital's focus on field professionals with the My Passport Wireless SSD, it should come as little surprise that it can handle a beating. The SSD inside is protected from shocks, vibrations and falls up to a meter, no matter if it's operating or not. Western Digital even includes a drop-protector for the drive in the box.
With its wireless functionality and rigid build quality, the My Passport Wireless SSD is large, but Western Digital puts the extra space to good use. Also packed inside is a 6,700-mAh power bank that provides 1.5A of power when the drive is off and 0.9A when it's on.
The Western Digital My Passport Wireless SSD is a highly specialized external drive with a price to match. For some users, it's simply an overpriced, underperforming external disk. However, for those that do location work, it's a godsend, built with a set of features that optimizes portability, power and workflow.
Pros:
Built-in SD card reader
Built-in power bank
Built-in WiFI
Final Thoughts
If you're looking for a general-purpose external SSD, it's hard to beat the Samsung T5. The SanDisk Extreme Portable SSD provides a smaller form, the G-Drive Mobile SSD is more rigid and the Samsung X5 has faster speed, but the balance of price, performance, features and build is strongest with the T5.
The others lean heavier in one area or another, which, depending on your needs, could be a good thing. If none of the drives above are what you're looking for, make sure to check out our other external hard drive reviews.
What external SSD are you using? Why did you choose it? Let us know in the comments below. As always, thanks for reading.