Best External Hard Drive for Mac in 2023: An Arsenal for Apple
Macs have a few issues, mainly in software support and overall raw power, but there are plenty of reasons to use one. The design is minimalist and attractive, the displays are absolutely gorgeous and you can get a lot of computer in a relatively small package. However, that small package makes it difficult to expand your storage.
Currently, the 13-inch MacBook Pro goes up to 2TB of storage, the 15-inch goes up to 4TB, and the iMac can hold up to 3TB. If you want to expand your storage, there isn't much room inside, so you'll have to go external. In this guide to the best external hard drive for Mac, we'll show you our favorite picks.
Overall, we rate the Samsung T5 as our top pick, which shouldn't come as a surprise considering it's the best external hard drive we've reviewed. If that drive is too expensive, or it just doesn't look like what you're after, read on for our other picks.
Best External Hard Drive for Mac 2023
Choosing the Best External Hard Drive for Mac
There's nothing special about Mac external hard drives, at least with most modern options. With FireWire nearly dead and USB type-A ports being phased out, most external hard drives are ready to use with macOS or Windows out of the box. The largest difference is the file system the drive ships with.
As you can see in our how to format an external hard drive guide, macOS uses a different file system than Windows. File systems are what the operating system uses to recognize and organize the data on the drive. Windows and macOS have their own default file systems, but there are some, such as exFAT, that work across operating systems.
Usually, external hard drives are formatted to exFAT or NTFS, the latter of which is Windows' default file system. If the drive is formatted to NTFS, it'll still work with macOS, but it'll need to be reformatted to exFAT or HFS Plus, macOS' default file system. If you have an external hard drive that's not showing up, that could be a reason why.
For the purposes of this guide, that was the main concern. Either the drive needed to be formatted to exFAT out of the box or it needed to include an easy utility for setup on macOS. We don't expect most people to know what a file system is or, much less, why one matters, so the closer the drive was to true plug-and-play, the better.
That narrows the field by some, but not by much. To further widdle down our options, we turned to speed and form factor. Macs are all about accessibility and design, so it's only fitting that your external hard drive should match.
We focused on drives that get out of the way in terms of design and are able to keep up with most Macs' internal storage. We also considered price and support, but those factors weren't as important as speed and form factor.
1. Best External Hard Drive for Mac: Samsung T5
The Samsung T5 is everything we want out of an external hard drive. It's fast, taking advantage of full solid-state storage and USB 3.1. It's also light, weighing in at only 51 grams, and it's compact, with dimensions that are smaller than a business card. For Macs, there's no better fit than the Samsung T5.
It supports macOS, and Samsung makes it easy to set up on the platform out of the box. When you plug in the drive, you'll find three applications stored on it: one for Windows, one for macOS and one for Android. All you need to do is run the macOS application and you'll be on your way.
During setup, Samsung installs its drive utility, which can be used with any of its drives, including the X5 (read our best SSD external hard drive guide for more on that).
The utility is used to check for updates, but more importantly, it's used to engage password protection. The T5 can be encrypted with AES-256, which protects your data in the event the drive is lost or stolen (read our description of encryption for more on AES).
Aesthetically, the drive fits perfectly with a Mac, too. Although Samsung and Apple are duking it out in the mobile realm, the T5 seems tailor-made for Macs.
The exterior features the same brushed-metal coating as Apple computers, with a minimalist design throughout. The single USB-C-to-USB-C cable is useful, too, as most MacBooks forego USB-A ports.
Other Reasons We Like the Samsung T5
Form factor and setup are high points for the Samsung T5, but the real reason to buy the drive is speed. It's the fastest external hard drive we've tested, clocking in with sequential reads and writes above 520 MB/s and random reads and writes nearing 200 MB/s.
The random performance is particularly impressive, showcasing that the drive can handle multiple chunks of a large file with ease. It's so fast, in fact, that the T5 is often used for high-quality video recording.
For example, the recently released Blackmagic Pocket Cinema Camera 4K can record directly to an external SSD. The Samsung T5 is a popular choice for media with the BMPCC 4K, so much so that SmallRig has a harness built specifically for it.
No matter the use case, a Samsung T5 is an ideal choice. It's fast, compact, lightweight and gorgeous, bringing together everything we like to see from an external hard drive. You can learn more about it in our Samsung T5 review.
Pros:
Compact & lightweight
Very fast
Easy to setup
The Samsung T5 is good for a MacBook, whereas the Western Digital My Book is probably better for an iMac. It's a desktop external hard drive, meaning it comes inside a bulky enclosure and requires external power. However, it offers a level of flexibility normally not afforded by Apple computers.
macOS is ready to take the drive out of the box, but that's not the only reason we're including it in this list. It's our second pick because of the utilities Western Digital offers with it.
You'll find installers for applications that allow you to import data from a cloud backup, including services like Microsoft OneDrive, Google Drive, Dropbox and Amazon Drive, as well as a security utility that allows you to encrypt your data (read our OneDrive review, Google Drive review and Dropbox review). Our favorite application, though, is WD Drive Utilities.
With Drive Utilities, you can run diagnostics, set a drive sleep timer and format the drive. However, the most important function is its RAID configuration (read our what is RAID guide). You can setup RAID on macOS, but iMacs don't have any easy way to add internal drives. With multiple My Books, though, you can have a RAID set up on macOS.
Although the Western Digital My Book isn't the fastest or most compact external hard drive for Mac, it's probably the most functional. The included utilities more than justify the modest price. Western Digital offers capacities up to 10TB, as well, so the My Book is a good solution for Mac backup, too.
Other Reasons We Like the Western Digital My Book
Comparing the My Book to the T5 in terms of speed is a joke. However, compared to other spinning hard drives, the My Book is impressive. We noted sequential read and write speeds above 200 MB/s, which is around 50 MB/s faster than most other external HDDs. The random read speed wasn't great, but the random write speed was solid at 11.54 MB/s.
The speed isn't too concerning if the My Book is used in its proper context. Everything about the drive is built for a permanent setting, with features like RAID configurations available and capacities of up to 10TB. The Western Digital My Book is an excellent way to expand your iMacs storage or to backup your files, but it's not the best solution if you're on the go.
If you have a desktop Mac setup, though, it's worth a look. You can learn more about it in our Western Digital My Book review.
Pros:
Available up to 10TB
RAID utility included
Fast for a spinning hard drive
Cons:
Requires external power
Bulky
The Backup Plus Portable is basically Seagate's version of a My Book, but in a smaller form factor. It comes with a 2.5-inch internal drive, as opposed to a 3.5-inch one, and doesn't require external power. There isn't a 10TB version available, at least not in the compact form factor, but Seagate still offers up to 5TBs.
It's great for Mac, though, because of the setup. All Seagate drives, including the normal Seagate Portable, make it easy to get up and running (read our Seagate Portable review).
There are two applications loaded on the drive, one for Windows and another for macOS, each labeled "start here." Clicking on the macOS one will launch a browser to complete setup.
In your browser, you can register the drive, download Seagate Toolkit — which allows you to mirror another drive, backup your computer and more — and purchase recovery services. Additionally, you have the opportunity to redeem any offers included with your drive. In our case, we got two months of Adobe Creative Cloud Photography on the house.
We love the web-based setup. It makes it simple to get the drive registered and running, no matter what operating system you're using. There isn't any reformatting to be done or user manuals to look through. Seagate handles all the dirty work for you.
Other Reasons We Like the Seagate Backup Plus Portable
Outside of the seamless setup, there are two high points for the Seagate Backup Plus Portable. The first is the build quality.
Although not as rugged at the SanDisk Extreme Portable (read our SanDisk Extreme Portable review), the Backup Plus Portable is more rigid that its blackbox counterparts. It has a sleek brushed-metal top, while the back is covered in a matte finish that prevents slipping.
The other high point is the Seagate Toolkit, which is available for all Seagate hard drives. It allows you to mirror a drive, which keeps a copy of what's on your computer, or backup a drive, which stores all of the contents in a format the software can read.
Given the price, a Backup Plus Portable is a great tool to have in a 3-2-1 backup setup, where you use it with online backup services like Backblaze (read our Backblaze review).
Unfortunately, there are some cons, too. Namely, the Seagate Backup Plus Portable isn't great when it comes to speed, clocking in with sequential speeds below 130 MB/s. That said, Seagate offers an awful lot of capacity for little money, which in itself makes it worthy of a look. You can learn more in our Seagate Backup Plus Portable review.
Pros:
Inexpensive
Includes a backup utility
Easy to setup
The Backup Plus Portable and My Book struggle when it comes to speed, but they offer a lot of storage at a low price. If you're more concerned with speed than capacity, the G-Technology G-Drive Mobile SSD is for you. It comes at a high price, even more so than the Samsung T5, but the performance is worth it.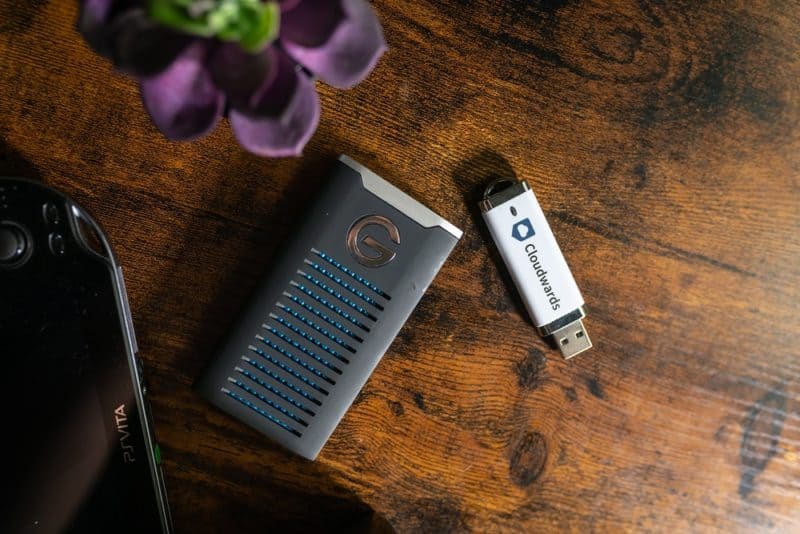 The setup is fluid, if a bit strange. When we plugged in our unit, it only registered as having 4GB of space. Loaded onto the drive were a few installers along with instructions. It's a bit jarring at first, but G-Technology has set up the drive in this way for a reason.
Out of the box, the drive is formatted to HFS Plus, which, as mentioned above, is the default file system for macOS. If all you use is a Mac, you're ready to go; simply run the format wizard and you're done. However, G-Technology also includes a wizard to install HFS Plus for Windows, which was created by Paragon.
Note that we said "install" and not "format." HFS Plus for Windows doesn't require reformatting when moving between macOS and Windows, which means you can use the drive on both platforms while keeping your data intact. In creative environments where external drives can be transferred to multiple machines with different operating systems, this feature is crucial.
Other Reasons We Like the G-Technology G-Drive Mobile SSD
The G-Drive Mobile SSD isn't quite as fast as the Samsung T5, but it's close. We measured a sequential read speed of 562.8 MB/s, a sequential write speed of 515.6 MB/s, a random read speed of 177.9 MB/s and a random write speed of 170.5 MB/s with CrystalDiskMark. Those results aren't surprising considering what's inside the G-Drive Mobile SSD.
Under the rugged enclosure is actually a M.2 SanDisk X600 drive, which is an internal 2.5-inch SSD that's available for sale. G-Technology — which, like SanDisk, is owned by Western Digital — has repackaged the drive in an IP67-rated enclosure, reinforcing it with drop protection up to 10 feet and pressure resistance of up to 1,000 pounds.
Although it's more expensive than the Samsung T5, the G-Technology G-Drive Mobile SSD provides upsides in build quality and features. If you switch between macOS and Windows, using it is a no-brainer. You can read more about the drive in our G-Technology G-Drive Mobile SSD review.
Pros:
Rigid
Very fast
Cross-platform
LaCie, like G-Technology, is focused on creators. The drives are built for rigidity and flexibility, and that shows with the Rugged Mini. LaCie is owned by Seagate, so you're treated to the same excellent setup process of the Backup Plus Portable.
For macOS, all you need to do is click on the "start here" application for Macs. You'll then be able to register the drive and download any offers available. With our Rugged Mini, we got a month of Creative Cloud, which normally runs $60 (read our best photo editing software and best video editing software guides to see why the price is worth it).
Additionally, the drive is formatted to work with macOS. The Rugged Mini has a traditional spinning drive inside that transports data over USB 3.0. However, LaCie includes a USB-C cable in the box. Although it won't change the bandwidth available, the inclusion of a USB-C cable is great for Mac users, as USB-A ports are starting to become scarce.
Other Reasons We Like the LaCie Rugged Mini
Any drive from LaCie's Rugged series is built like a tank. The Rugged Mini, in particular, is impressive because it's a spinning drive. Even in operation, the drive can handle a fall of up to four feet, is rain resistant and can handle up to 2,205 pounds of pressure.
That's thanks to the fully metal enclosure and iconic orange shock absorber that surrounds it. There's no mistaking a LaCie drive when you see one. However, that protection comes at a price.
While being one of the worst performers we've seen — around 120 MB/s on the sequential end of things — the LaCie Rugged Mini is also one of the most expensive. The 1TB model costs anywhere from $75 to $100 and doesn't perform any better than a Seagate Backup Plus Portable, which costs around $40 less.
Even so, it's built to take a beating and comes with some upsides for Mac users, to boot. If that sounds good to you, be sure to read our LaCie Rugged Mini review.
Pros:
Rugged
Includes a USB-C cable
Bundled with Seagate Toolkit
Final Thoughts
The Samsung T5 is the best external hard drive for Mac, but you shouldn't discount our other picks. If you're looking for similar speed but a different form factor, the G-Drive Mobile SSD is a great choice. Similarly, if you're just looking to save some money while getting a higher capacity, you could go with a Seagate Backup Plus Portable.
Thankfully, you're not restricted to our picks. Although we believe the five options above are the best options for Mac, another drive may be right for you depending on your needs. Most of the options in our external hard drive reviews work with Mac, so browse there if you need a few more options. 
You can read our guide if you need to backup a Mac to an external hard drive, too.
What external hard drive are you using for your Mac? Why did you choose it? Let us know in the comments below. As always, thanks for reading.