Best 2TB External Hard Drive for 2023
When choosing an external hard drive, you need to consider capacity. Overspending on storage space you'll never use is not fun, and finding out that you need more capacity after a few months is annoying.
For most people, we recommend a 2TB external hard drive, which provides enough storage for backup while being suitable for a few extra files.
In this guide to the best 2TB external hard drive, we're going to show you our favorite ones, pulling from our best external hard drive guide. We have five options to choose from, each offering something unique. Before getting to our picks, though, let's run through how we made them.
Best 2TB External Hard Drive 2023
Choosing the Best 2TB External Hard Drive
Choosing the best 2TB external hard drive was a similar process to how we chose our best 1TB external hard drive. At 2TB, there's plenty of room to store extra files that are overflowing on your laptop, or to just segment certain types of media. However, the capacity isn't best suited for a full-system backup.
As we've seen using unlimited online backup services, such as Backblaze (read our Backblaze review), you'll often end up with a lot more data than you'd first expect over the course of a couple of years. It depends on your use case, of course, but if you're an avid torrenter or software junkie, 2TB isn't going to cut it for a system backup.
Plus, 2T is the storage limit for most solid-state drives. If you're unaware, SSDs perform much better than traditional hard-disk drives. Because we're not focusing solely on backup in this guide, we've included our favorite SSDs, pulling from our best SSD external hard drive guide. Although expensive, SSDs pay off in spades when it comes to performance.
Outside of choosing between expanded storage and backup, we also considered the factors that make any external hard drive worthy of your attention. That includes build quality, overall speed and reliability, the included warranty and features such as hardware encryption.
The 2TB size is where portable and desktop solutions meet. Although it's not that much space for those who are constantly downloading files, it can be a backup solution if you're content with the software you have.
As the middle ground between the two, 2TB is usually the best capacity for most people. The drive you end up choosing, though, will depend on what you're doing with it.
1. The Best 2TB External Hard Drive: Samsung T5
The Samsung T5 is the quintessential external hard drive. It took down its competition in our best external hard drive for Mac guide, as well as in our fastest external hard drive guide. From performance to build quality to features, the Samsung T5 offers it all, making it a perfect choice for a 2TB drive.
Although the 1TB and 2TB models don't differ much in price per gigabyte, it doesn't mean the larger capacity is a bad deal, overall. Costing less than $300, the 2TB Samsung T5 is still expensive, but it's cheaper than some of its SSD competitors, such as the G-Technology G-Drive Mobile SSD, which we'll touch on in a minute.
You're getting a lot for your money, too, in terms of performance, at least. The drive itself isn't much, which, in this case, is a good thing. It's tiny, at only 57.3 mm by 74 mm — smaller than a business card — and weighs a little over 51 grams. The single-color exterior — jet black, in the case of the 2TB model — compliments the drive well, too.
The casing is fully metal, only broken by plastic end caps for the USB-C plug and drive information. Although not as rigid as the LaCie Rugged Mini (read our LaCie Rugged Mini review), the Samsung T5 can handle a few drops. The solid-state interior means you won't have to worry about data loss in the event of a drop, either.
Other Reasons We Like the Samsung T5
Build quality and price are high points for the Samsung T5, but they're quickly overshadowed by its performance. It's the fastest external hard drive we've tested, showcasing sequential read and write speeds well above 500 MB/s, and random reads and writes nearing 200 MB/s.
Although you can get better performance out of something like the Samsung X5, the T5 is in a league of its own at its price.
In addition to the excellent transfer rates, the T5 comes with some of the Samsung T5 we've seen out of an external hard drive. When you first plug it in, the drive will prompt you to install Samsung's management software. There, you can check for firmware updates and engage hardware encryption (read our description of encryption).
This feature, dubbed "security mode," will scramble your data using AES-256, only allowing you to unscramble it with a password that you set. The software doesn't do anything otherwise, but encryption is enough for us. You can learn more about why we love the software and the drive in our Samsung T5 review.
Pros:
Fast
Hardware encryption
Compact
Cons:
More expensive than external HDDs
The SanDisk Extreme Portable is even smaller than the Samsung T5, weighing less than 39 grams and measuring 96 mm by 49 mm. It's meant to go wherever you do, fit with a hole to throw the drive on a carabiner and full dust- and water-resistance.
The drive is rated IP55 for water and dust. If you're unaware, the IP Code standard was developed by the International Electrotechnical Commission. The first number corresponds to dust protection and the second to water protection. For dust, the IP standard goes up to six, and for water, it goes up to eight. Technically, there's a 9K rating for water, but it's rare to see. For the Extreme Portable, that means it is protected from harmful dust, but the ingress of dust isn't entirely prevented. Contact with harmful dust is fine, and it shouldn't interfere with the operation of the drive, but a sufficient quantity of it will render the drive useless.
Water protection is less impressive. The Extreme Portable can't be fully submerged, but it can handle water jets with a 6.3 mm (about a quarter inch) nozzle for at least 15 minutes. Overall, the Extreme Portable can handle most rough environments, even if it can't be fully submerged in water.
Other Reasons We Like the SanDisk Extreme Portable
The SanDisk Extreme Portable doesn't perform as well as the Samsung T5, but it's close. The sequential read speed was similar at 564.8 MB/s, but the sequential write speed suffered a 20 MB/s drop. Random reads and writes were also around 20 MB/s slower. Even so, the Extreme Portable puts any external HDD to shame.
Features-wise, the Extreme Portable is slightly behind the T5, as well. SanDisk includes a lite version of SecureAccess, which is an encryption tool that will secure your data with AES-128.
AES-128 uses a smaller key size than AES-256, which should make it less secure. However, in practice, the differences between AES-128 and AES-256 are minimal.
Overall, the SanDisk Extreme Portable is more compact than the T5 and can handle the elements better, but it trades off in speed and features. Even so, it's one of the best external SSDs around. If you're interested, be sure to read our SanDisk Extreme Portable review.
Pros:
Compact
Dust & water-resistant
Hardware encryption
Cons:
Slightly slower than the Samsung T5
The G-Technology G-Drive Mobile SSD is where the SanDisk Extreme Portable and Samsung T5 meet. It comes with an even better build quality and can go toe-to-toe with the T5 in terms of performance. However, the volume of the drive could fit both the Extreme Portable and T5, and it comes with a higher price tag, as well.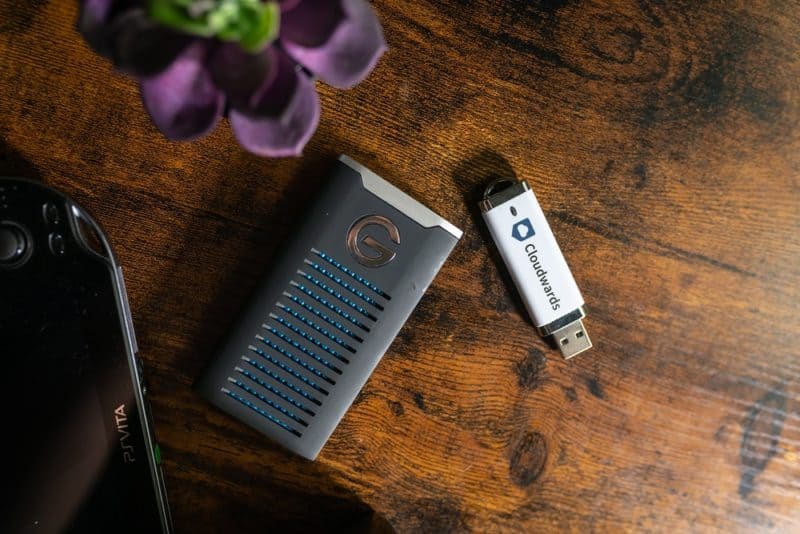 Even so, the G-Drive Mobile SSD is impressive. It's IP67 rated for dust and water protection. For dust, that means the drive is fully protected for harmful dust, no matter where it lands. Water protection isn't as high on the scale, but it's better than the Extreme Portable. The G-Drive Mobile SSD can be submerged in up to one meter of water for up to 30 minutes.
It comes with a size to match, though. At 50 mm by 95 mm, the G-Drive Mobile SSD is larger and weighs more than twice as much as the Samsung T5. That said, the size and weight of the Samsung T5 and SanDisk Extreme Portable is so low that a little extra won't break you back.
The more concerning issue is price. Although the G-Drive Mobile SSD is much more expensive than the T5 or Extreme Portable, it'll still run you $60 to $100 more on the 2TB model, depending on where you buy it. Even so, you're paying for protection that the T5 and Extreme Portable don't offer.
Other Reasons We Like the G-Technology G-Drive Mobile SSD
Performance-wise, the G-Drive Mobile SSD gets very close to the T5. We noted sequential read and write speeds within 5 MB/s of the T5, with a score of 562.8 MB/s and 515.6 MB/s, respectively. Random reads and writes were also solid, with the random read speed going above the T5. The random write speed was around 20 MB/s slower, though.
The performance comes with little surprise, considering the drive inside the G-Drive Mobile SSD is a consumer-grade internal M.2 SSD. Essentially, you're buying a USB 3.1 enclosure that can take a beating, with a SanDisk X600 slapped inside. That's not a bad thing, though, and helps the high price tag make a lot more sense.
The M.2 version costs around $320 on its own, making the $40 for a premium enclosure seem like a steal. You'll end up spending more with the G-Technology G-Drive Mobile SSD than some of its competition, but that extra cost pays off. You can learn more in our G-Technology G-Drive Mobile SSD review.
Pros:
Dust & water-protected
Very fast
Compact compared to external HDDs
The Seagate Backup Plus Portable is the more refined version of the Seagate Portable (read our Seagate Portable review). It doesn't deliver blistering speeds, but at the asking price, it doesn't need to. With the Backup Plus Portable, capacity is more important than speed, and for that, it's an excellent choice.
There are multiple variations of the Backup Plus Portable, each with slightly different features. At 2TB, you have the choice between two models: Slim and Ultra Touch. The Slim version isn't anything special outside of being, well, slim. Its more slender body makes it more portable compared to the 3TB and 4TB models, but it's the same drive, overall.
The Ultra Touch version is more expensive, but it comes with more features, as well. Unlike the Slim and normal version, the Ultra Touch version works with USB-C. It doesn't use USB 3.1, but you can still plug it into a USB-C port. Additionally, it comes with hardware encryption, which is nice to see, despite being more limited than Samsung's software.
No matter which version you choose, you'll have an assortment of colors at your disposal, each with a woven fabric top. Although we're partial to performance, aesthetics still matter, and the Backup Plus Portable understands that.
Other Reasons We Like the Seagate Backup Plus Portable
The Seagate Backup Plus Portable is a balanced drive through and through. Its price isn't demanding, the build quality is excellent and the performance is decent. However, expectations need to be tempered after looking at three SSDs.
It doesn't perform nearly as well as those drives, clocking in sequential read and write speeds around 130 MB/s, and random reads and writes around 1.5 MB/s. The performance isn't great, but it's not bad, either.
Instead of focusing on a certain aspect of storage, like the Western Digital My Book (read our Western Digital My Book review), the Backup Plus Portable performs just okay in all scenarios.
That's made up for by its features, which come in the form of Seagate Toolkit. Toolkit allows you to backup or mirror an existing drive on a schedule you choose. Although backup utilities are common (read our ADATA SD600 review for an example), they're rarely this full-featured.
You can learn more about Toolkit in our Seagate Backup Plus Portable review.
Pros:
Inexpensive
Comes in a variety of colors
Seagate Toolkit included
The Toshiba Canvio Basics is just that: basic. Despite being unimpressive in nearly every regard, it's shockingly fast, especially considering the price. Although it can't compete with the likes of Samsung or G-Technology, the Toshiba Canvio Basics holds its own compared to other blackbox external hard drives, and does so at a great price.
It's available up to 4TB, but the 2TB model shows the best price per gigabyte. At the time of writing, it costs a measly three cents per gigabyte on Amazon, which is incredible. When compared to the 1TB model, the value is clear. It's only $15 more expensive while providing twice the amount of storage.
Performance is where the drive stands out, though, despite everything working against it. The Canvio Basics is a traditional HDD that transfers data over USB 3.0. Furthermore, it only uses SATA-300, providing multiple bottleneck points throughout the chain.
Despite that, it was able to deliver sequential performance above 150 MB/s, though it took a hit in random performance. Random reads were much worse than the Backup Plus Portable, but random writes were much better.
Like the Western Digital Elements, the Canvio Basics takes a specialty in speed, which can be a good thing depending on your use case (read our Western Digital Elements review).
Other Reasons We Like the Toshiba Canvio Basics
For the price, you're purchasing the storage space on a Toshiba Canvio Basics, and that's it. You don't get any backup utilities or hardware encryption with it. Instead, you're saving a few bones by forgoing the features seen with drives from Seagate and Western Digital.
Even so, for the price, a Toshiba Canvio Basics drive is a great deal, especially at 2TB. If you're looking for a lot of capacity for very little money, it's the drive for you. Just be forewarned about its shortcomings. You can learn more in our Toshiba Canvio Basics review.
Pros:
Inexpensive
Decent sequential performance
Available up to 4TB
Cons:
Poor random performance
Flimsy
Final Thoughts
The Best 1TB External HD: Samsung T5 is a seriously impressive external hard drive, despite being fairly expensive. At 2TB, it offers plenty of storage space and blistering speed, making it the best 2TB external hard drive around.
That said, our other options shouldn't be ignored. The G-Technology G-Drive Mobile SSD provides more protection at a higher price, and the product template="link" id=36063 text="Backup Plus Portable"] offers a wonderful design, though slower speed.
Overall, the drive you choose will depend on your use case. If you're interested in watching 4K movies or playing games, the SSDs will serve you well. However, if you just want to get some work done or expand your storage, one of the HDDs will save you money. If you didn't find something you like above, be sure to read our other external hard drive reviews.
What 2TB external hard drive are you using? Why did you choose it? Let us know in the comments below. As always, thanks for reading.