Battle of The Productivity Apps — Todoist vs Wunderlist vs Any.Do
Chief Editor's Note
Wunderlist, a cloud-based task management app acquired by Microsoft, is discontinued as of May 2020. Microsoft replaced the program with Microsoft To Do. We will no longer be updating this comparison.

In a world where we are easily distracted by a new trending topic on Twitter or a new filter on Snapchat, we need productivity apps to keep us motivated and help us remember everything we need to get done in a day. Read our list of the best productivity apps for recommendations other than the three we talk about here.
Of course, there was a time when people kept lengthy diaries for everyday to-do lists or made notes on the calendar on their desk, but since work shifted to computers it doesn't make sense anymore make a list on paper: our productivity depends on the environment and the pace with which we manage our tasks.
To help you find the best productivity apps online, our experts thoroughly tested three of the most competent ones: Todoist, Wunderlist and Any.do.
While the battle is very close till the end, the winner is clearly Wunderlist thanks to its feature-packed free version.
Not that the other have no merit: Todoist has a smooth mobile app while Any.do has a sleek web interface and a unique browser extension (see our Todoist vs Any.do comparison). In the end, though, neither could give Wunderlist a real fight.
Criteria for Choosing the Right Productivity App
With so many productivity apps available online, it can be difficult to find the right one. On the one hand, they look so much alike with checklists and due dates, but on the other hand, they are all very different from each other.
Here are some of the criteria that you might want to consider before choosing the right productivity app:
Interface
If you are someone who finds that a clutter-free interface makes you focus better and increase your productivity, then opt for an app a clean look. While Any.do has the sleekest interface among all apps, Wunderlist is really the one which displays all the informtion in a single screen.
Mobile Support
Don't you hate it when you make an exhaustive grocery list on an productivity tool's web interface only to realize that tool doesn't have a mobile app? If you do use multiple devices every day, it's important to pick out a productivity tool which is cross platform so that you can access your data wherever you are. Luckily, all the apps we are reviewing in this article have mobile apps.
Sharing
If your main purpose for choosing a productivity app is to share and assign tasks to other users, then pick a service which makes sharing and collaboration seamless. If you plan to use only the free version, then make sure that the app doesn't have limitations for the number of shared users.
For instance, Any.do only allows sharing tasks and lists on one project at a time and Todoist has a limit of 5 users.
Calendar Integration
After trying out all these three productivity apps, there is one thing absolutely clear — a good productivity app should have a calendar integration to automatically create events for the deadlines of each task.
Some of these apps provide a seamless integration with Google Calendar and some work well with iCal, but the right one for you will depend on the calendar you use.
Todoist vs Wunderlist vs Any.do — The Comparison
So how do these criteria look in practice? Let's take a look.
Interface
Let's start with Todoist: it has a simple white and red background with three other color choices. To get more colors, you will have to buy a premium version.
The interface is pretty clean with a left sidebar and a settings option. On the top red bar, there is a plus button to add tasks instantly and a search bar.
Unlike color themes in Todoist, Wunderlist lets you change the background picture and the color theme changes with it, though I wish they allowed users to upload custom images, even if it was a premium feature.
Wunderlist is clearly the most feature-packed app, but it still manages to keep its interface relatively simple.
The app has a three-panel view which is helpful since it helps users see all the information in one go.
Any.do by far has the most minimal and sleek interface. The tool wants to keep things simple while still providing users with all the essential features.
I also love how the entire interface blurs out when you write a new task. These tasks can be moved around from one list to another by dragging and dropping.
Winner — Any.do
Any.do clearly has the most sleek and modern looking interface. Todoist does give it a good fight but classic combination and white and blue is unbeatable.
Creating Tasks and Reminders
Before we start on this section, it is important to understand the difference between a task and a reminder. A task on your to-do list is an action which isn't time-dependent. There may be a deadline, but not a specific time set in which the work needs to be done.
A reminder is a time critical event that you have to do at that point only, like calling someone back or a doctor's appointment.
To create a task on Todoist, you first have to select the project you want to create tasks for or create a new project. You can add tasks one by one by adding text or you can add multiple tasks by copying rows from a spreadsheet and pasting them together.
Once the task is created, you can set a due date, priority, move it to another project or archive it.
Clicking on the small comment box will open comments for the task. While you might be seeing some other features on this box apart from the comments, like attachments, comments via email and activity log, they are actually premium features and not available when using the free version.
Recurring tasks can also be created on Todoist by setting the due date to a daily, weekly or monthly schedule.
To create subtasks, all you have to do is drag the tasks towards the right. The easy dragging feature in Todoist means you can create a multiple levels of tasks (note that subtasks can only be created in the project view, and not in filtered views).
On Wunderlist, you can create tasks by adding text and hitting enter. Unlike Todoist, multiple tasks cannot be created by copying rows from Excel sheets.
Once a task is created, you can double-click on it and a whole array of options will open up like due date, reminder, subtasks, notes and file attachments.
Files can be either uploaded or added from Dropbox, but there is no Google Drive integration. Wunderlist has a 5MB upload limit for file uploads, but if you use Dropbox there shouldn't be any issues with that.
Recurring tasks can also be set and I like the flexibility Wunderlist provides with it as compared to Todoist.
Coming to Any.do, you can click on the plus button to add a task after you have opened a project or create a new one.
Once the task is created, you can set a due date, add notes, attach files, add subtasks, or put a reminder on the tasks. Even though Any.do allows you to share any lists or tasks; it doesn't allow you to assign tasks to a user.
Any.do does allow recurring tasks, but you can only set the custom duration for them if you are a premium user.
Winner — Wunderlist
With Wunderlist files can be easily uploaded either from the computer or Dropbox. Most importantly, Wunderlist allows setting recurring tasks to custom duration, which is not available in any of the other two apps.
Browser Extensions
Todoist's browser extension is very bare bones and it only has two features. You can see all your Todoist projects and tasks from any tab without opening the Todoist website
You can add a new task by right clicking anywhere in the browser (This feature is available in all the three apps).
Wunderlist's browser extension works a lot like Evernote's. It helps clip data from a web page and create it into a task. For instance, if you find a great gift for a friend on Amazon, you can instantly clip data from the page and add a reminder to buy the product.
With Any.do, you can review the tasks on the list or add a new task, but the best part about its browser extension is that it integrates very well with Gmail.
Whenever you get a new email, Any.do will automatically pick up actionable words from it and prompt you to create a new task or reminder. For someone like me, who responds to at least 20 emails a day, this is a quick way to add reminders for important stuff, without leaving Gmail's interface.
Winner — Any.do
Todoist lets users see all the tasks on their list or add a new task from the browser extension, whereas Wunderlist allows clipping data from web pages and assigning them as tasks.
While Wunderlist might prove to be helpful, its browser extension is basically a lite version of Evernote. If I wanted to clip data from web pages and save them offline, I would rather use Evernote which gives a multitude of more options to do that.
On the other hand, Any.do's ability to quickly pick actionable words from an email and creating a task from them is unique and can be incredibly helpful for Gmail users.
Sharing and Collaboration
On Todoist, you can share every project with a maximum of five people. You can also get the link to a particular task and share it with others. But even with the link, the task cannot be viewed in public mode, you need to login to your Todoist account and have access to the task.
To make collaboration easy, Todoist does allow comments but sadly no file attachments.
Wunderlist is truly excellent when it comes to sharing and collaboration. Users can assign up to 25 tasks within each shared list, create up to 25 subtasks, and upload files up to 5MB in size.
Every task can have notes and comments associated with it, making it easier for users to discuss work right on Wunderlist.
To make a list publicly available on Wunderlist, you just have to go to "more" and select "publish."
Making a list public means that you get a URL which can be instantly shared with other people; there is no need to create an account with Wunderlist.
With Any.do, you can share the entire project or task with other users. If you are a free user, you can only share one task at a time which is definitely a downside.
Commenting is not available in Any.do, so you will have to adjust with Notes. Any.do does allow attaching files directly from your computer, Google Drive and Dropbox.
Winner — Wunderlist
A case of simple math to be honest — Todoist allows sharing tasks with a maximum of five users and Any.do allows sharing tasks and lists with only one user at a time. With Wunderlist, the limit is 25.
Integration with iCal and Google Calendar
Todoist does provide a direct integration with iCal, but that feature is only available for premium users.
Though IFTTT can be used to convert Google Calendar events into Todoist tasks, or vice versa. Sadly, there is no way to connect iCal with Todoist if you aren't a premium user.
Wunderlist's calendar integration is much easier than Todoist's. The tool provides a calendar link under the Account settings, and this link allows Wunderlist to easily integrate with iCal, Google Calendar and even Outlook.
Any.do provides no way to integrate iCal or Google Calendar.
Winner — Wunderlist
Wunderlist is the only tool out of the three which provides a simple and quick integration with iCal, Google Calendar, and Outlook. Todoist only allows iCal integration for premium users and Any.do provides no calendar integration at all.
Third-Party Integrations
Third party integrations are essential for productivity apps since they help combine the power of other tools and make working even more quicker.
Apps like IFTTT and Zapier allow users to combine two apps together where an event on one app triggers an action on the other.
Both Todoist and Wunderlist have easy integration with IFTTT and Zapier, making it simple to add tasks automatically.
For instance, every time a new reminder is created for iOS, a new task with the same name will be created on Wunderlist.
Or every time a new card is created on Trello, a new task is set up on Todoist.
Any.do integrates with Gmail through its browser extension and it also has a Google Now integration, but that's about it.
Winner — Tie between Todoist and Wunderlist
Both Todoist and Wunderlist provide easy third party integration through Zapier and IFTTT. The number of apps they integrate with is more or less the same. On the contrary, Any.do only allows integration with two Google apps.
Pricing and Paid Features
Price
Free Features
Paid Features
Todoist
$28.99 per year



Create tasks

Create projects

Add comments

Create recurring tasks

Add subtasks

Share tasks (max 5)




Add reminders

Create labels

Add location-based tasks

Create tasks via email

Sync tasks with iCal

Attach files to tasks

View activity logs

Add custom search filters

Share tasks (max 25)

Task alerts


Wunderlist
$5 per month



Create tasks

Create reminders

Create projects

Add comments

Add notes

Attach files

Recurring tasks

Add subtasks (max 25)

Share tasks (max 25 users)

Account backups




Share unlimited tasks

No limit on file attachments

Unlimited subtasks


Any.do
$2.25 per month



Create tasks

Create projects

Create reminders

Create recurring tasks

Add comments

Add notes

Share tasks (max 1 user)

Attach files (1.5MB limit)




Share tasks

Customize recurring tasks

Location-based reminders

Todoist might be providing the most features with its premium version but that is just because it has the most restrictive free version. The features that Todoist is charging extra for, are provided free of charge by Any.do and Wunderlist.
Winner — Any.do for being the most affordable
Any.do is the best deal, but Wunderlist does offer some great options even though it is the most expensive. However, Wunderlist also offers the most extensive free options, which is interesting for those of us that are operating on a budget.
Mobile Apps
Todoist's mobile app is minimal, smart and intuitive. You can quickly go from one project to another to see all the tasks. To mark a task as complete, swipe from left to right, and to reschedule, swipe from right to left.
All in all, Todoist's mobile app leaves nothing to be desired, everything that you find on the web interface can be found on the mobile app as well.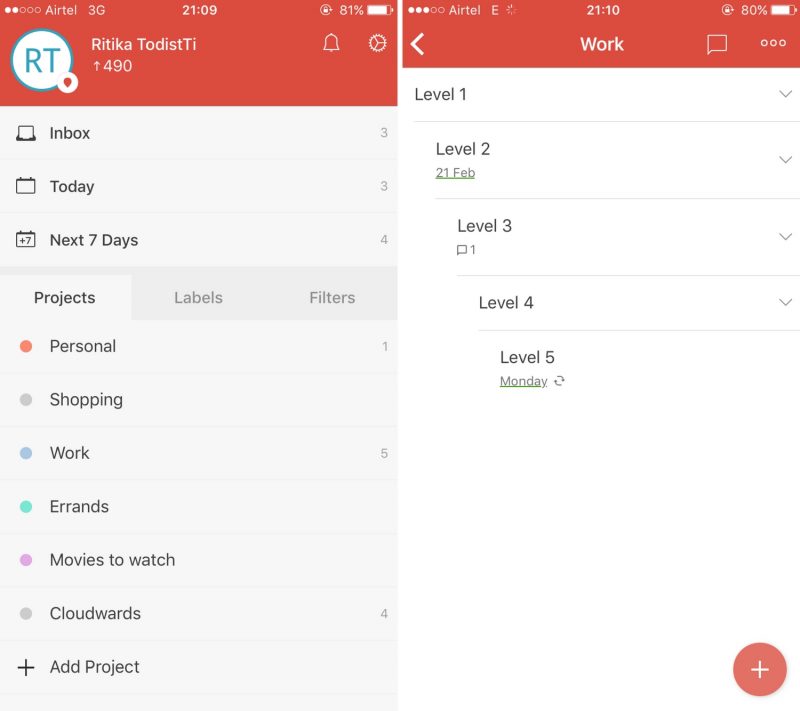 As soon as I downloaded Wunderlist's app on my phone, I noticed how sleek its interface was (much better than its web interface, to be honest). There is a plus button in the middle to create new tasks and all the projects are listed together. Swiping on each project gives the following options:
On/off notification
Edit the project
Delete the project
The notification option really impressed me because neither Todoist nor Any.do provide this option, and it is particularly helpful for shared projects where you are always getting notifications.
There is a checkbox to mark every task as complete and tapping on the task opens up the settings menu for it. Overall, Wunderlist has a great mobile app, though I do wish instead of checkboxes, the tasks could be marked complete by just swiping.
Any.do's mobile app has a few glitches and doesn't work as smoothly as it looks. Tapping on individual tasks opens up options to star, schedule, set a reminder, add subtasks, or share the task with other users. Swiping the task from left to right marks it as complete.
I do wish all the information about each task could be displayed on a single screen. Overall, Any.do's mobile app will work for you if you just want to use it as a to-do app, but if you want to use the app as a project collaboration tool, you might want to stick with its web interface.
Winner — Todoist
Todoist has the best interface with easy swiping features to snooze a task or mark it as done. Wunderlist has checkboxes to mark a task as complete and Any.do has a lot of bugs.
The Verdict
While Todoist, Wunderlist and Any.do, are all good in their respective ways, Wunderlist clearly stands out because of a number of features it provides in its free version.
Todoist charges extra for attaching files, iCal integration, sharing tasks with more than five members, and even setting a reminder. On the other hand, Any.do provides absolutely no calendar integration, allows sharing with only one user at a time, and does not allow customizing recurring tasks.
Wunderlist provides all these features free of charge including custom recurring tasks, calendar integration, creating reminders and file uploads. Any.do also allows attaching files but there is a file limit of 1.5 MB, which extremely low. On the contrary Wunderlist has a file upload limit of 5 MB.
Have you used any of these apps? Share your thoughts with us in the comments below. Thank you for reading.