ADATA SD600 Review
ADATA usually makes HDs that go into computers, but the company has also made a foray into the external HD market with the SD600. As you can read in our full ADATA SD600 review, though, it's a mixed result at best.
If there's anything ADATA is known for, it's solid-state drives. The company specializes in flash memory, with everything from m.2 SSDs to high-capacity flash drives at the ready. In this ADATA SD600 review, we're going to look at one of its four external SSDs.
The drive is marketed as a rugged disk with "extraordinary speeds." Though it delivers faster transfer rates than all the spinning disks on the market, it falls short compared to the SSDs with which it competes. The rugged claim falls short, too, unfortunately, with an inexpensive plastic shroud.
Even so, it's cheap, making it, at the least, a consideration for our best external hard drives guide. Read on to see if it's the right choice for you.
Strengths & Weaknesses
Strengths:
Inexpensive
Decent speed
Free tools included
Generous warranty period
Weaknesses:
Cheap-feeling case
Dated utilities
Alternatives for ADATA SD600
Features
Based on the box art, the SD600 looks like a drive built to take a beating. Taking it out tells a different story, though. The shroud is made out of plastic, with a soft rubber grip on top and bottom. The rubber is removable, too, secured only by being wrapped around the four protruding edges.
Though more durable than a Western Digital Elements (read our Western Digital Elements review), the SD600 misses the mark for the market it seems to be targeting. It looks great in product shots, but handling the drive reveals it isn't built like a LaCie Rugged drive (read our LaCie Rugged Mini review).
In the box, you'll receive the drive, a short USB-A to USB micro type B cable and the user manual. It's a shame the SD600 doesn't include USB-C connectivity because most portable SSDs come with it stock (read our Samsung T5 review for an example).
ADATA SD600 Set Up
When we plugged the drive into a Windows 10 laptop, it was recognized immediately. That said, there's nothing on the drive. In most cases, we like to see an application that'll help you register the drive and walk you through installing utilities preloaded (read our Seagate Portable review for an example of that).
What's more annoying is that ADATA provides many free downloads with your drive. Things such as the SSD Toolbox, which allows you to change settings on your drive, are a must, but allowing users to download the Macrium Reflect backup suite would be nice, too.
That said, most of the applications are dated and difficult to download. Not only does ADATA not include an easy way to find the software, it simply shows a list for each software, with different versions depending on operating system and language.
Though there's a backup utility, the drive is only available up to 500GB, so you'll probably need an online backup service, such as Backblaze, to keep your files secure (read our Backblaze review).
ADATA SD600 Durability
ADATA claims the SD600 can sustain falls based on military standards, which aren't strict. Just handling the device tells you it isn't made to take much of a beating. The plastic casing is pieced together in what appears to be three parts and applying pressure on the top and bottom will result in a bend and an incredulous cringe.
As far as the silicone case goes, anyone who thinks it'll absorb a fall is kidding themselves. It's thin, with no air pockets or cushioning to take the weight of an impact. Though the drive itself could probably handle a fall, most SSDs can, and having a metal shroud instead of a plastic one would help more in that case.
We're mentioning all this not because we believe everyone is going to go backpacking with an external hard drive, but because the marketing material paints an inaccurate picture. The drive isn't waterproof — it doesn't claim to be, but because "rugged" products usually are, it's easy to assume — and the impact protection is slim to none.
ADATA SD600 Features Overview
| | |
| --- | --- |
| Capacity | 256, 512 |
| Backup utility | |
| Interface | USB 3.0 |
| Windows | |
| macOS | |
| Android | |
| Drive Speed | |
| Hard Drive Type | SSD |
| Warranty period | 36 Months |
| Recovery Services | |
| Speed Table | |
Price
If you're looking for an inexpensive, portable SSD, ADATA is your only option. The 256GB model is the same price per gigabyte as a 1TB SanDisk Extreme Portable. As you can see in our SanDisk Extreme Portable review, though, the 250GB model nearly doubles in price per gigabyte.
That makes the SD600 an excellent value. The 512GB model is cheaper than we've seen any portable SSD, even compared to disks that are offered up to 2TB. That said, the cheaper price comes with concessions in usability, speed and build quality. Though cheaper, you're still paying SSD prices.
Compared to, say, the Seagate Backup Plus Portable, the price isn't impressive (read our Seagate Backup Plus Portable review). Though the SD600 will perform better than that drive, it performs worse than most SSDs. Plus, you're limited to only two capacities.
We don't mind a limited lineup, but not offering a 1TB model is disheartening. After all, you can purchase micro SD cards that are 256GB, so it'd make sense for ADATA to pack more storage in its SD600 line. 256GB goes quickly, and considering portable SSDs are a staple for photographers and videographers, the limited space doesn't make much sense.
Speed & Performance
We test hard drive performance by measuring the speed and checking for errors. We use two tests for each of those areas, one of which is an established benchmark and the other is more of a hands-on test.
Seq Read
Seq Write
Random Read
Random Write
2.3 GB Transfer
ADATA SD600

429 MB/s

383.2 MB/s

116.5 MB/s

77.6 MB/s

22.16 sec.
Starting with speed, we ran our SD600 through CrystalDiskMark using five passes and a 4GB test file. As advertised, the sequential read speed was around 440 megabytes per second, which is slower than other leading portable SSDs. Random reads and writes took a significant dive in performance, too.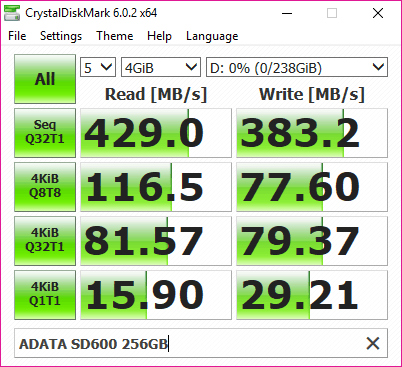 Though faster than the Toshiba Canvio Basics, the SD600 isn't up to par with other external SSDs (read our Toshiba Canvio Basics review). The Samsung T5, SanDisk Extreme Portable and G-Technology G-Drive Mobile all performed better, but they're more expensive (read our G-Technology G-Drive Mobile review).
We also tested the drive by copying a 2.3GB test folder with movies, music and more in it. The transfer took 22.16 seconds, and though it started on a high note, it struggled throughout the test. The speed went up and down, seemingly on a cycle, suggesting the buffer was unable to keep up.
During our testing, we had CrystalDiskInfo open to see how warm the drive got, as well as errors that may have popped up. Thankfully, there were no errors, but the drive reached around 42 degree Celsius. Though nothing to worry about, it was hotter than most drives we've tested, even spinning ones.
To look deeper for errors, we ran our SD600 through a 30-minute stress test using the "chkdsk" utility on Windows. The "/r" command scans the drive for errors, which is what we subjected our disk to. Thankfully, everything came out clean.
Warranty & Support
The SD600 comes with a three-year limited warranty. The usual stipulations apply, meaning ADATA won't repair or replace the drive if it has been damaged by fault of user. Annoyingly, ADATA also says if the warranty sticker is damaged, it'll void the warranty.
Three years is the limited warranty we've seen for most drives, so it's nice to see ADATA jump on board. That said, there's no guide for registering your product as you're setting it up, meaning if you have to claim your warranty, you'll have to sign up for an account, check the warranty status and file a request.
In the user manual, ADATA says to go to www.adata.com/en/support_service for product support. That page is blank. It's better to simply go to the ADATA website and find the "support" tab at the top of the page. There, you can find product downloads, warranty information, FAQs and more.
As for contacting ADATA, you only get email support. You can fill out a contact form in the "contact us" section of the support tab, which is lengthy and, for the most part, unnecessary. Thankfully, though, the FAQs and downloads for each product can be accessed from the product page.
The Verdict
If you need an SSD and want to save money, ADATA will get you there with an SD600. That said, you'll need to contend with a weaker build — no matter what the marketing material may say — and slower speed. The SD600 isn't impressive in most regards, but it's still a solid budget option.
That said, you can save more money, and get more capacity, by going with a spinning disk. If you're more concerned about performance, a more expensive SSD may be right for you. No matter what camp you fall in, you can find the drive that'll work best by reading our other external hard drive reviews.
What do you think of the SD600? Are the slower speeds a worthy trade-off for how inexpensive it is? Let us know your thoughts in the comments below and, as always, thanks for reading.